Laso moves 400 tonne transformer pair
By Alex Dahm03 April 2017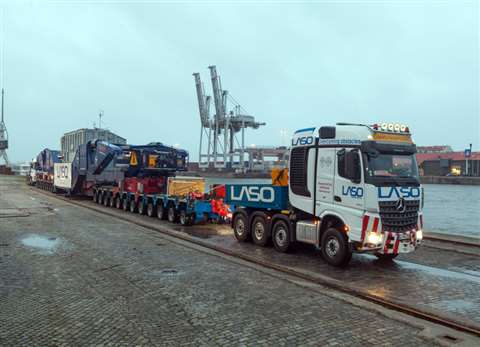 Specialist contractor Laso in Portugal overcame several obstacles in completing a contract to move a pair of large power transformers each weighing more than 400 tonnes.
On the 3rd and 7th of February, Laso moved both transformers from the EFACEC factory in Portugal to the Port of Leixões. The first transformer was 11.3 x 3.92 x 5.47 metres and weighed 405 tonnes. The second one was 7.75 x 4.63 x 5.75 m and weighed 386 tonnes. The total transport dimensions were 90.00 x 6.20 x 5.90 m and the gross weight was 710 tonnes.
The route between the factory in Arroteias and the Port was a distance of about 16 km and it was covered in 12 hours.
Planning for this job was a process that lasted 18 months, according to the company. Preparation of a transport of this scale is extremely complex, commented Pedro Joao, Laso spokesperson, "We had three tractors, 12 support vehicles, 30 Laso employees and about 10 police officers, Joao continued.
Some of the challenges along the route included traffic signs, lighting poles and telephone poles but there were more. Curves in the road, inclines, bridges, lateral slopes were all encountered. In addition, some tricky manoeuvres, road intersections and roundabouts all brought their own difficulties that had to be properly identified and prepared for.