Latest excavator and hybrid loader from Hitachi
By Sandy Guthrie23 April 2015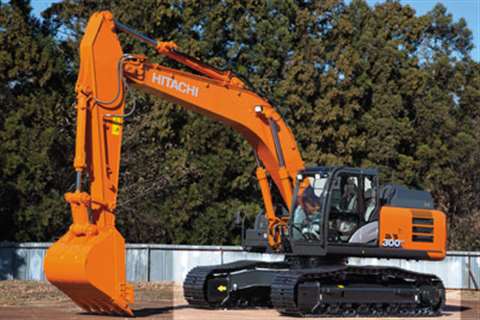 The first Zaxis-6 excavator in Europe and its first hybrid mass production wheeled loader were among the launches on the Hitachi Construction Machinery (Europe) – HCME – stand at the Intermat show in Paris.
President and CEO Moriaki Kadoya said, "We need to bring value to our customers, and so reducing the total cost of ownership is important. Fuel efficiency is the largest component of this, but we are also looking at durability."
Hitachi said the ZX300LC-6 medium excavator was the first machine released from the new Zaxis-6 line-up. It claims the highest levels of productivity in the 30-tonne class, a further reduction in emissions and running costs, and higher levels of quality and durability.
New technology has been incorporated to meet EU Stage IV emission regulations, including the SCR (selective catalytic reduction) system and the integrated after-treatment device. It said fuel costs were reduced by TRIAS II technology, which is said to minimise loss in hydraulics with optimised pump flow control. There is an increase in the number of attachment modes, which now include rotary tilt and tilt modes.
The hybrid wheeled loader has been designed and constructed at Hitachi Construction Machinery Co's wheeled loader factory at Ryugasaki for the Japanese market.
Hitachi said that it incorporated 100% proven technology from within the group – including the Shinkansen (bullet train) and EH-series dump trucks – which had been specially developed for the ZW220HYB-5.
It said the main benefits of the hybrid system for wheeled loader owners and operators were reduced fuel consumption, less noise, easy operation, and enhanced safety and reliability.
Also at Intermat is the EH1100-5 rigid dump truck, the ZW140PL-5 wheeled loader (parallel linkage tool carrier version), three new Zaxis-5 mini excavators, the ZX350LC-5 super long front (SLF) excavator, and the ZX350LCH-5G model developed for the African market.
Hitachi vibratory rammers, reversible vibratory plates and a walk-behind roller, as well as its new range of ground engaging tools (GET) are also being seen at Intermat for the first time.
HCME is introducing two new remote machine monitoring systems – Owner's Site and ConSite. They have been designed to give Hitachi customers an insight into the operation of their machines, helping to improve efficiency.
Kadoya said that he was optimistic about the European market at the moment.
He said, "Europe is not a fast-growing market, but we see growth, and it is a long-term trend."
He added that Hitachi's market share was growing.