Latest market report from ERA
A mid-year conference call meeting, run by the ERA Statistics Committee, took place on 16 January with several representatives of rental companies, rental associations and OEM.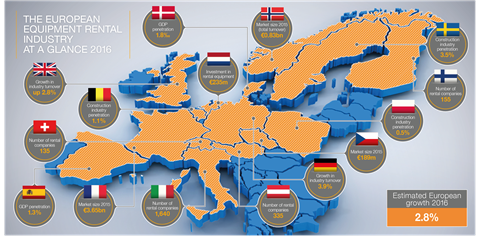 During this meeting, the new project with Off Highway Research was presented. This project will provide an analysis on rental penetration based on sales of equipment units on a selected range of products categories: six products categories, over 15 countries, and over 10 years' history.
Those figures will be included in the ERA Market Report 2018, which will be conducted in cooperation with IHS Markit and will contain a country-by-country analysis of 15 European countries and key ratios including fleet size and investment.
The 2017 ERA Market Report is available to ERA members for €300 in hard copy, €500 in digital version. For non-members, the price will be €900 for a hard copy, and €1,200 in digital format.
If you wish to order the report or if you wish to receive information about the Statistics Committee, please contact the European Rental Association by email to era@erarental.org