Latest technology in concrete construction
By Chris Sleight19 December 2014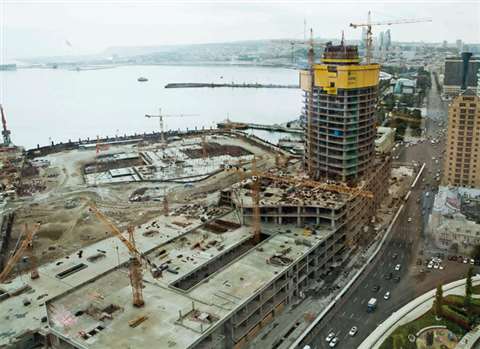 Complex concrete construction projects may be daunting, but there are efficiency gains to be had by using new technology and researching the equipment options. This can be a difficult task for contractors in what is after all a very diverse area of construction, so there is something to be said for getting suppliers on-board early and tapping into their expertise to deliver projects efficiently and cost-effectively.
Formwork solutions
Peri supplied a customised formwork and scaffolding system with 3,500 project-specific special elements for the construction of the Santiago Calatrava-designed Museum of Tomorrow in Rio de Janeiro, Brazil. The futuristic structure in the city's harbour is part of the Porto Maravilha to regenerate this area ahead of the 2016 Olympic Games.
The structure features a pier extending 300 m into the sea, while the cantilevered roof and facade have moving elements to help regulate temperature inside the finished building.
The 3,500 formwork elements delivered by Peri were mostly double-curved 3D units. Planning of the project was carried out at the company's headquarters in Weissenhorn, Germany with the formwork being produced here using CNC-controlled cutting equipment over a period of 13 months.
In order to limit costs, Peri also specified a high proportion of system components, mainly from the company's Vario range. This meant a unique and challenging structure could be built with something of a modular and systematic approach.
Doka has supplied formwork to the Crescent project in Baku, Azerbaijan, and the tower part of the scheme is being built using the company's automatic climbing formwork system. The new Crescent City and Crescent Place developments will change the skyline of the city, which is on the shores of the Caspian Sea.
The name comes from the crescent moon-shaped hotel building, which is being built on a man-made island in the bay. The contract for this is due to be awarded soon. However, work is already underway on the 203 m, 43 storey Crescent City office tower, which will be shaped like a torch and overlook the entire area. Also under construction is the Crescent Place 8-storey shopping centre with a 170 m residential tower accommodating 168 apartments on 32 floors.
Gilan Holding is the developer of the complex project, with the design by Heerim Architects & Planners from South Korea. The building contractor is Ilk Insaat MMC, a Doka customer for many years which also used the company's formwork to build the adjacent Port Baku Residence.
Baku is susceptible to high winds, which limits the use of cranes. However the Crescent development is on a tight timescale, so it was clear from the outset that the project would need a formwork solution that did not rely on cranes.
This led Doka's engineers to propose the use of the company's SKE50 and SKE100 automatic climbing formwork systems.
"The schedule is extremely tight. Thanks to our formwork solution, our customer saves time and can manage one floor per week on average", Doka project manager Thomas Staffenberger explained.
These automatic climbing systems also meet the strict safety requirements and include the Xclimb 60 protection screen, which protects workers from weather conditions as well as falls. Doka said the increased sense of safety improves personal performance and as a result total productivity.
Within the climbing system, Doka's Top 50 large-area formwork is used to erect the massive core walls. This is pre-assembled but it allows for any adjustments required due to the architectural and form-tie pattern.
For construction of the floors, Doka's d2 load-bearing tower system is being used along with the TLS table lifting system attached to the automatic climbing formwork. This allows for rapid and crane-independent repositioning of the floor formwork.
Mert Ersoy, project manager at Ilk Insaat MMC said, "Doka's formwork solution is a perfect match for our requirements: high-speed construction progress, economic processes and for expenditures for personnel. And in spite of all this, or perhaps precisely as a result, ongoing safety of our crew is always the utmost priority."
Another key factor in the project's success is that Doka was involved early in the project. It provided input at the planning stage, and Doka instructors trained the construction crew on-site and explained safe handling of the formwork systems. During the initial pours, the instructor took on the role of supervisor and was available for questions at all times.
The project started in March 2013, and the forming part of the scheme is due for completion in May.
Meanwhile, some 30,000 m3 of concrete is being placed to construct the Amager Bakke waste incinerator project near Copenhagen, Denmark. Paschal has supplied some 4,500 m2 of its Log formwork to the project, rented through Paschal Denmark.
The waste incineration plant is to designed handle all the waste from the city's entire urban population by 2017. The energy released will be used to heat homes through a district heating scheme and supply electricity to 150,000 households.
In addition, the roof of Amager Bakke has been designed so it can be used all year round as an artificial ski slope, and the 85 m high structure will also be used as a climbing wall.
Building the structure has seen the installation of 2,400 bored piles. Along with other foundation structures, some 35,000 m3 of concrete was used just to get the building to ground level.
Although the upper part of the building will primarily be made of steel to give an effect of 'lightness' Paschal has been working with contractor NCC on the concrete elements of the project, which will see some 6,000 tonnes of reinforced concrete placed.
Meva says its MevaDec slab formwork allows for early stripping and re-use of the panels, which in turn can reduce inventory and formwork rental costs by as much as 40%. The company recommends a 'reshoring' technique to achieve this, whereby the formwork props are briefly removed by releasing the dropheads, before being pushed back up. This allows the slab to bend briefly, which the company says helps it develop strength quicker.
This is of course a delicate job, which requires careful calculation.
To help contractors with this, the company has launched a smart phone app, which calculates the number of props required per m2, and also shows when props may be overloaded. It is available in the Apple and Google app stores, as well as Meva's website, www.meva-international.de.
Excavation monitoring
In Chicago, US the Metropolitan Water Reclamation District (MWRD) is taking steps to reduce flood damage with the construction of a new waste water treatment plant in Lemont. The project includes a new pump station, a diversion structure for emergency high level overflow, separator and disinfection, and yard piping and tie-ins to an existing electrical and controls distribution system.
A diversion structure for emergency high-level overflow is also being built with a wet weather reservoir and wet well. This concrete structure measures 215 x 165 x 30-ft deep (66 x 50 x 9 m), with 2 ½-3 ft (760-915 mm) thick walls and a base that is 4 ft (1.22 m) thick.
Before this could be built, some 55,000 yd3 (42,050 m3) of rock had to be excavated, and the contractor, Joseph J. Henderson & Son, wanted a system to monitor the excavation for any movement in the walls during construction of the concrete structure.
It used a Topcon GLS-1500 laser scanner to collect the data for the monitoring operations, which uses a Class 1 invisible laser, which is safe to eyes and is designed to offer the benefit of low power consumption. The laser beam captures data at 30,000 points per second at a range of 500 ft. (150 m).
J.J. Henderson used the GLS-1500 to create point clouds of the excavated sheer walls to monitor any movement. Scan data recorded from different control points was registered using Topcon's ScanMaster 3.0 Office Software.
"We conducted weekly surface to surface comparisons of the registered point clouds looking for deformation in the rock walls," said company spokesman Sam Henderson. "The GLS-1500 laser scanner gives a high degree of accuracy – we're talking within hundredths of an inch accuracy," said Henderson. "I can't think of another construction tool on earth with that kind of accuracy."
SBM Mineral Processing supplied a Specmix plant to produce 1,500 m3 Ultra High Performance Concrete (UHPC) for contractor Walo Bertschinger's contract to renovate the Viaduct de Chillon near Villeneuve, Switzerland. The structure is the third longest bridge in Switzerland with a length of 2,100 m in a height of up to 50 m.
"Due to our successful job handling for foundations of wind energy plants and in the field of prefabricating plants, we have achieved an excellent reputation as being a reliable high-quality manufacturer of UHPC plants. Thus we have managed to convince Walo with our technological expertise," said an SBM spokesman.
The Specmix plant provided some 1,500 m³ UHPC for the bridge over the course of four weeks. The concrete used on the project had an extremely high percentage of steel fibres, and was applied in a thin 50 mm base course.
The plant itself consists of three main containers and offers a capacity of 18 m³/hour and a mixing time of 10 minutes per batch. The plant is also fully insulated making it suitable for operation in the winter.
Mobile batching
Kimera has supplied four K55 plants to Flamecrete Zambia as part of an order for ten units for the company's operations in Lusaka.
The company is looking to use this to establish a presence in the city of Kitwe, in the heart of the country's copper mining region.
The new K55 plants are mounted on new 8x4 Scania heavy duty chassis. It is a 9 m³ capacity mobile continuous batching plant, able of a maximum production of 55 m³/h. A key feature is that the materials remain separate until the production cycle starts, which the company says means high-quality fresh concrete is produced.
The aggregate hopper is divided into two compartments for sand and stone, while a bin at the back has the capacity for 3 tonnes of cement. There are water tanks on both sides.
The operator is able to set up the mix design from the screen, deciding also the exact quantity he wants to produce and the production speed, and then controls the whole cycle with a remote radio control which allows him to move around the unit without problems.
Crack monitoring
Leica Geosystems and Kansai Construction Survey Company have jointly developed the KUMONOS concrete crack monitoring system, built around a Leica Viva TS11 total station.
The system has a built-in concentric crack scale reticule (eye-piece with cross-hairs). This allows crack widths to be measured with a combination of measurement through the instrument and data on how far the instrument is away from the crack. Leica says Viva TS11 total station can be retrofitted with the KUMONOS reticule by an authorised Leica Geosystems service centre.
"Users can now analyse concrete cracks at a safe distance, thereby eliminating the need of setting up expensive and time consuming scaffolding," said Leica Geosystems' product manager Kai Lämmer, "With KUMONOS, crews can remotely inspect dam, bridge or building facade projects, measuring crack widths of 0.3 mm, 0.2 mm and 0.1 mm from a distance of 80, 50 or 25 m respectively, and simply send digitalised 3D drawings back to the office. Infrastructure and long term, expensive investments will be properly protected by using the KUMONOS system."
This all goes to show that there is a wealth of technology and expertise available to contractors from suppliers to the concrete construction industry. And as many case studies illustrate, getting them on-board early and tapping into their expertise can have huge benefits.