Latin America: Mining for industry
By Laura Hatton17 August 2015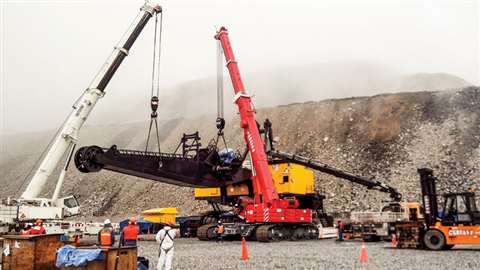 The market across Latin America is mixed, with some areas down and others on the rise.

Since the construction boom that was experienced in Brazil (with the Wold Cup being held there in 2014 and the Olympic Games due to start in 2016), Brazil is going through a period of slow growth. Many projects that were due start have been delayed, Leandro Moura, Manitowoc marketing manager for Latin America, explains, "There is some widespread disappointment at the moment in Brazil, because continuous, sustainable growth failed to continue after an exciting few years. Several large-scale infrastructure projects have been announced in Brazil in the last few years but, due to political instability, they have not yet taken off, creating a climate of uncertainty in the industry that just two years ago no one could have predicted."
Despite this slowdown, the remainder of the Latin American market is still strong, especially in the mining, civil infrastructure, electricity and oil and gas sectors. Wolfgang Beringer, Liebherr-Werk Ehingen, says, "Over the last decade, our greatest market in South America has been Brazil. Even though sales volume fell in 2014, we were able to increase our market share in a decreasing market. Fortunately, other markets inside Latin America are facing a positive growth. Among other markets we are very pleased with the development of Mexico, which we expect to replace Brazil as largest market this year."
This growth is having an impact on the tower crane market, as Hans-Martin Frech, Liebherr-Werk Biberach marketing and market manager, says, "We see a growing demand for big tower cranes over 500 metre-tonnes in the industrial and mining business. The biggest tower cranes in the region are the 1250 HC 50 in the mines Sierra Gorda and Escondia in the Atacama Desert in North Chile.
"The Latin American market is becoming more and more important for us," Frech continues. "We are selling more and more tower cranes to this market [and] we see a rising demand in larger and more powerful tower cranes in the mining sector. These tower cranes first construct the facilities and then stay there on site for at least 20 years in order to do the maintenance service."
The growing trade is also having a positive impact on the use of rough terrains and all terrains, report crane manufacturers Link-Belt and Manitowoc. Link-Belt cranes are working at projects all over Peru, the manufacturer says, while Manitowoc has seen an increased demand for rough terrain models that it produces at its Passo Fundo factory in Brazil. To meet demand from the growing renewable energy projects in Argentina, Manitowoc has also signed a distribution and service contract with Buenos Aires-based equipment dealer Covema SACIF.
Cristian Galaz, Manitowoc vice president of sales for South America (excluding Brazil), says, "Currently in Argentina there are many sectors of the energy industry that are still developing, both in the implementation of networks and in the construction of plants. Plus, there is growing demand for renewable energy in the form of wind farms."
Crane types
To meet demands throughout the region, manufacturers operate a number of facilities to serve customers. Loader crane manufacturer Hiab, for example, operates more than 30 centres throughout Latin America. Popular models in the region include the Hiab X- Hipro 1058 and X- Hipro 858. In addition, Hiab launched the X-CL 8, X-CL 12, X-CLX 178 and X-Hiduo 188 to the South American market.
Liebherr also has a strong presence in the region, with offices in Brazil, Colombia, Peru, Argentina and Chile. Models on offer include the flat top 85 EC-B 5 tower crane from Liebherr-Werk Biberach. The model has a capacity of 5 tonnes, or 1.3 tonnes with a jib length of 50 metres. Hans-Martin Frech says, "This crane is assembled with German components in our company in Guaratingueta, Brazil. The small tower of 1.2 x 1.2 metres is developed for cities with less space. The complete upper part of the crane can be transported on two lorries, which saves money for the customer. Most of these machines operate in Chile, Peru, Colombia, Argentina, Bolivia and Paraguay."
For the mining sector, Liebherr-Werk Ehingen offer telescopic crawler cranes including the LTR 1220. The crawler has a 220 tonne capacity at 3 m, a 60 m main boom and can be configured with a 43 m lattice jib. It has 70 tonnes of superstructure ballast, 20 tonnes of central ballast and can move under full load, the manufacturer says. In addition, it has the Variobase system for off-road capability.
Higher tonnage rough terrains are also in demand, as Roy Burger, Link-Belt international sales manager, adds, "Our rough terrain cranes are probably the most popular sold in Latin America, especially the higher tonnage rough terrain cranes which are more in demand as mining, oil and gas continue to be on the rise."
Link-Belt has an established distributor network throughout Latin America. Last year the manufacturer announced that both of its all terrain cranes, the 250 tonne ATC-3275 and 185 tonne ATC-3210 would be available for international markets with Tier III engine packages available. The TCC-500 telescopic boom crawler crane was also launched, joining the TCC-750 and TCC-1100. The model is available with a pole claw, earth auger and man basket attachments. The export version of the TCC-500 comes with a Tier III Cummins engine package.
In 2012 Manitowoc introduced the Grove RT765E-2 rough terrain also for the mining industry. "Many of its features make for ideal mining use, especially its standard four-wheel drive, multi-mode steering and Full Vision cab that enable the crane to navigate the rough conditions of mining sites with ease," says Leandro Moura.
The 60 tonne capacity crane also has a 33.5 m Megaform boom and an optional bi-fold swingaway lattice extension. With additional inserts, the tip height can be extended to 65 m. Cristian Galaz said the production of Grove rough terrain cranes in Latin America is an essential step to increasing options for customers in the region.
For loader crane manufacturer Palfinger, Latin America represents around 15 % of the Austrian company's business. "The company has two agreements, one in the Mercosul which permits countries like Chile and Argentina to import from Brazil at 0 % import duty," Hannes Hemetsberger, Palfinger market communications says. "The second one is an agreement of Andina countries (Chile, Peru, Ecuador) with Europe, which also permits this benefit when purchasing cranes from Europe."
Palfinger recently introduced the PK 63002-EH, PK 76002-EH and PK 88002-EH models into Brazil. "Focusing on the rental and construction markets, these models meet the main expectations of our customers, vertical and horizontal long reaches and high performance," a spokesperson says. "For Chilean and Peruvian markets we introduced the Palfinger High Performance line. These cranes are modern and innovative, using the newest technology in structure and electronic features, reaching mining markets which leads the crane market in both countries."
For Palfinger the most common models in the Brazilian market are the ''Crossbar'' type in the range of 25 to 45 tonne-metres. "With the most common applications of loading and unloading, these models can be found primarily in the transportation of machinery, equipment and services. The ''crossbar'' type is a culture issue among a lot of customers in Brazil, and especially in the Midwest, Northeast and North regions.
"The Argentinean market looks for simple and cheap solutions in the range from 6 to 23 metre-tonnes, however, the market shows a tendency for higher cranes such as 30 to 40 metre-tonnes. In Chile and Peru the demand for bigger cranes is each higher, specially due to mining requirements," the manufacturer adds.
German crane manufacturer Sennebogen also has a presence in the region and has official dealers, including Company Maquiandes and Bring. For Sennebogen, most popular in the Latin American market are mainly duty cycle cranes for civil engineering and lifting tasks, as well as small telescopic crawler cranes, such as the Sennebogen 608 and 613. "The most important goals for customers are to have a simple control system of the crane, easy maintenance and fast spare parts support," Florian Attenhauser, marketing and public relations manager says. Under development for the Latin American market is the new 6300 duty cycle crane, which will be ideal for costal protection works and dredging, the manufacturer says.