Launches from Sumner Manufacturing
By Helen Wright16 March 2016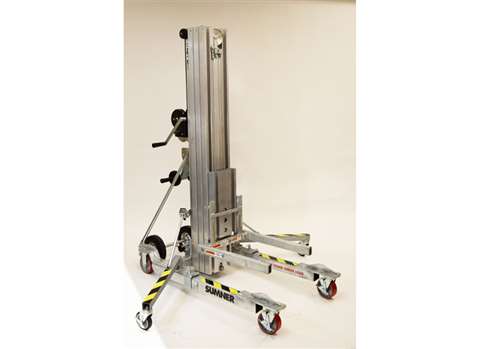 Bauma Munich will see European launch of two new products from Sunmer Manufacturing - the 2500 series counterweight material lift and the 2600 series Heavy Duty material lift.
It said the 2500 series lift allowed the operator to raise loads next to a wall, or over obstacles and is available in four models, from 3.5m to 7.5m height range and 300kg to 455kg weight capacities.
This lift has been designed specifically for rental applications and breaks down in to two component parts for ease of transport, according to the company. A two-speed winch also allows the lift to be operated outside of its footprint to improve operator safety.
Meanwhile, the Sumner 2600 series lift is the largest aluminium material lift ever produced at Sumner and will lift loads of 500kg up to a maximum height of 4.6m. However it is still compact enough to travel through a doorway and features a two-speed winch for ease of operation, Sunmer said.
Taking place in Munich Germany from 11 to 17 April, Bauma is the largest construction equipment exhibition in the world.