Layher classic roof restoration
By Euan Youdale19 December 2017
The Protestant church in Wiesbaden-Naurod, Germany, is an architectonic gem.
Consecrated in 1730, the church has an octagonal central section in Baroque style plus a centrally placed 33m high belfry. It advanced age means it now needs repairs to both facade and roof.
The necessary scaffolding presented some challenges due to the church's architecture and the marshy ground it's built on, using a grid of piles made from some 250 oak beams. It was not possible to transmit loads via the roof surface and the outer walls. This meant that the scaffolding had to be planned and built completely free-standing.
This technically demanding task was handled by Eugen Nachbauer Gerüstbau using Layher Allround Scaffolding. In close cooperation with engineering company Kilian Ingenieure, a scaffolding structure was planned that met the requirements and was safer and more economical. First, Allround facade scaffolding was placed around the building. The lightweight variant of Allround Scaffolding with weight-optimised components and self-locking wedge head connection ensured that assembly was fast and safe. The stability of the free-standing structure was assured by 40 tonnes of concrete and water ballast, while the sturdy Layher steel decks permitted non-slip working – in both rain and snow.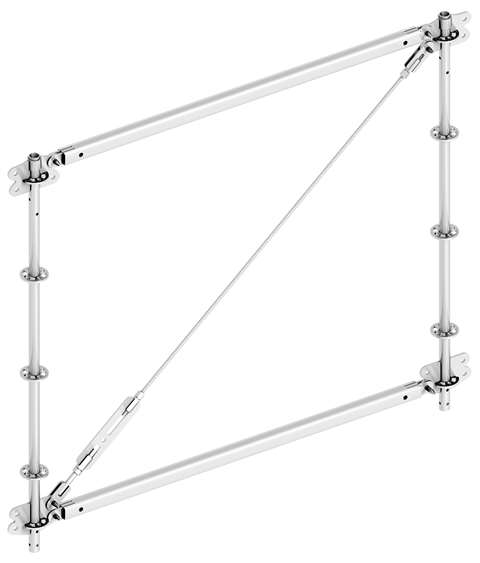 Nachbauer used a new development in the Allround construction kit, comprising of four bridging sections, each 21m in length, were positioned crosswise in pairs on the Allround facade scaffolding as the basis for further work. Self-supporting.
The new Allround FW System is a high-strength supplementary component which is structurally and dimensionally integrated into Allround Scaffolding. Quick to assemble by pin connection, it allows bridging and bracing structures to be built more efficiently and, thanks to its modular design is flexible too. Variable heights, widths and lengths ensure exact adjustment to load and geometry factors.
The four bridging structures made from the lightweight and handy components of the Allround FW System were preassembled on the ground at the company premises to make elements 6m long, which were finally assembled at the site and then placed by crane.
The scaffolding for the tower could then be simply placed onto these bridges or suspended from them. The areas between two parallel Allround FW System beams were filled with Layher steel decks. These are used during the repair work as a transport platform for the lift provided to move personnel and materials.
The site is also accessible via an integrated stairtower. Matching supplementary components are available in the Allround construction kit for stairtowers too: from the platform stairtower for permissible loads of up to 2.5 kN/m², to stairtowers of individual stringers and steel decks up to 7.5 kN/m². In this case, the 16-standard Allround stairtower was used.
The stairways of variable width are here made up of individual U-type stringers and standard decks used as steps. Thanks to the low weight and volume of the individual parts, economical assembly and dismantling is assured. In just 25 days, the eight-man team was able to create a safe workplace for the repair work, without putting any additional weight on the church roof, its foundation or its underlying pile structure.