Leading the way: Jan Kleijn at Mammoet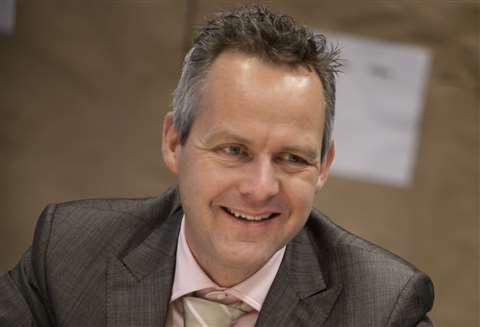 Jan Kleijn is CEO at the world's largest international heavy lifting and specialized transport company, Netherlands-headquartered Mammoet. Mammoet traces its roots back more than 200 years, operates worldwide and has around 5,000 employees. It has held the number one position in every issue of the IC50 ranking of the world's largest crane-owning companies. The IC50 has been going for more than 20 years in the June issue of International Cranes and Specialized Transport. It ranks companies according to their fleet's lifting capability rather than just by a number of cranes.
Jan Kleijn talked exclusively to Alex Dahm about a changing industry and what is on the horizon.
First I asked what are the biggest changes in the heavy lift and transport market worldwide since you took over as Mammoet CEO?
This was in 2011. Since then we have seen a significant increase in competition, driven by the following developments: Customers are facing continuous and strong competition. Their continuous quest is for competitiveness, i.e. efficiency and economies of scale. We strive to work with them to enhance the efficiency and safety of their projects. Engineered heavy lifting and transport often defines the critical path of a project, and if it doesn't, any opportunity to move deadlines forward still brings significant advantages in terms of efficiency and cost-effectiveness.
There is significantly more capacity in the market than there was six years ago. As the global economy keeps growing and developing, the engineered heavy lifting and transport industry grows too. This has intensified competition in every level of the market, from day rental through to large projects.
What have you changed at Mammoet?
Mammoet is aware that ultimately it is the value of the service or solution that counts. Although we are renowned for the quality, reliability and innovation of our equipment, it is not the only factor that determines our market leadership. In the last ten years equipment has become more of a commodity, making it more difficult to use it as a differentiator. Hence, the main change I have driven is to focus more on customer needs. 'The Biggest Thing We Move Is Time' summarises our desire to help our customers become more efficient in their construction and maintenance and be at the forefront of the market with innovations, approaches and solutions. To realise this, we consciously and continuously invest in six areas as follows:
· Mammoet professionals. It is their knowledge, expertise, ingenuity and safety record that make up our performance. Our collective expertise goes back 210 years this year and this is our foundation.
· Global presence. We aim to be where the market is. We have 5,000 professionals and equipment around the world, with more than 90 offices and branches. We can mobilise and scale up quickly anywhere in the world. In many cases, this flexibility is a differentiator for customers.
· Leading in safety culture. It is a continuous quest for heavy industries to work 100% safely. We aim to be leading that process. We are focusing on the elimination of the most impactful incidents: Serious Incidents and Fatalities (SIF). We are rolling out an elimination programme called Spot SIF Before IT Spots You.
· Fleet of equipment. It is the biggest and most diverse in the world in terms of capacity. We can optimise projects by having a wide selection of equipment. Our equipment is subject to strict maintenance programmes to ensure safety and reliability. We believe that an integral part of the fleet are our processes and systems to make it operate well – so we also invest in dedicated software tools to refine accuracy and safety.
· Mammoet Academy. Our in-house training and development on all levels of the organisation guarantees preservation, sharing and extension of our knowledge base.
· Sharing knowledge with customers. There is a strong need for more knowledge on heavy lifting and transport and the way it affects plans and schedules. In 2016 we introduced a tailor-made programme called The Essentials of Heavy Lifting and Transport. It aims to help our customers make better, safer and more efficient plans to optimise their projects.
Last but not least we have one shareholder with a long term vision and financial strength that provides stability.
Recent news is Mammoet's acquisition (for an undisclosed sum) of the George Young Company in the USA. Tell us about this and the reasons behind it.
George Young operates in the North Eastern part of the USA, where we regularly work, but don't have an office yet. It is an economically relevant part of the country. George Young is well-grounded there and has a solid reputation, providing us with a stronger foothold. We can help George Young expand its market offer with more engineering capability and resources. The transaction is mutually beneficial. For the first couple of years the company will operate under the name George Young Mammoet to capitalise on the synergy in our reputations.
As a model for further acquisitions do you see similar buys happening in the USA or elsewhere?
At the moment we are executing a strategic review. For now, we primarily focus on organic growth and of course we have to consolidate the deal with George Young. This takes time. This is not to say we will not look into good opportunities should they arise.
Is there a focus on any particular industry sectors you are looking at to expand in at the moment, for example, industrial or oil and gas?
Despite the current situation in oil and gas we are looking to expand in the wider petrochemical sector. For example with maintenance work. Mammoet also has a strong position in the power market, civil construction and infrastructure and mining and metals. In each region the focus on these segments varies, depending on regional market conditions and opportunities.
More broadly, your closest competitors have been catching up with Mammoet in terms of expanding their fleets and capability as presented in our IC50 ranking table. What are your views on this?
When times were good a couple of years ago there was plenty of work and everybody invested in equipment. So the big guys caught up and also the local players as well - they bought equipment. Equipment is important to have and we consistently invest in a high quality and reliable fleet, but it is not our main focus. Primarily, we want our customers to recognise us for the value we deliver. Of course, we need equipment for that but it is how you put that equipment to work, the additional services you can offer, that determine its value. So, in essence it is about Mammoet Professionals. They make the difference. Our philosophy and values reflect that. So our leading position is not only based on the fleet and the size of the company – that is merely a consequence of customers valuing our proposition.
How much of your focus is on reducing the project time?
We always say that time is the currency that matters most to our customers. So the focus is always on optimizing efficiency in any job – whether it regards a day rental, a project or execution of maintenance work. This starts with safe execution – the number one priority is that everyone returns home safe every day.
When it comes to efficiency gains, we try to be involved in the earliest stage possible. Because there we find the most opportunities for optimisation. There are many examples in which early involvement has led to significant optimisation of a project – with time savings of up to 50% of the original schedule. An example is a steel mill we helped construct; the original planning was a full year. With our customer we made a modular construction plan and ultimately we saved half a year – capitalizing on the possible gains when engineered heavy lifting and transport professionals work together with construction engineers.
What more can be done to involve the lifting and transport companies at an earlier stage of projects and what are the benefits of doing this?
It is the obligation of the whole sector to educate our customers better on the possible advantages. Engineered heavy lifting and transport often defines the critical path. And if it doesn't, any delays or efficiency gains have significant impact on project schedules and cost-effectiveness. So what we offer harbours many opportunities for optimisation. It is something which is not yet recognised sufficiently by owners and EPCs. Our response is to share our expertise with them to enhance mutual understanding and combine our knowledge with theirs – we have developed specific courses and workshops for this purpose.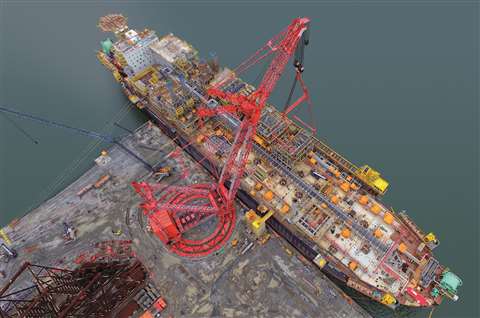 In terms of cranes, will we see even larger ones from you?
It is not necessarily the capacity of the cranes that defines the path of innovation, but the need in the market. Apart from higher capacities, we aim to develop smarter equipment and methodologies that contribute to efficiency, safety and help our customers build on a larger scale.
For the wind market, for example, we have introduced two cranes, the WTA 250 and the WTM 100 (See news). They are designed to make wind turbine construction and maintenance projects safer and more efficient. They eliminate the current physical boundaries of wind turbines and allow manufactures to develop higher capacity wind farms. The height of a crane no longer is a limiting factor.
The scale of construction will continue to rise. Components and modules will continue to grow in size, with modules up to 50,000 tonnes. So here we must turn to transport equipment – skidding and-or SPMT. For example, in the offshore market, FLNG plants and FPSOs keep getting bigger all the time. Recently we performed both a record breaking load-out and load-in. The latter was the heaviest topside ever to be loaded in, for Allseas. The former was a first of its kind: the load out of an integrated topside module for a floating production unit, for a consortium in Indonesia. The same goes for onshore construction and continuously we discuss our ideas and concepts with customers. For example the Focus crane, a concept crane with a capacity of up to 24,000 tonnes.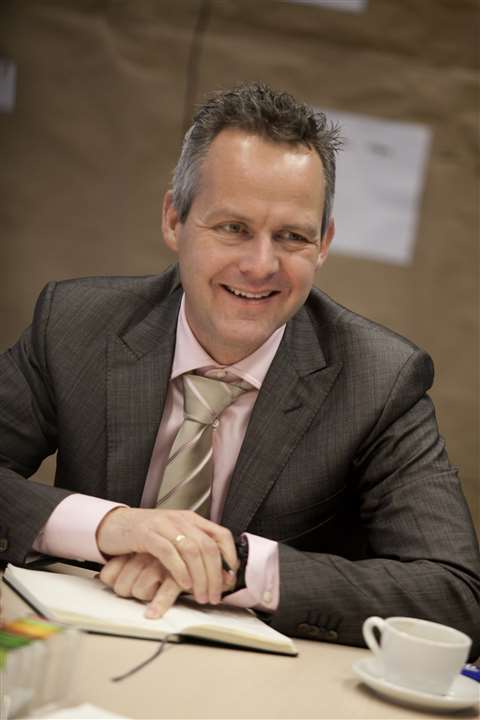 More broadly, what do you see as the future landscape of heavy lifting and transport?
Our customers find themselves in complex and uncertain market circumstances – the oil price, political uncertainty, a quest for efficiencies, harder to find raw materials, and so on. They must become more efficient and competitive all the time. This trend will intensify and it is the common task of the heavy lifting and transport sector to keep up in this quest and improve the efficiency and safety of our services. The world population and economies keep growing so the demand for our services will continue to grow and here our industry needs to respond with innovations that enable the global economies and infrastructures to keep growing in the most efficient and safest fashion possible.
Supporting documents
Click links below to download and view individual files.