Lèbre build employs Genies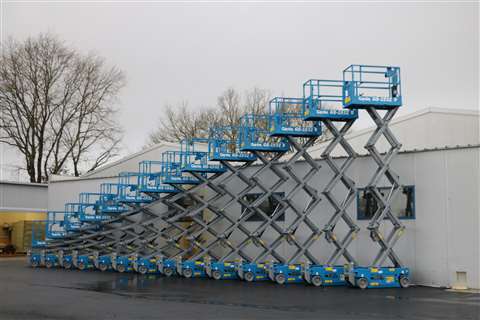 As part its relocation to its new state-of-the-art premises in Nantes, France, industrial cold insulation specialist Nantes' Lèbre took delivery of 14 Genie GS-1932 scissor lifts to assist in the installation of the cold storage systems.
The plant is set to be completed by the end of the third quarter 2018. Offering a maximum working height of 7.6m and a maximum lift capacity of 227kg, the machines were provided by Genie distributor and service and parts supplier SNM Lift.
Covering an area of 20 ha, the equivalent of 27 football pitches, the site will feature 32,000 m² of rooftop solar panels that will generate 5 GWH of electricity a year – sufficient to cover the needs of 2,000 households. Approximately two-thirds of the area beneath the roof is allocated to the cold stores.
"The company already has more than 30 Genie machines, the majority of which are Genie GS-1932 electric scissors. Mr. Eric Lèbre, manager of Lèbre, said, "In our line of business, zero emissions and low noise levels are a must-have. However, we also need sufficient battery power to work efficiently for long shifts and an excellent level of manoeuvrability to adapt to busy work site environments."
On this particular project Lèbre is operating its 14 Genie GS-1932 units in conjunction with telehandlers to provide operators with the required quantity of insulating panelling.
Combining a load capacity up to 227 kg (500 lb), a machine width of 0.81 m (2 ft 8 in) and a stowed length of 1.83 m (6 ft), the units benefit from zero turning radius.