Lee Group takes delivery of a Komatsu PC800-8LC high reach
By Lindsay Gale04 February 2010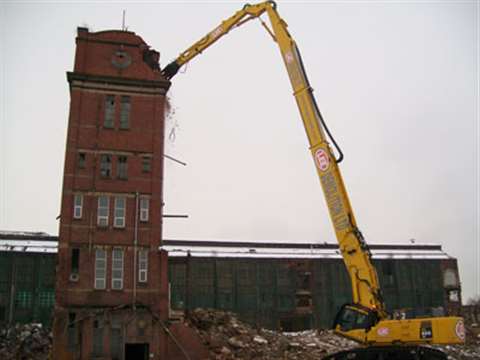 UK contractor Lee Group has taken delivery of a £1 million (US$1.6 million) 45 m (148 ft) telescopic high reach produced by Kocurek, and the machine is now working on the demolition of a redundant acetate chemical plant in the city of Coventry.
The new high reach is based around a Komatsu PC800-8LC carrier that has been fitted with a hydraulically extending and lengthened undercarriage and additional counterweighting for maximum stability.
These and other modifications have raised the machine's all up weight to well over 100 tonnes when the full telescopic boom and 3 m (9.8ft) extension is fitted.
At full height, the new high reach can carry a 2 tonne demolition attachment, while in lower configurations, tool weights go up to 3 tonnes at 43 m (141 ft) and 10 tonnes at 22 m (72 ft).