Lemminkäinen and Destia for airport project
By Sandy Guthrie13 August 2015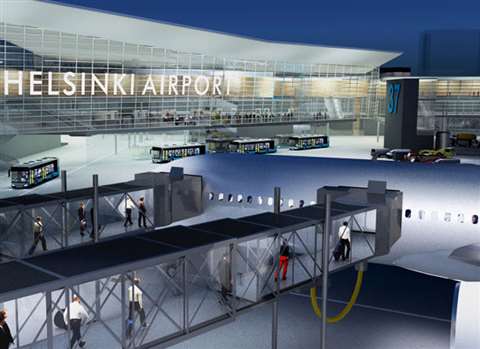 Finnish-based contractor Lemminkäinen is to work on a €173 million extension and alteration project at the Helsinki Airport terminal, Finland.
Another Finnish company, Destia, will handle the groundworks on the apron, with the total value of contracts totaling €260 million.
An agreement has been signed with Finavia Corporation, operator of Finland's airports, and construction will start in the autumn with a completion date in 2020.
The gross surface area of contracted work is approximately 75,800m2. The new premises will house passenger facilities and a separate terminal for apron buses.
The project will be executed as a co-operative management contract with a target budget, which Lemminkäinen said meant close co-operation between the customer, users, planners and builders.
The terminal building will be in use throughout the work, and Lemminkäinen said the aim was to execute the contract so that it had as little effect on the airport's customer service and the smooth flow of passenger traffic as possible.
Kari Savolainen, CEO of Finavia, said, "Helsinki Airport is one of the leading airports in Europe when measured in the number of airline passengers heading towards Asia. By expanding the terminal, we will be able to offer them higher quality service and receive larger wide-body aircraft at Helsinki Airport."
Lemminkäinen's Pauli Mäkelä, executive vice president, building construction, Finland, said, "I believe that in the future similar forms of partnership-based projects will play an increasingly important role in large projects."