LGMG signs COBO component deal
By Euan Youdale21 March 2023
LGMG has signed a cooperation deal with component supplier COBO to further expand the partnership between the two companies.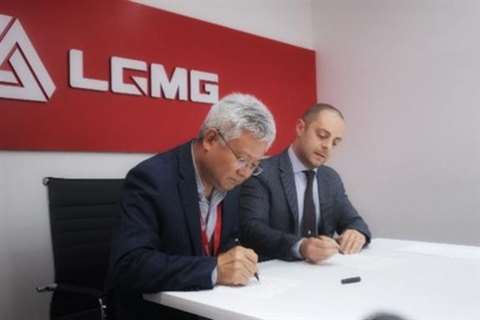 The companies formally started working together in 2018, and the new agreement signed at last week's ConExpo show in Las Vegas, seeks to strengthen the collaboration through increased communication and technical developments, in LGMG's home market of China and internationally.
COBO's products include a wide range of components used in off-road machinery, including control systems, electronics, and in-cab displays and dashboards.
In October last Kaiyin Zhi, from LGMG, led a group visit to COBO's headquarters in Brescia, Italy. During the visit, Stefano Scapin, Cobo's chief business development officer, emphasised the importance of the close collaboration. "To keep strict control of certain processes such as the design, manufacturing and testing of electronic boards and finished products, so as to reduce the time to market and minimise risks caused by the most recent semiconductor crisis."
Read the interview with COBO's Stefano Scapin about the component market and dealing with supply chain constraints. 
LGMG said it will continue to work closely with global suppliers, to adhere to its strategy of employing local expertise and operations to provide the required service close to market. The company said, "[We need to] precisely match the local market demand, accurately position products, and carry out localised and differentiated operation based on high-quality products and efficient services."