LHB Group acquires its first Liebherr
By Laura Hatton21 January 2015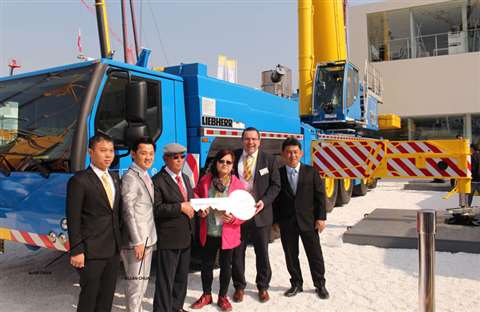 Heavy hoist and machinery company Lian Hup Brother (LHB) Group, based in Singapore, has taken delivery of a Liebherr LTM 1300-6.2 wheeled mobile telescopic crane, its first unit from the manufacturer.
The 300 tonne capacity crane has a 78 metre boom and is the first of its kind in Asia. It is powered by one engine in the carrier with a mechanical shaft drive to the hydraulic pumps in the crane upper.
Chua Kim Seng, LHB Group chairman, said, "We are very impressed with the single engine technology as well as its strong load chart as compared to the competing models. Our experience with Liebherr cranes has been excellent and Liebherr has always been a preferred choice for us for the all terrain cranes."
The all terrain joins more than 2,000 units in LHB's fleet, including cranes, aerial platforms, excavators and other construction equipment.