Liebherr crawlers with special kit for boat lift
By Ian Vallely28 January 2016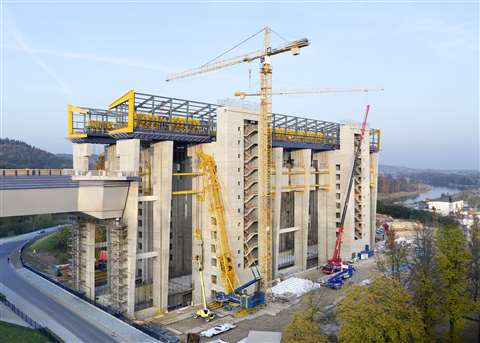 The boat lift in Niederfinow on the Oder-Havel Canal (which connects Berlin to Szczecin in Poland) helps boat traffic ascend and descend a 36 metre elevation. The vertical lift hoists barges up to 80m in length using a massive water trough which can be closed like a lock chamber.
However, over the decades, this imposing structure has become too small for the longer inland vessels and container ships with higher superstructures that need to use it so tug and barge combinations must be lifted separately.
So, for the last seven years, a more powerful lift has been under construction for barges a stone's throw away from the original boat lift.
Over the last few months, two Liebherr LR 1600/2 crawler cranes have been fitting concrete blocks weighing a total of around 10,000 tonnes to the new lift. These will be used as counterweights for the water trough and the vessels.
The standard runner for this Liebherr crawler crane has a capacity of 36 tonnes and is 2m long. For this project, however, the customer – Belgian crane and transport specialist Sarens – asked Liebherr for a runner with a length of 5m and a capacity of 104 tonnes, which is what was delivered.
Only with this angled attachment was it possible for the cranes to swing their lattice masts below an interfering edge of the building and lower the hook block from above, through the car slings for the counterweights. Each hoist raised two ballast blocks weighing a total of 89 tonnes to a height of around 40m into the pre-assembled frames and then attached to the lift's steel cables, which are as thick as a person's arm.
The two crawler cranes and the installation teams always worked at the same level on both edges of the new boat lift because the counterweights had to be installed almost synchronously to avoid one-sided loads.
The new Niederfinow boat lift is not due to go into service before 2017. By then, 65,000 cubic metres of concrete and reinforced concrete will have been installed in this enormous lift which will cost €300 million.