Liebherr debuts wheeled excavator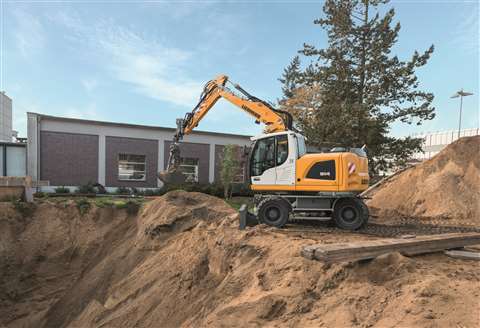 Liebherr will be presenting its Stage IV-compliant A 914 Litronic wheeled excavator at a trade show for the first time at Intermat – with an operating weight of between 14,900 and 17,200kg and an engine power of 105kW, the A 914 Litronic is said to be able to adapt to both classic earthmoving, and road, sewer and pipeline construction.
The A 914 Litronic claims high traction for rapid acceleration, high load bearing capacities and digging forces, while it is also said to be setting new benchmarks with its low fuel consumption.
Liebherr said it would be completing the latest Stereoloader generation at Intermat this year, with it now comprising four wheeled loaders with an operating weight of 5.5 to 9.2 tonnes.
Two models in the new range will be making their world premiere at the fair. Liebherr's Stereoloaders claim to benefit from the advantages of different steering systems. The Stereoloaders, measured over the outer edge of the equipment, are said to offer a significantly smaller turning circle than other wheeled loaders in this size category.
Liebherr will also be introducing its new telescopic handlers at Intermat – it said that during the course of 2018, it would launch eight new telehandler models in a total of 26 different versions.
The new Liebherr telescopic handlers will be available in two model lines – top-of-the-range models for materials handling or for production applications (with the suffix S); and the simple, cost-optimised value models for stacking and lifting applications.
Piling and drilling
Liebherr will present its new piling and drilling rig, the LRB 16, which is said to be suitable for deep foundation work. The company said its compact design and range of available assistance systems eased the work on the jobsite.
With a longer leader, the piling and drilling rig is also now available as a LRB 18.
The LRB 16 gets its name from the sledge's travel distance, which is approximately 16m.