Liebherr launches rental app
By Helen Wright05 February 2015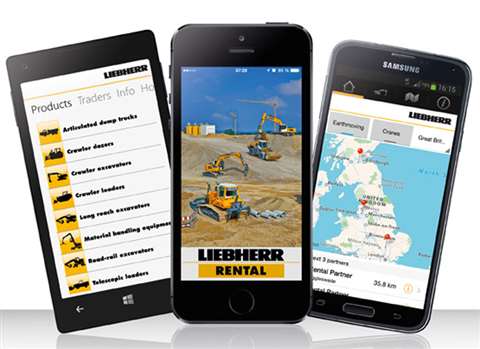 Manufacturer Liebherr has launched a Rental Services app to allow construction machines to be rented directly via a smartphone or tablet computers.
The company said the app could be used by Liebherr customers in Germany, Austria and Switzerland as well as France and the UK.
"The app provides a quick overview of the equipment available in the Liebherr hire park and of the Liebherr dealer network. The app can be used in English, German and French," the company said.
The app was said to show earthmoving equipment and tower cranes available for hire in a product overview, with customers able to call up technical data, a short description and images.
The mobile app is also said to detect the user's location and offer contact details of the nearest dealer.
"The Rental Services overview first flags up dealers near the user's location. If deployment in a different area is planned, the dealer overview can be adjusted according to specific requirements. This makes it possible for the user to filter according to distance, post code or location in order to obtain the contact details of other Rental Services," Liebherr said.
Liebherr added that the Rental Services app could be downloaded for smartphones and tablets with Apple, Android and Windows operating systems.