Liebherr rough terrains back in Europe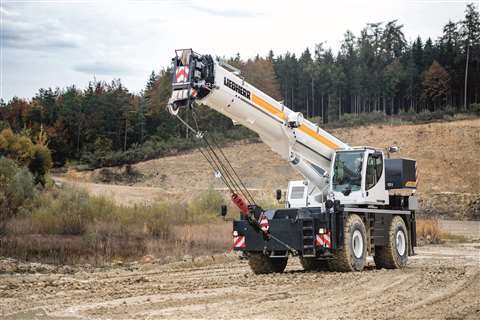 Liebherr is illustrating its move back into rough terrain cranes, and will show a 90 tonne capacity model at Intermat.
Another highlight of the Liebherr stand will be the 450 tonne capacity LTM 1450-8.1 with its 85 metre boom and eight axle carrier – first seen in prototype form at the 2016 Bauma show in Germany, this crane is strong enough, in many applications, to compete in the 500 tonne class, Liebherr says.
It can travel at 12 tonnes per axle with its boom and all outriggers on board. Also included are 16.00 size tyres, the hoist winch, 16 x 8 drive, retarder and Telma eddy current brake. Transport between jobs is simplified and erection and dismantling is faster and easier. For work in confined space it has the VarioBallast system where the ballast radius can be reduced, by infinite hydraulic adjustment, from 7 to 5 m.
Erection and dismantling of large tower cranes is a typical application, the manufacturer says, as is refinery and chemical plant work. On full main boom it will lift 20 tonnes. A folding jib from 7 to 35 m long can be specified and configured for wind turbine maintenance. A fixed lattice jib can be erected from 7 m to 56 m long and can also be attached at an angle of 0, 10, 20 or 40 degrees, Liebherr said. The luffing lattice jib can be configured at between 14 and 84 m long.
Maximum ballast is 135 tonnes. The slabs are also compatible with the LTM 1350-6.1, the LTM 1400-7.1 and 9-axle Liebherr mobile cranes.
Power for the entire crane is from one V8 Liebherr diesel engine which develops 505 kW (687 hp) and is mounted in the carrier. The engine is built to meet Stage IV and Tier 4f exhaust emission standards. It is also available in a Stage III version for threshold countries, Liebherr says. A mechanical drive from the engine runs the hydraulic pumps in the crane upper. An eco mode on the engine allows it to run economically when operating the crane, when idling or when it is travelling.
The transmission is a 12 speed ZF-TC Tronic automated manual gearbox with torque converter for low speed manoeuvring. A hydrodynamic brake integrated in the gearbox acts as a retarder and a Telma eddy current brake can also be specified.
Rough terrain
Marking its return to rough terrain cranes for Liebherr is its 90 tonne capacity LRT 1090-2.1, on show here but first seen in public last year in the USA at the ConExpo show. A 100 tonne capacity model, the LRT 1100-2.1, is also available. The 90 tonner has a 47 metre boom.
Features include the VarioBase outrigger positioning system, a wider cabin, 194 kW Cummins diesel engine and Dana transmission. While the USA accounts for around half of the world market for RT cranes, there are also buyers in Europe and other regions. The LRT models were launched by Liebherr as the first mobile cranes built to global safety standards, complying with all global regulations, including the US standard ANSI B30.5, The European EN 13000, Australian Standards (AS) and the Russian GOST standard, Liebherr said.
Also on show from Liebherr will be an improved version of the 172 EC-B 8 Litronic, an 8 tonne capacity flat top tower crane. Its maximum jib length has been increased by 2.5 metres to 62.5 m and the jib length can be set in smaller increments, now of 2.5 m. Capacity at jib-end is 1.8 tonnes and the maximum is 8 tonnes.
At Intermat it will stand on the new 16 EC tower system inside which runs a built-in LiUp elevator for the operator. It can also be mounted on 16 HC, 17 HC and 21 HC tower systems. Its maximum free-standing hook height is 71.4 m. The 16 EC 160 mast system nomenclature denotes a 1.6 by 1.6 m dimension while the 160 is for the tonne-metre rating.
In line with the access regulation for tower crane operators in France, there are around 30 LiUp elevators in the country, Liebherr says, with more being ordered for delivery this year. LiUP runs off a lithium-ion battery with an energy recovery system and it fits both the EC and HC tower systems. When installed on the inside of the tower the rails do not have to be removed when dismantling and assembling the tower crane.