Liebherr's first telescopic wheeled loader
By Thomas Allen08 July 2020
Liebherr has launched its first telescopic wheeled loader, the L 509 Tele, which is available globally.
The Stage V and Tier 4 Final compliant machine combines the lift height and reach of a regular telescopic loader with the material handling capacity of a classic wheeled loader.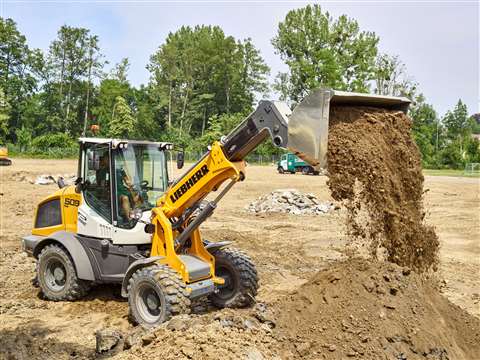 Based on the principle of the company's L 509 Speeder stereoloader, the new 7 tonne L 509 has stereo steering, which combines articulated steering with rear axle steering, and can reach a top speed of 38km/h.
In place of classic wheeled loader lift arms, the L 509 Tele has an extendable telescopic arm with z-bar kinematics that can lift to a height of 4.8m with a fork attachment.
It has a newly designed hydraulic quick coupler to switch between work tools, and the connection dimensions are the same as the L 506 Compact through to L 509 Stereo wheeled loaders so that operators can use existing working tools for these machines on the L 509 Tele.
Due to its compact design, the new model was said to offer a good view of the attachment being used. And, with inexperienced operators I mind, it has been designed to be intuitive to operate.
Safety was important in the design process. Liebherr has equipped the L 509 Tele with an overload warning system as standard.
This consists of a load torque limit and a load torque indicator on the display to keep the operator constantly informed about the machine's load and its stability.
Before the stability limit is reached, the overload warning system freezes the hydraulics and the telescopic lift arm can then only be used to improve the stability of the machine.
As an additional aid, the machine operator receives an acoustic signal and a visual warning on the display if the maximum load is exceeded.
The L 509 Tele also has a reduced articulation angle of 30˚ due to the stereo steering. As a result, the centre of gravity remains in the centre of the machine when transporting large loads, which improves its stability.
The damped articulated pendulum joint, as with the regular L 509 Stereoloader, compensates for uneven ground and ensures that the loader remains stable when travelling over uneven terrain.
Meanwhile, the operator's cab has a sunroof window to enhance visibility of materials being handled.
Also, the functions of the telescopic lift arm are operated using a control lever integrated into the operator's seat as standard. The mini-joystick on the control lever is used for retracting and extending the lift arm as well as controlling hydraulic work tools.
A full update on the compact loader market, including this new model from Liebherr, will feature in the combined July-August issue of IRN.