Liebherr targets less regulated markets
By Steve Ducker06 April 2018
Based on decades of experience in producing and developing wheeled loaders, Liebherr offers a separate product range for less and non-regulated countries. It consists of five models with an operating weight between 10.4 and 24.72 t.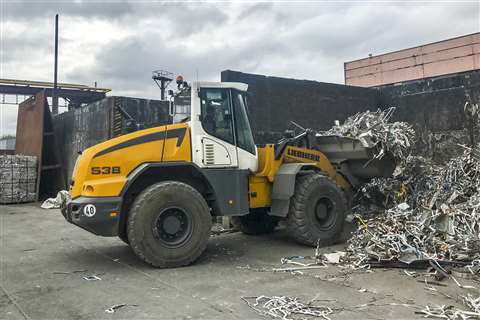 Liebherr says these loaders meet the requirements of companies from the widest variety of sectors – including demolition and recycling, where operators place particularly high demands on the machines.
Last year, a Liebherr L 538 (Stage IIIA/Tier 3) started work in the Vsevolozhsky Aluminium Alloys Plant near St Petersburg, Russia.
The company is a specialist in recycling aluminium waste, processing highly complex types of metallic waste into a range of aluminium alloys that comply with both Russian and international standards.
The new Liebherr at the plant has a range of responsibilities: truck loading with black slag and feeding the grinding and screening plant with aluminium waste, as well as subsequent cleaning of converters.
Since February 2017, the L 538 has been clocking up more than 5,000 operating hours and has been working reliably for 24 hours a day, seven days a week. To achieve this level of reliability, Liebherr prepares its wheeled loaders with targeted investments in robustness.
For example, to increase the stability of the machines, Liebherr installs robust axles and reinforces the steel structure. With its hydrostatic driveline, the L 538 consumes around 30% less fuel compared to other wheeled loaders at the plant.