Lift and Shift India sets record for heaviest module lift
By Niamh Marriott16 September 2021
Heavy lift operator Lift and Shift India set a new Indian record when handling a single module weighing 4,532 tonnes, for Mumbai High North Offshore Project. The module was the heaviest module fabricated in India to date.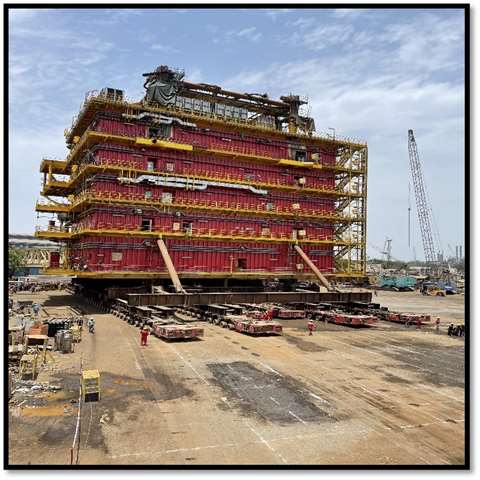 The company was contracted by Larsen and Toubro Modular Fabrication division to handle seven modules weighing a total of 23,500 tonnes for the NWIS Mumbai High North project. The heaviest weighed 4,532 tonnes, five modules ranged from 3,000 tonnes and 4,400 tonnes in weight and the smallest module weighed 685 tonnes.
Meticulous planning ensured the load-out was completed in 20 days on barges of the 330 and 400 class.
The operation involved preparing the axles in the desired format of 5 file/6 files, preparing the barge with pre-loadout ballast and then loading the modules onto the barge during the rising tide.
Moving the modules
The first module, the East module, weighing 4,432 tonnes with a width of 52 metres, was the first to be shifted one kilometre on 10 files of axle lines totalling 188 axles, from MFF2 yard to MFF1 yard, and then rolled onto the barge.
The second module, the West deck, weighing 3,700 tonnes and a width of 52 metres, was loaded using 8 file axles totalling 160 axles.
The challenging aspect was to arrange the load-out of the third, fourth and fifth (named FFSDO, LSW, and TG) which required the axles to be reconfigured with only two days between the load out dates. This squeeze was due to ensuring suitable tides as FFSDO and LSW had to be loaded onto the same barge.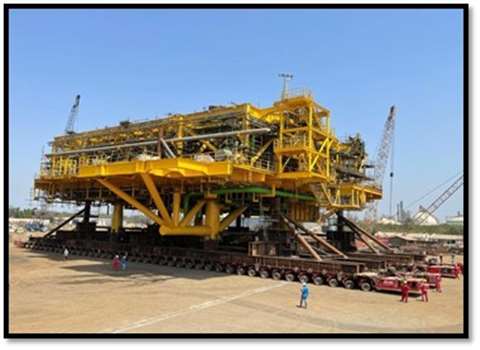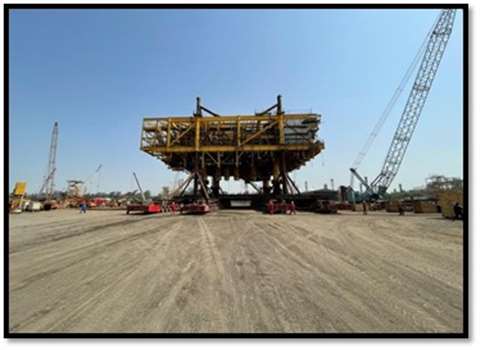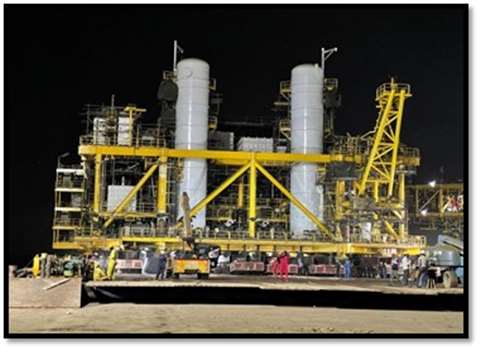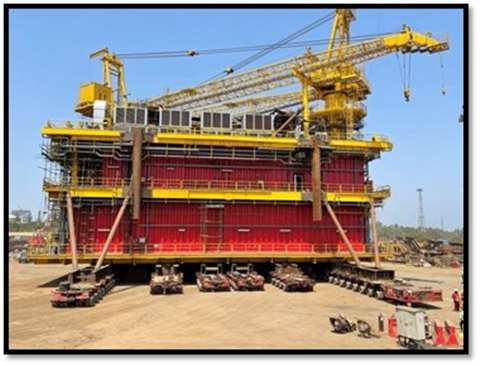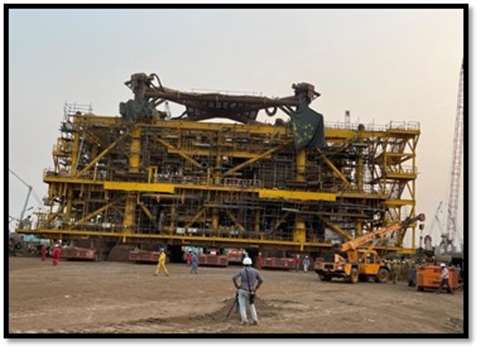 The final and heaviest module load out was the living quarter module (LQ), a "7-storey building" weighing 4,532 tonnes. The LQ module movement from fabrication yard to the jetty involved manoeuvring a hairpin turn and with limited space for the axles which were 60 metres long and 30.5 metres wide. The module was transported from yard to jetty in two and a half hours and rolled onto the barge within an hour.