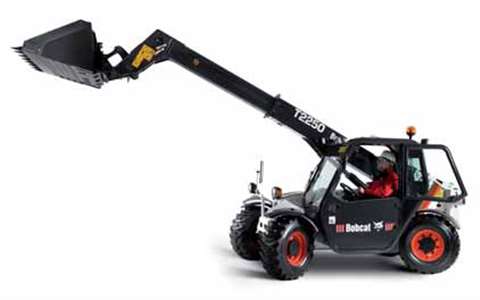 The frenzy of business activity in the telehandler sector was started 18 months ago with the announcement of the Caterpillar/JLG Alliance Group (CAG) – the first machines, the new THB Series, startED shipping in July last year – and culminated in March, with Volvo Construction Equipment's (VCE) announcement that it had agreed to acquire Ingersoll Rand's (IR) road building division for US$ 1,3 billion (€ 1,0 billion).
Although the main reason for the acquisition was to add road building machines to VCE's range, and boost its rental business in the US, the acquisition also includes the eight-model VR range of telehandlers made at IR's Shippensburg facility in the US, which is also part of the acquisition.
VCE had tried developing its own telehandlers in the past but sold the designs to MEC Aerial Platforms in 2005. VCE president, Tony Helsham, said the range was sold because the handler market was already very congested; "This allows us to pick up where we left off, with an established range." The IR handlers are only sold in North America, the Bobcat handlers in Europe, which are made in France, are not affected by the deal.
Speculation within the industry says that if the IR deal is successful, and if the equipment meets CE requirements, it would be a good bet Volvo would want to use the strength of its Europe distribution to push the products into this market. This would have to be supported by good sales in North America, and a willingness by its European dealers to give up the telehandlers they already sell and replace them with one the could take years to establish. Something of a big ask.
March also saw the news that US telehandler and material handling equipment specialist Pettibone is returning to the European market (see box story).
Another new entrant to the market is Liebherr, which finally launched its first ever telehandler models at the end of last year, following the exhibition of its (very) early prototype seven years ago at the 2000 Intermat exhibition in Paris.
Elsewhers, and Haulotte has been active in the sector for some years, but having initially worked with a partner the company is now manufacturing its own design of telehandlers at a recently opened factory in Spain.
Explaining the decision to site the new factory in the Besaya en Reocin industrial park, in the Cantabria region of Spain, Haulotte managing director Alexandre Saubot, told CE, "Firstly, the heart of our market is in Western Europe, and the Cantabria region meets all of our needs in terms of infrastructure and labour force. Secondly, this first manufacturing plant built outside France is a sign of [our] internationalisation."
European Market
Of course all this activity wouldn't be happening if the market wasn't growing. Globally, according to Claudia de Cicco, marketing manager, New Holland telescopic handlers, sales have doubled in the past four years to 50000 units per year, and the market is "now as important as those for skid steer and backhoe loaders."
Half of this increase is in Europe, said Ms de Cicco, with construction and industrial applications representing 60% of the growth. The other 40% comes from agricultural applications. Ms de Cicco told CE, "The past year or so has seen a big demand for telehandlers, especially within the rapidly expanding house building sector, and the material handling sector. We estimate that this sector accounts for 30% of the total market and grew by almost 20% last year."
David Philips, managing director of construction equipment market research specialist Off-Highway Research told CE, that following an "excellent" 2004, "very strong growth" was seen in 2005. "It had been expected that sales would be in the order of 21000 units [in Europe] but enormous demand from rental companies, particularly in the UK and France, drove the market up to over 26000 units," said Mr Philips.
In 2006, Mr Philips said the UK and France continued to dominate demand, with sales expected to reach 7750 and 7000 units respectively. French sales have been driven by demand from the house building and agricultural sectors and this is likely to continue, while the UK's seven years of "unbroken growth" in sales should continue, thanks mainly to construction projects associated with the London 2012 Olympics.
Like France, sales in Spain can largely be attributed to the country's burgeoning residential sector. The market has more than doubled in size over the last five years, and is now an increasingly important part of this "flourishing sector", said Mr Philips, who expects to see sales hit the 2500 mark in 2006.
In Scandinavia continued construction activity in Denmark is likely to mean sales reach 550 units in 2006. In Finland sales rose +16% in 2005 to 110 units, although the market is expected to contract to 95 machines in 2006.
Eastern Europe is also experiencing growth in demand. According to Norbert Donaberger, business director, Bobcat telehandlers, Europe, the company has seen growth in its sales in the region of "more than +30%", with the Czech Republic and Poland "doing well", while the CIS had seen "some nice growth."
Caterpillar's Klaus Ukens, global telehandler alliance product manager, has also been "impressed by the activity of our dealers" in Eastern Europe. While sales in France, the UK and Ireland are "very strong" agriculturally, Mr Ukens said, "the demand from the general construction sector is strong in all European countries right now."
Multifunctional
Bobcat has been busy following up on the launch of its 10 m reach T35100 with the introduction of the new T2250 in July this year, although visitors to Bauma this month will have the chance to see the 2,2 tonne, 5,2 m reach machine in the iron already.
"While the T2250 is a telescopic," said Mr Donaberger, "what makes it special is that it can tackle different environments, different jobs. It's been specifically designed to act as a loader, but it's very compact.
"It also has a quick coupler, taken from our skid steers, which are sold as tool carriers, and all the attachments that fit that will now fit the telescopic. This will greatly enhance versatility, and productivity."
This apparent convergence of functionality – described by Mr Donaberger as a "grey area" – where customers are using a small wheeled loader or a skid steer, but find they need some reach, should be of keen interest to contractors involved in low-level construction and materials handling. However, Mr Donaberger told CE, that while the extra reach may be an attractive add-on there are some concerns over safety and visibility, when using buckets, augers or grabbles and grabs, designed for use with other types of equipment.
A point echoed by Liebherr's European marketing and production manager for telescopic handlers, Georg Dobler. "Wheeled loader buckets, for example, are heavy because of the teeth and wear plates, so when using them with a telehandler you have to be careful. There's also a different view from the cab of the telehandler when using these attachments, so not all attachments will be compatible."
Considered something of a surprise entrant to the telescopic handler sector when it launched its TL Series in late 2006, Mr Dobler told CE that the TL Series fits "perfectly" into its earthmoving philosophy.
A mechanical quick coupler comes as standard, while a hydraulic coupler is an option. While Bobcat's system comes from its skid steer loaders, Liebherr's is taken from its wheeled loader. "This means the TL Series will be able to take buckets, bale clamps, recycling attachments, like grapples/grabs, for the re-handling and recycling sector, while for construction applications it can be fitted with a winch, a man basket and various types of forks and buckets," said Mr Dobler.
Attachments
Another company with new attachments for its telehandlers is Komatsu. It already offers carriage hooks, jibs (with winches), various forks and a variety of buckets, and has added to this with the introduction of new carriage winches and man platforms.
According to the company, its hydraulically controlled carriage winches give greater flexibility for lifting large and heavy loads. Easily controlled through the two attachment switches on the handler's control joystick, the carriage winches can lift loads up to 3 tonnes thanks to a powerful hydraulic motor.
An interesting feature is a 'slow speed kit', which will be included on all handlers that use a carriage winch. Controlled via a switch in the cab, the kit reduces the winch speed as required to give greater control when lifting or placing the load.
Komatsu's four models of man platform – from a basic fixed platform to a rotating and extendible version – can, like the carriage winches, be fitted to any of its telescopic handlers. According to a company spokesman, they are particularly useful for rental companies as they make the machines more adaptable.
The platforms come equipped with a remote control that allows the operator to position the handler's arm from the platform with the same precision as with the cab joystick. Able to perform three movements simultaneously – up, down and sideways – the platforms can be moved extremely close to any structure.
Komatsu's telehandlers come with a mechanical quick hitch system as standard, while a hydraulic system is optional.
Also using a hydraulic quick hitch system for its attachments is the new 305 C+ Mulitihandler from Sennebogen. The Stage IIIA compliant, 91 kW 305 C+ replaces the 305 C and the extra-wide, quick change plate has an increased tip back angle of 45°, and a tip forwards angle of 34 to 142°.
This, said a company spokesman, ensures clean, quick and effective emptying, with no bulky material left behind. The 100% parallel guide mechanism ensures safety in the lift area, even when working with loads.
The 305 C+'s compact dimensions (4,84 m long, 2,5 m tall and 2,48 m wide) ensure great manoeuvrability and flexibility, making it suitable for work in confined sites. The turning radius is just 3,65 m at the outer tires and the hydrostatic all-wheel drive features three different steering systems – crab steering, all-wheel steering and forward-wheel steering.
The two-piece telescopic boom has a lift height of 7,3 m and a maximum lifting capacity of 5 tonnes. A two-piece XL telescopic boom with extended reach and a lift height of up to 9 m is available as an option. The XL version is suitable for container loading, as well as for heavy-duty bucket work or working with a lifting working platform, to a maximum height of 11 m.
Outlook
According to Off-Highway Research's David Philips, future demand in Europe will continue to be "strong", although there is "a realisation that sales over the next five years will level out at around 23000 to 24000 units a year for the foreseeable future," said Mr Philips.
Lift heights above 14 m also look like becoming increasingly common. Bobcat's Mr Donaburger told CE that the 14 to 17 m lift sector should "grow more quickly than the rest of the industry" with contractors looking for "more reach" as housing and industrial farming continue to flourish in the region. Past the 17 m mark Bobcat expects to see "a strong expansion" of the roto side of the business.
Compact machines such as JCB's 515-40, are also likely to become more common on Europe's cramped construction sites, while the increasing popularity of telehandlers as a multifunctional material handler and tool carrier should also help to boost sales in the coming months.