Lifterz partners with Sterling for trailers
By Euan Youdale14 October 2019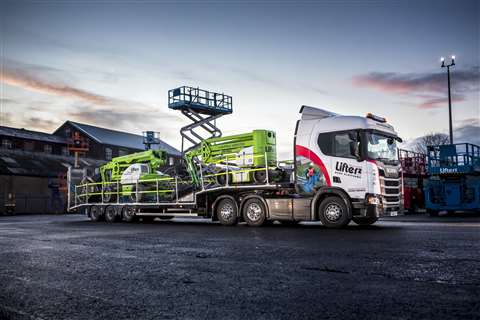 Lifterz has taken delivery of three Sterling ST440 Step Frame trailers which have been exclusively developed for transporting access platforms.
Sterling has supplied rigid beavertail plant bodies to Lifterz under a longstanding arrangement and saw a gap in the market to build bespoke access trailers with unique features required for transporting MEWPs. The two companies worked closely to configure the design.
Features include: a fully galvanised dual serrated mesh decking for maximum traction and safety and 22 Pairs of 5T lashing rings along the side raves and 12 pairs in the centre - perfect for large volumes of small scissor lifts. There are ultra-low loading angles on the main ramps and onto the gooseneck, allowing access platforms to be loaded safety to the top deck. A 3.2m-long double flip ramp slide leaves a small 50mm gap, eliminating the risk of dropping machines between the ramps, while fall arrest handrails along the entire length of the trailer allows wide machines to be loaded safely. Both the ramps and winch can be operated by remote control and the trailer features Truck-Lite LED lighting all around.
The trailers are pulled by high spec Scania R450 tag axle units, with the complete combination giving a payload in excess of 25 tonnes running under C&U regulations. The first Trailer went into service in October 2018 and has already covered over 80,000 km. Subsequently, two more were delivered to Lifterz in July 2019. A further two trailers will be supplied by early 2020.
Steven Gerrard, operation manager at Lifterz commented; 'Myself and Lifterz have had a long, well established trading relationship with the Sterling Group, they produce excellent quality rigid bodies of which we have 12. The team at Sterling clearly understood our requirements and needs to produce a trailer that was fit for purpose, and not an adapted off the shelf unit. We had valuable input from experienced, professional drivers who use these units every day and this assisted us in the development of the trailers.'
Sterling GP is the UK's largest supplier of rigid plant bodies, an already well-established brand in the access hire industry, producing over 180 units per year. Sterling believes the Step Frame Trailer product line will give them substantial growth in the next 3-5 years.