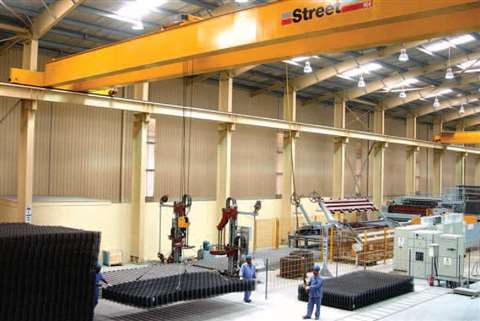 While wheeled mobile and other types of lifting equipment feature strongly in the sector, it is dominated by The EOT (electric overhead travelling) crane.
For an overview of the EOT crane market, Andrew Pimblett, managing director of international overhead travelling crane manufacturer Street Crane Company headquartered in the UK, gives his insight. "The EOT (electric overhead travelling) crane market has many commercial and technical challenges and as crane people we find this one of the most exciting things about the business."
Globalisation is making many businesses look more closely at their manufacturing operations with a view to becoming leaner and more efficient. This means that factory cranes, rather than being a utility, like the lighting and the heating, are increasingly seen as a means of reducing handling times and increasing throughput. "As a company committed to building cranes with customisation to meet individual needs – to make them totally 'fit for purpose' – this trend suits us perfectly," Pimblett says.
Street Crane operates internationally, selling complete cranes in the UK market and crane kits (hoists, carriages, controls and know-how) overseas. While the UK market was very good for Street in 2006, Pimblett says, "We broke new ground in 2006 by signing Street's first licensing agreement. Starting this year, NHM of Nanjing, China, will be building Street cranes for the Chinese market."
Around the world the trend of consolidation continues. Konecranes, which already owns SWF and R&M, recently absorbed both Stahl and Morris. Pimblett's view is that this means there is less real choice for EOT cranes users but that it allows external competitors to offer a different analysis of client needs and a genuinely different solution.
"Consolidation also benefits us internationally. As independent crane producers, selling hoists and crane components to other independent national and regional crane builders, we can offer partnership arrangements. These arrangements come with the promise that we will never enter into competition by selling whole cranes in our partner's territory. As both component and whole crane suppliers, the international majors fall foul of this channel conflict."
Investment is the key to staying ahead, Pimblett says, "In line with our policy of continuously expanding our capability, the series produced ZX hoist range will be extended in 2007 with new models taking capacities to 50 tonnes. Likewise, developments in the custom-built heavy duty VX range will take maximum capacity to 200 tonnes. More products are in the pipeline that will give us access to other new market sectors."
Looking further into 2007 and beyond, the picture is mixed, Pimblett says. "We anticipate some problems. The strength of the US Dollar, for example, affects not just North America, but other markets where this is the preferred currency. Overall, however, we are confident that the expanding market coverage and growing network of distributors and local manufacturing partners mean that we are well placed to more than offset any downturn in any particular market."
Hoists
Turning to products, expansion of the GIS-CH series of electric chain hoists last year saw the maximum capacity of the range raised to 5 tonnes. The Swiss manufacturer also upgraded and expanded the range by increasing the number of options.
Main areas of focus for the CH design are on reliability, easy handling and ease of service. For durability and good thermal characteristics (for example, heat dissipation) the complete housing, including both side covers is made of aluminium.
Drive, up to a maximum hoist speed of 20 m/min, is by a three-phase asynchronous motor with the clutch built-in to the rotor. For maximum safety the multiple disc brake is after the clutch in the drive train so the load is still held by the brake even if the clutch fails. A two-piece reinforced polymer chain guide helps prevent the chain from twisting or getting trapped. For easy maintenance its design allows the guide to be removed and replaced without having to dismantle the hoist.
To comply with the latest regulations the end of the chain is anchored to the housing in the modified side-mounted chain box. Doubling the lifting capacity, by changing to two falls of chain, is done by turning the suspension eye on the top of the housing through 180 degrees.
According to model, the gearboxes are two or three stage, and all gears are helical for quieter operation. The permanently lubricated gearbox is on one side of the housing while the electrics are all on the other side.
Options include frequency controlled stepless motions, hour counter and motorised trolley. Industry applications range from food processing through chemical and sewage treatment, all of which use the corrosion resistant version, to synchronised entertainment industry types for stage and theatre work.
Entertainment
Many hoist manufacturers offer special versions for entertainment industry applications and demand is such that they have separate divisions. The Stagemaker division of France-based manufacturer, Verlinde, owned by Konecranes, recently appointed Gunnebo as its distributor in Ireland. A team is being employed to look after the Stagemaker product. The move gives Gunnebo access to special application hoists in the standard Verlinde range.
Other Verlinde news is that it has also appointed a distributor for South Africa. The partnership with Akhanani Electromechanical Engineering began at a recent exhibition in South Africa where the two companies jointly launched the Verlinde range of explosion proof products to South Africa. Simon Rothechild, Verlinde sales and marketing manager, who negotiated the deal, says, "Verlinde has been doing business in South Africa for more than 50 years and has had local representation for 35 years. We have taken a strategic decision to ramp up our expansion in South Africa and continual growth can be foreseen for the next twelve months and beyond."
Commenting on the development, Arno Dahms, Akhanani director, says, "We have been negotiating with Verlinde for some time and we are delighted with the news that Akhanani has been accepted as a Verlinde distributor. In conjunction with Verlinde, we intend to become the largest BEE manufacturer of cranes in Southern Africa."
Based in Johannesburg, Akhanani has sites around South Africa with around 50 engineering staff to give full coverage of the territory and has further major expansion plans for 2007 and beyond. A current major project is the installation of new equipment at the biggest smelting plant in the Southern hemisphere.
Nuclear lift
Like Verlinde, SWF Krantechnik is part of the Konecranes group. From its headquarters in Germany, SWF supplied Satateras Oy in Finland with a tailor-made 10 tonne gantry crane kit that the latter installed at the fifth North European nuclear power station in the west of the country. It will be used in the facility, called OL3 after the name of its location, Oikluoto, to load and unload trucks.
The crane runway has a total length of 70 m, which the crane travels at a maximum speed of 25 m/min. Span is 8 m, height is 7.9 m and it weighs 6,000 kg.
The crane was assembled on site by local independent crane builder Satateras Oy, based in Siikainen.
At the heart of the crane is a Nova electric double girder wire rope hoist with standard frequency inverter control for smooth motion. The hoist has a maximum load of 10,000 kg and a maximum lifting height of 7 m. The crane is controlled by a radio remote control system. In addition, Satateras also used a special drive system, the power for which is supplied via a motor powered Wampfler cable reel drum.
It took seven weeks for Satateras to manufacture, install and commission the complete crane system, together with its 70 m runway, and finished the project off by providing full training for use of the crane.
Other news from the Konecranes group includes a range orders for new cranes and modernisation contracts. Delivery is due this month of a 12 m span 130 tonne capacity SMD Spacemaker double girder EOT crane for a new 800 MW power station Siemens Power Generation is building in Italy. Scotland-based Konecranes UK is supplying the crane which has a 25 tonne auxiliary hoist and a further 12.5 tonne outreach auxiliary hoist running under a main girder for access to loads outside the main runway area. On the same runway there will also be a 20 tonne CXTD double girder crane. The € 850,000 order also includes a 1.6 tonne explosion proof crane and other smaller CXT cranes for support functions.
For delivery next month is a 130/30/12.5 tonne capacity 15 m span SMD double girder crane to the Rijnmond Power Plant in the Netherlands. The € 475,000 contract is a repeat of the crane ordered by Bechtel for this application nine years ago.
Another SMD Spacemaker crane order is for a 30/6 tonne with 20 m span for the Corus ORB Electrical Steels facility in South Wales. It is designed with an A8/M8 heavy-duty classification. The crane has inverter controls and is operated from a cabin with pendant backup.
Also rated for A8/M8 duty is a new 25/15 tonne 17 m span Konecranes LV double girder crane for Umicore Precious Metals Refining in Belgium. The crane will be used to lift ladles for lifting molten metal. Due to the arduous duty the crane will have open winches on both hoists. The trolley will be a two part unit where an upper trolley can rotate through 270 degrees to allow the auxiliary hoist to be positioned on either side of the main hoist for ease of tipping the ladle.
Radio remote control is specified and, as the crane will operate in high temperatures, all cables are rated accordingly. Other features are ControlPro monitoring for overload weight protection and planning of maintenance downtime. More are dual hoist brakes, twin rope reeving and load summation between hoists.
On wheels
Grove, part of the Manitowoc Crane Group, has updated two models and also added a new model to its YardBoss range of industrial cranes. The 20 tonne (22 US ton) capacity YB7722 and YB7722XL replace the 18.1 tonne (20 US ton) capacity 7720 and 7720XL, respectively, while the 8 tonne (9 US ton) YB4409-2 is the new addition to the line.
In addition to the increase in capacity, the YB7722 and 7722XL have a 13.6 tonne (15 US ton) deck carrying capacity and a 13.6 tonne (15 US ton) on-rubber capacity. The YB7722 has a 13.1 m (43 foot) three section boom, while the XL version has a 20.4 m (67 foot) five section boom, with optional 5.2 m (17 foot) jib that can be offset.
The new YB4409-2 fits between the 7.7 tonne (8.5 US ton) YB4409 and the 9.5 tonne (10.5 US ton) YB4411. It has a three section 9.5 m (31 foot) main boom with adjustable jib, and offers a boom and jib configuration of 14.6 m (48 feet). Its 8 tonne capacity can be handled through 360 degrees and not only over the front. The crane also offers lower ground bearing pressure, says Grove, thanks to a 10% increase in outrigger pad area.
Italian manufacturer Ormig has been manufacturing mobile industrial pick and carry cranes since 1949. Primary applications are moving loads inside factories and travelling with a load on the hook. The range covers capacities from 10 to 60 tonnes, with diesel or battery-electric power. A common requirement, especially for rental companies, is manoeuvrability. Added versatility is offered by attachments that include jibs, forks, hooks and jaws.
Also mobile and finding applications in industrial environments are mini crawler cranes. The 350E4 and 8700E are two models from Kegiom in Italy that are often used in industry. A primary feature is their small dimensions allowing access in tight areas. The 350E4 is 0.75 m wide, 1.99 m long and 2.04 m high. The 8700E is 1.30 m wide, 3.70 m long and 2.30 m high.
In its domestic market Kegiom says the majority of business is rental while in other countries it is sales, especially in Germany and Belgium. Typical buyers and hirers include small and medium building contractors, machinery maintenance firms, and the agricultural sector. In development Kegiom has a new model that will have pick and carry duties.