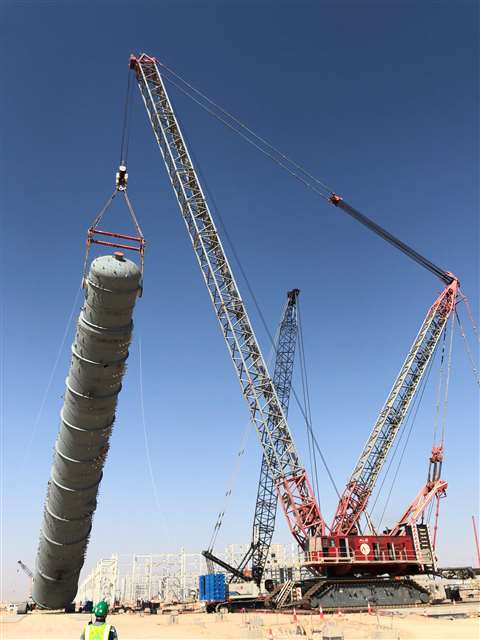 On Iraq's Karbala refinery project ALE used what it claims as the largest crane ever in the country.
More than 350 lifts of refinery components will be made over a year. ALE's fleet for the job included 24 cranes, from 50 tonnes to the 1,600 tonne capacity Demag CC 8800-1 lattice boom crawler, and 48 axles of self propelled modular transporter.
Alberto Pittaluga, ALE director in Iraq, commented, "For this project we were keen to optimise the project schedule as much as possible, selecting the best equipment for the job and maximising mobilisation times. Within just one month, the cranes were shipped, transported to site and assembled, which is a huge achievement for everyone involved and demonstrates our commitment to our client's timeframes."
Quick mobilisation of the cranes also allowed ALE to optimise the overall project schedule, the UK-headquartered company said.
The Karbala Refinery, in the South Karbala province, started in 2016. Each contract so far has been between one and three years. ALE already transported about 45 oversized items, weighing up to 250 tonnes each. Operations are expected to complete in April 2019.
Karbala is part of the country's investment of US$6.04 billion. The new facility will have a refinery capacity of 140,000 barrels of crude oil a day.