Lighter designs
By Laura Hatton30 June 2015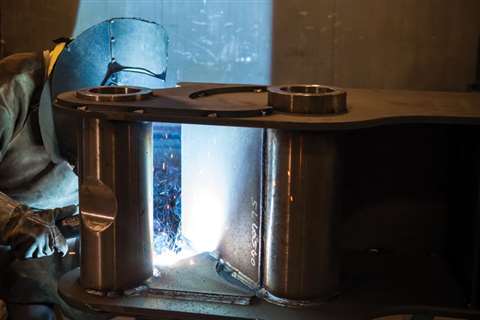 In the first of a new series, Laura Hatton takes a look at how manufacturers are reducing the weight of cranes to improve performance and efficiency.

When designing a crane, manufacturers need to produce models that are efficient for the customer. Reducing the weight of the crane not only helps save fuel but, for larger mobile cranes, it also helps enhance the performance.
As Wolfgang Beringer, Liebherr sales promotion, explains, mobile cranes are not necessarily lighter than they were 10 years ago, but the level of performance has increased. "Ten years ago, six-axle cranes had a maximum load capacity of 200 to 250 tonnes, whereas today six axle cranes have a load capacity of 350 to 400 tonnes," Beringer says. "A six-axle mobile crane is designed to fully use its permissible weight of 72 tonnes [6 x 12 tonne axle load]."
This development has been possible as a result of new technologies and new materials, which help keep the weight of the crane down, while maintaining or even increasing the payload. Manufacturer of articulated loader cranes, Effer, for example, uses a design process called Infotech to design light yet powerful cranes. Irene Montagnana, Effer marketing department, explains, "The infotech Light and Powerful design refers to the structure of our cranes. We use Weldox steel, cylinders fabricated in special materials with higher specifications to reduce thickness and weight of the cylinder barrel walls and a decagonal structure for the second boom."
Effer patented the decagonal boom design for high-medium range cranes. The decagonal section is obtained from a single sheet of folded sheet metal, with a single internal and external robotic welding. This patent reduces the thickness and weight of sheet metals, the manufacturer says.
"This patent reduces the thickness and weight of sheet metals," Montagnana adds. "With greater structural lightness we can offer greater power available for load handling, greater residual loading capacity on the truck and the ability to mount cranes on smaller trucks."
Lightweight steel
To keep weight down, crane manufacturer Liebherr uses S1300 steel for the telescopic boom in the latest crane models, with corresponding laser and laser-hybrid welding. "We have also replaced steel panelling by glass-fibre reinforced plastic (GFK) material or aluminium," Beringer adds.
Saving weight wherever possible is another area that designers look at and manufacturers such as Link-Belt use lighter materials such as aluminium for wheels, storage boxes and fenders. In addition, the carrier frame is made with high-grade steel.
The use of lightweight materials such as aluminium is also used by Manitowoc decking, cabins and rails. In addition, Manitowoc boom trucks have aluminium rims and lighter weight lift axles. Further weight saving is achieved by using KZTM100 synthetic wire rope, which is claimed to be stronger and lighter than traditional steel rope.
Removing weight
Providing the customer with the option to remove sections of the crane is another way that the weight of cranes can be reduced, especially for travel. Andreas Cremer, Manitowoc global product director all terrains and truck mounted cranes, says, "We provide removable outrigger boxes, quick disconnects for outrigger beams, boom removal kits and boom float kits which allow us to drive the boom over the rear on a dolly sometimes. We also offer self-rigging and removable auxiliary hoists and the self-rigging Mega Wing Lift, a tensioning system for the boom.
Manufacturer Terex also focuses on this method of weight saving, as Rüdiger Zollondz, Terex product marketing director, explains, "To increase payload and meet axle load regulations, end users can easily disassemble certain parts of the crane, for example, the jib, counterweight, second hoist and even main boom if required. For specific markets such as the USA, Canada or Australia, we can provide dollies to distribute the weight of the crane on more axles.
"Regarding the design features allowing customers to remove unnecessary weight during transport, we can quote options such as the asymmetric outrigger positioning system, available on our Explorer cranes, which gives our customers a greater flexibility when planning projects, allowing the same type of lifts to be accomplished with less counterweight to save on transport costs," Zollondz adds.
Fuel focus
The pressure on manufacturers to reduce weight in mobile cranes is partly driven by the need to save fuel, as Jim Glazer from boom truck crane manufacturer Elliott Equipment, explains, "The amount of fuel savings, as measured by miles per gallon [MPG], can be dramatically altered by weight. For example, there is a 21.3 tonne difference between a truck weighing 14.9 tonnes and a truck weighing 36.2 tonnes, and this difference in weight can come close to doubling the mpg rating. This can be further affected by how the unit is used, such as if the miles are mainly highway or in town. Savings will also vary based on the number of stops and starts."
Andreas Cremer adds, "Years ago we had a rule of approximately 20 litres per 100 km fuel consumption per axle or per 12 tonne crane weight in a combined driving cycle (off-road, highway and city traffic). This consumption is today influenced more by new engine technologies and different transmissions being used. On our products we do see fuel consumption savings of up to 30 % staying within the same gross vehicle weight."
To help keep the weight of the company's boom trucks down, Elliott Equipment makes use of the unit's subframe to serve a part of the bed on the larger units. "We also use aluminium instead of steel where appropriate, especially for beds and tool boxes," Glazer adds. "We offer a lifetime structural warranty, so we will not minimise the integrity of the unit but, instead of adding more metal, we will look to lighter, stronger types of steel for these components. We also use nylon winch cable, which is as strong as steel, yet light enough to float on water."
Increased focus
Despite the numerous advantages of reducing the weight of mobile cranes, there is a conflict of interest when improving weight efficiency of a crane, as Rick Curnutte, Link-Belt product manager for telescopic truck and all terrain cranes, explains, "Weight becomes your friend when lifting and what a crane can lift today has definitely improved over the last ten years in terms of materials and better design techniques. However, because of emission mandates and permitting requirements, today's crane has not gotten any lighter. The challenge with every emission mandate is adding more and more emission devices while maintaining the transport weight. For smaller tonnage truck cranes, the key is keeping the crane in one piece. For the higher tonnage cranes, the focus then becomes maximising the load for each support vehicle and minimising the number of support vehicles needed. Reducing the number of support vehicles is where real savings in fuel is realised."
Steel
To help reduce the weight of cranes and other off-highway equipment, European steel supplier Tata Steel has launched a range of stronger hot finished hollow sections for crane booms and other structures.
The higher grade steel, Celsius 420, has a yield strength of 420 megapascals (MPa) and weight savings of up to 17 % compared with Tata Steel's Celsius 355 grade products, the manufacturer says. Applications include lattice crane booms, cross bracings and cab structures.
Celsius 420 hollow sections, with higher yield strength, can be used as a thinner section, helping equipment manufacturers meet targets for emissions and fuel consumption through weight reduction, the manufacturer said. The steel has a lower carbon equivalent value (CEV) of 0.45, putting it in the "good" category for welding.
Henrik Adam, Tata Steel chief commercial officer in Europe, says, "While our Celsius range is already very well established in the structural hollow sections market, we know our customers are always looking for new materials with enhanced properties. This is why we focus so much on innovation to develop next-generation products. We're bringing to market an entirely new range of hot-finished hollow structural sections that we believe is in a class of its own. Celsius 420 guarantees proven performance and quality assurance, offering customers design freedom and manufacturing confidence."
Kevin Edgar, Tata Steel head of marketing, engineering sectors for European operations, adds, "Being a hot-finished structural hollow section product with added strength, Celsius 420 offers equipment makers big advantages through lower material costs, good welding and improved performance thanks to the high degree of uniformity in wall thickness. Customers can reduce the weight of the material they use for equivalent performance, which gives further benefits in terms of weight savings."