Lighting Towers: Bright future?
By Thomas Allen24 September 2020
As seasonal products, lighting towers commonly feature in rental companies' fleets. So for lighting tower manufacturers like Trime, rental is vitally important. In the UK, which is Trime's main market, close to 90% of its sales go to rental companies, according to CEO Ray Caulfield.
He adds that in the rest of Europe and in the US about 60% of revenues come from rental, while in Australia the split is 50/50.
Caulfield is very familiar with the rental industry; "I've been in the rental industry all my days. For 13 years I was running a company called Errut that was supplying concrete equipment to the rental industry," he says.
Starting afresh
After selling the company to Belle, Caulfield spent 20 years working on exports for Tower Light, before it became part of American company Generac. Soon after, Caulfield left to set up Trime with Andrea Fontanella, who is now Director and General Manager of the firm.
It began with the launch of the X-Eco in 2016 – which is now Trime's largest volume seller – and since then Trime has focused on supplying environmentally friendly products, which Caulfield has seen growing demand for in the industry. "Everything we do has an environmental benefit," he says.
Compared to the VT1 model that is standard in the UK market, according to Caulfield, the X-Eco offers a 72% reduction in emissions and uses 72% less fuel.
Since then, the company has introduced the X-Hybrid in 2017, which combines a diesel engine with a battery; the X-Solar Hybrid in 2018, which has a diesel engine, a battery and solar panels; and the X-Solar this year, which uses just batteries and solar panels.
Avoiding emissions
Taking Britain as an example, Caulfield says cities are increasingly requiring machines to be electric so that they do not generate emissions on site.
"When it comes to rental," he says, "obviously you have to pay more to rent a solar machine than you would an X-Eco, and sometimes the contractors won't pay that. But they are being forced into that by local authorities." So it appears to be driven by legislation.
He adds that of the approximately 22,000 lighting towers in the UK market, roughly half are still the VT1 type; "So there's still scope for growth in the market because those machines have to be changed… So that's good potential for ourselves and other manufacturers of lighting towers."
On the topic of the Covid-19 pandemic, Caulfield says the UK experiences a recession roughly every 10 years, so he and his team have experience of dealing with such situations where rental companies stop buying new equipment for a time.
"What you would usually do in a recession is start to look for more markets overseas that are not affected… But of course this particular recession is worldwide," says Caulfield.
Further afield
So, while Trime is still employing the strategy of looking overseas – indeed, the US market is proving a good one for Trime – Caulfield says, "We are looking at new products, new market sectors – not necessarily lighting towers." Though, he could not be more specific.
Caulfield also stressed the importance of small rental companies; "The one-man, one-depot businesses are very important to us, so we've got a good spread of network to the smaller rental companies."
Estimating that there are about 2,000 such companies in the UK, Caulfied says Trime is building up this side of the business.
Sun-powered fleet
Sunbelt Rentals in the UK – which was A-Plant until its rebranding by parent company Ashtead at the start of May – added £400,000 worth of new solar lighting towers from Prolectric to its rental fleet earlier this year.
They were purchased by the company's rail business in support of Network Rail's CP6 target to reduce non-traction energy consumption by almost 20% and carbon emissions by 25%.
Paul Price, Director of Rail at Sunbelt Rentals, said, "We've made an initial investment of 25 units, with plans to purchase further stock later this year. We anticipate that these solar lighting towers will be a prominent offering in our fleet soon."
The ProLight does not require fuel and its digital inbuilt remote-control function allows operators to alter the settings remotely, storing key data that can be monitored or evaluated over time.
It has a trailer-mounted unit with heavy-duty, deep-cycle batteries, an array of three or four 330W solar panels, a 7.5m telescopic mast and four LED lights that can cover a 550m2 area at a minimum lux level of 20 and 10,000 to 40,000 lumens output.
The lighting towers will be used on rail renewal sites including access roads, welfare cabin areas, car parks and track working areas.
Price said, "There's no doubt these new technologies are going to be a complete game changer for our industry and we need to push on to get to a place where using this type of technology is just the norm.
"The environmental impact of running diesel tower lights all night on large-scale sites is no longer sustainable."
He added that, beyond the issue of carbon emissions, it is important to reduce air and noise pollution for lineside neighbours.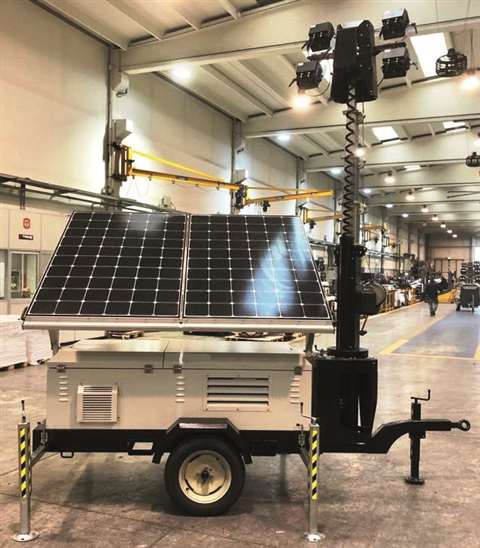 "The demand for sustainable, lower carbon producing tower lighting has increased in recent years," said Price, "And Sunbelt are delighted to offer the biggest fleet in the country."
New models
MHM Plant, based in the UK, has recently launched three new lighting towers, all built in Italy.
The company says sustainability and the use of renewables are at the top of its agenda. As a result, two of the new products are solar powered.
The X-Street model has an integrated lithium-iron-phosphate battery that is charged by the unit's solar panels, which operate in most weather conditions. The benefits of this setup extend beyond the lack of carbon emissions to the fact that the machine is silent.
The lighting tower has a 50W LED lamp fitted onto a five-section manual vertical tower, and it is fitted with an automatic movement sensor that dims the light when it detects no movement and increases the light intensity when motion reappears.
MHM said 40 units can be loaded on a standard truck.
Solar charging
The other new diesel-free lighting tower from MHM is the ST-9, which is also powered by a lithium-iron-phosphate battery charged by a solar panel.
Rental companies have the option to upgrade to a vandal- and shatter-proof, flexible solar panel for added safety.
The ST-9, which Is fitted onto a road tow trailer, has a 9m vertical mast with four LED lamps.
For rental companies that are still opting for diesel-powered lighting towers, MHM has developed the new DT-9 model, which is also fitted to a road tow trailer.
The unit has a 9m hydraulically operated vertical mast and four lamp heads each with eight LED lamps. The eight lamps have been designed to swivel in different directions to provide a greater, more even spread of light, according to MHM.
For ease of maintenance, the DT-9 has large gull-wing doors and a 'king-sized' fuel tank for extended running times.
Changing with the times
MHM Group has changed significantly in recent times, with the group being divided into three divisions: MHM New Equipment Sales, MHM Used Equipment Sales and MHM Rehire Division.
Mat Llewellyn, the group's Managing Director, says, "Our aim in creating these divisions is to give each of our services a clear identity, so that any rental company wishing to purchase or rehire our equipment can swiftly determine which option is relevant to them."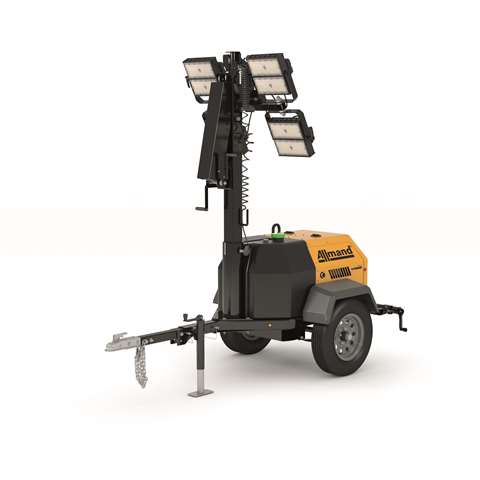 The MHM Rehire division only hires to recognised rental firms, rather than end users.
A new lighting tower introduced by Allmand was described by the US-based company as a compact 'work horse on the jobsite'.
The Night-Lite GR-Series is powered by an air-cooled Yanmar diesel engine that was said to be lightweight and low maintenance. It can handle temperatures as low as -21˚C or as high as 40˚C.
The lighting tower also features a 170 litre fuel tank and four LED fixtures with 195,592 total lumens.
Cost of ownership
20 units can be shipped on a 48-foot truck, and Allmand claims that each tower offers a 12% increase in total cost of ownership compared to the leading competitor based on five years of service and industry residual value.
Over the border in Canada, manufacturer Lind Equipment's All-In-One Beacon LED Tower recently won the Experts Choice Most Innovative Product Award at the World of Concrete exhibition.
The All-In-One Beacon LED Tower alleviates the need to own three separate lighting assets by combining them all into a single, compact unit.
The All-In-One has the capacity to be generator-powered, electric-powered and to work as a diffused no-glare lighting tower.
This of course means that the unit can be rented out for a range of applications, which has obvious benefits for equipment utilisation. Instead of owning a generator lighting tower, a small indoor electric tower and a balloon light, a rental company can own a single unit to serve all those needs, throughout the year.
It was described by Lind Equipment as a heavy-duty, full-brightness lighting tower than can also be a diffused, no-glare lighting tower. In fact, the unit's adjustable, movable no-glare diffuser frames make it possible to deliver a mixture of diffused and full-brightness light simultaneously.
Sean Vandoorselear, CEO of Lind Equipment, said, "The Beacon LED Tower series has received an astonishing seven award wins in a few short years – and we are just getting started."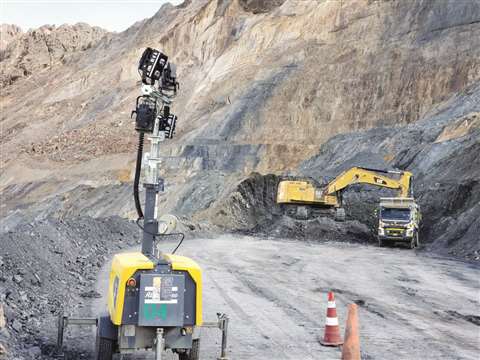 High lights
Peruvian mining company JRC recently purchased six HiLight V5+ lighting towers from Atlas Copco to illuminate the Iscaycruz mine in Peru, which is located at an altitude of between 4,700 and 5,000m.
Julio Tello, JRC Equipment Manager, said, "The survival in this area is very hard, both for people and equipment: we worked with light towers from another manufacturer for a while and they did not work out. The three-cylinder engines shut down after two hours working and the lamps broke easily."
This resulted in heavy losses for JRC due to the impact on night shifts. As a result, the company tested one of Atlas Copco's HiLight V5+ lighting towers on site and subsequently bought six units.
The HiLight V5+ model has been designed for demanding conditions, according to Atlas Copco. It features a HardHat canopy as standard, which protects internal parts, and it has directional optic lenses that maximise practical light coverage while minimising dark spots.
Each lighting tower has four LED floodlights, each projecting 350W of light. As a result, the HiLight H5+ can illuminate an area of up to 5,000m2, providing an average brightness of 20 lux.
The lux levels of the LED lamps do not deterioration and the lamps themselves have a life expectancy of more than 50,000 hours, said Atlas Copco.
In addition, the HiLight H5+ lighting tower consumes less than 0.5 litres of fuel per hour, providing a run time between refuelling of 260 hours.
"The acquisition of Atlas Copco's HiLight V5+ light towers with two-cylinder engines changed the whole picture for us," says Tello. "It's a solution that has been radical. Until now, JRC's expertise has been mainly underground mining projects. However, the operations at Iscaycruz is showing that we are the right fit for open-pit operations. That is why we are preparing seven mining projects in Peru and one in Mexico. The HiLight V5+ light towers are helping us to operate this type of project perfectly".
Nelson Batistucci, Atlas Copco Business Line Manager for the Andean region, said, "In order to deliver the right solution for our customers, we need to understand their needs well. In this case, considering the challenges of working at extreme altitude, as it is common for many of our mining customers in Peru, helped us choose the right light tower for JRC."
Trime's 'Monster' lighting tower
Italian manufacturer Trime has introduced a new lighting tower aimed at the mining industry.
The globally available Trime X-Mine Monster is a lighting tower fixed onto a wide crawler undercarriage, giving it stability in all terrains.
The unit has a dynamic levelling system that automatically tilts the mast when on an incline, so that the tower remains vertical and the lamps steady.
Thirty multi-directional and adjustable 150W energy-saving LED lamps are fitted onto a 10m hydraulic and foldable mast, with 240˚ rotation. As a result, the X-Mine Monster can illuminate an area of up to 24,500m2.
The new lighting tower was said to be easy to operate and simple to manoeuvre.
Remotely controlled via a Wi-Fi enabled joystick-operated console, it has a maximum driving speed of 2.2km/h.
Ground level headlamps are fitted for safety, and the unit has a 150 litre fuel tank that allows it to run continuously for up 94 hours. 9kVA of auxiliary power is also available at 48V DC.
Trime designed and manufactured the X-Mine Monster in response to a request from an Australian open cast mining contractor that was working twenty-four hours a day.
The contractor found that traditional wheeled lighting towers were unsteady and provided insufficient lighting. They were also proving difficult to transport around the site.
So the X-Mine Monster was made to provide lighting in areas that are difficult to access with traditional vertical lighting towers, and to light up a work area above and below an excavator's digging arm.
"We always have a very open mind when we receive special requests for bespoke machinery," said Matteo Tagliani, Sales Director, Trime. "We will always listen carefully to individual requests and work hard to achieve a satisfactory outcome for both parties."