Lighting Towers: Innovating Illumination
By Katherine Weir27 February 2020
According to Alessandro Rossi, Managing Director for Generac Mobile Products, there are two core themes that dominate the lighting tower rental sector: need and utilisation.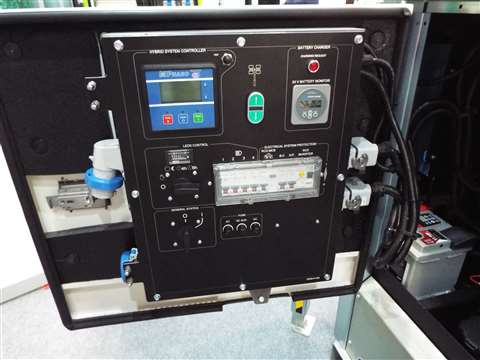 "With so much choice and demand, pressures are increasing for hirers to offer state-of-the-art hybrid or renewable fuel options with new product innovations," Rossi said. "This presents many challenges for hirers as they aim to meet customer need with the practicalities of specifying and managing diverse fleets with skills, knowledge, product availability and maintenance."
New for the compact market is Generac's MT1 mini lighting tower, which replaces the original non-Stage V MT1 model. Driven by a Stage V Yanmar engine, this machine is aimed at the global market.
Improvements on the old MT1 include its lightweight and compact size, better for transportation.
In response to customer requests to make the machine safer, the manual winch on the mast has been replaced with an electrically-driven mast.
Another Stage V update from Generac is the new Cube Hybrid lighting tower with twin-cylinder Stage V Kubota engine. It offers 400-hour autonomy when fully charged and fuelled. It has dry cell AGM batteries that are not subject to the same restrictions as lithium-ion batteries, meaning more units can be transported at once.
The focus with the Cube Hybrid is the UK market, but it will be marketed globally.
Also responding to market demand for alternative power sources in lighting solutions, Morris Site Machinery introduced a new hybrid lighting tower prototype, the TL55 Solar H2, at the Executive Hire Show 2020. The intention of releasing this prototype is to prompt customer feedback to help the company further develop the machine for the rental industry.
Allan Binstead, Managing Director of Morris Site Machinery, said, "Bringing a prototype to a show has been a new experience and allowed us to really understand our customers. Innovation and eco solutions are crucial for the industry and we want to be sure we're delivering the right products to suit the customer on the ground."
Emissions vaporised
Water vapour is the only emission from the prototype's fuel cell. This additional energy source automatically kicks in to charge the batteries as required, during long winter nights and adverse weather. It is fuelled by two easily accessible hydrogen cylinders mounted within the chassis.
Managing Director of Trime UK, Paul Hay, told IRN, "Trime has seen a rise in demand in the UK for its hybrid and battery-powered lighting options in 2019, driven by the requirements of contractors who are influenced by legislation like low emission zones (LEZs)."
The company recently introduced its X-Eco Hybrid. The model offers extended service intervals of 500 hours and has a quiet, slow-running, water-cooled engine. It also has a light sensor that automatically switches on the lights below a certain light level. Hay highlighted this as a safety benefit since there is no need for a person to go to the unit to turn it on.
The X-Eco Hybrid is powered by a series of maintenance-free lithium batteries and a small diesel engine. The batteries take two hours to fully charge, and then they can provide eight hours of light without noise.
The X-Eco Hybrid has the same compact dimensions of the manufacturer's X-Eco LED lighting tower and is fitted with Trime's telemetry system. As standard, it also comes with the Amoss safety system, which automatically lowers the mast if the lighting set is moved while the mast is still erected.
France-based Paclite has introduced its new hybrid Maxi-Light, which is aimed at northern markets and has four 160W LED lamps.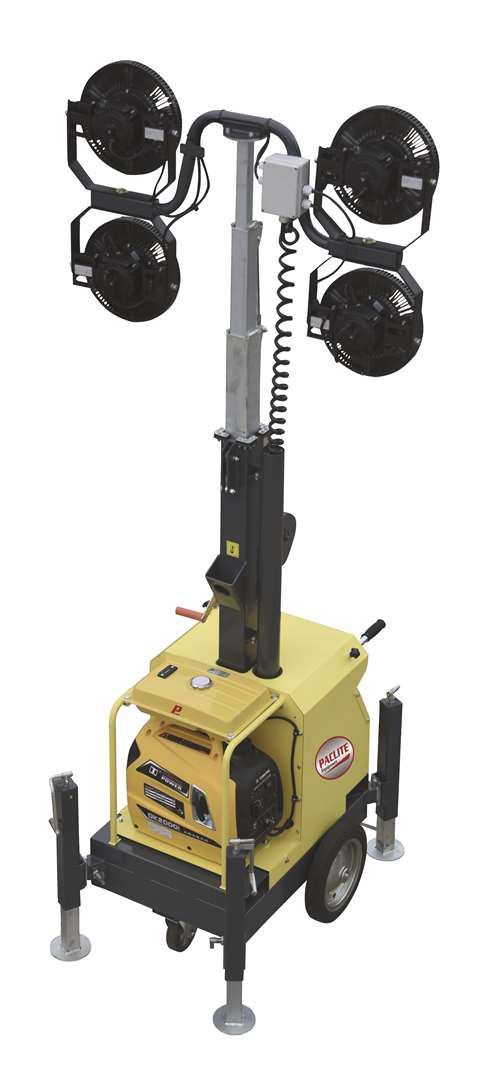 The company said that the model was created for 'diverse rental applications.' It can be connected to every type of power supply, including an auxiliary supply, a generator or the grid.
The Maxi-Light covers an area of 3,000m2 and the LED lamps have a lifetime of more than 20,000 hours.
The lighting tower can run for eight hours with a small Paclite petrol generator.
LED trend
Also new from Paclite is the PL2000 Eco LED lighting tower. According to the manufacturer, the PL2000 has the lowest weight on the market at less than 750kg. It is run by a single-cylinder Hatz engine and a PMG alternator.
There is a clear shift towards LED lights, and Atlas Copco is giving users a 'cost-efficient' way to make the change from metal halide with the latest addition to its lighting tower range, the HiLight V4+. The company said that the switch to LEDs provides a brighter, safer and more productive working environment with increased lighting autonomy.
The new model has a coverage of 4,000m2 and the capacity of its fuel tank has been extended to 110 litres, giving autonomy of 245 hours.
The automatic voltage regulator (AVR) on the unit's alternator was highlighted by Atlas Copco as a unique feature that improves voltage stability and operational reliability, compared to alternators regulated by capacitors.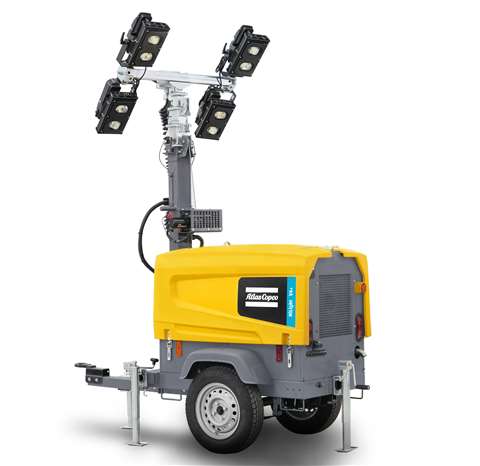 Other key features include near-silent operation and automatic starting, provided by Atlas Copco's LC1003 Advanced Controller.
Félix Gómez, Divisional Product Marketing Manager, Light Towers at Atlas Copco, said, "The HiLight V4+ combines high-efficiency LEDs, special optics and durable construction; this offers users needing limited area coverage a cost-effective and reliable way to access the superior performance of LED lighting."
Meanwhile, Lind Equipment is giving rental companies a way of offering three separate lighting solutions with a single lighting asset.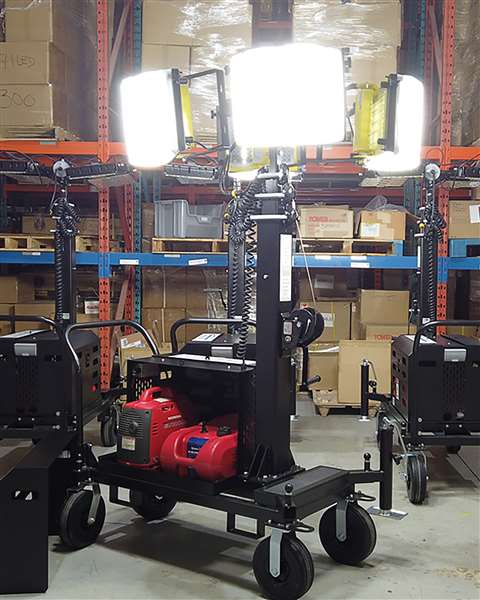 Multifunctional
The Canada-based company's All-In-One Beacon LED Tower can be used as a generator- or electric- powered machine and as a no-glare diffuser lighting tower. It comes with the same features as previous models, such as 30,000 lumen weather-proof light heads, an IP65 wet-location rating, and a tough and durable exterior.
Brian Astl, President of Lind Equipment, said, "The light tower market has recently begun to make the switch to LED lighting, which shows progress. However, even for those towers that have made the switch, they still are not utilising the potential efficiency savings.
"While the lights might be more efficient than a traditional metal halide, the same oversized diesel generator is pumping out extraordinary amounts of fumes. Additionally, the weight of the generator itself would cause the trucks towing it to burn more fuel and energy just to pull it around a jobsite."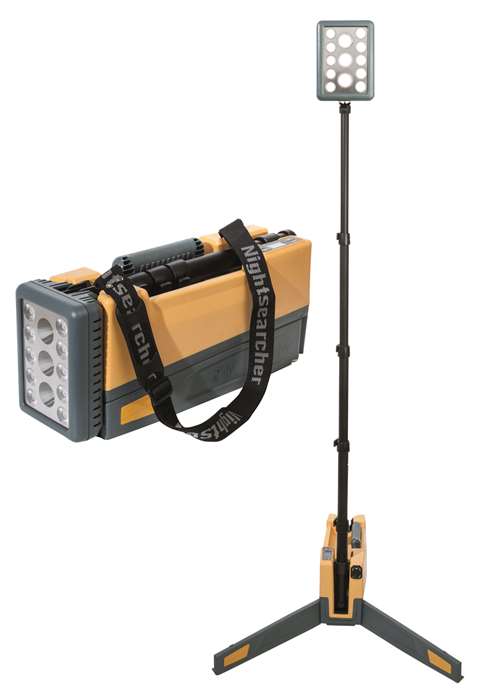 A light to celebrate
UK-based LED lighting manufacturer NightSearcher has launched a new floodlight to celebrate its 30th anniversary in business. The Solaris Pro is the latest addition to the Solaris floodlight range and has a 16,000 lumen output that provides a long-distance search beam to light wider areas of up to 500m.
The company said that the floodlight is easy to set up and has a multi-position 1.8m extension pole and light head for inspection of manholes, along with fold-out stabilising legs that can be used on uneven ground.
Since it has a rechargeable lithium battery, the need for cables and costly generators is removed.
The Solaris Pro has a smart control panel and the run time can be programmed for up to 24 hours, automatically setting the required light level for a given time. This model takes six hours to charge, while the Solaris Pro X takes 8 hours.
Getting smart
Atlas Copco has developed a new technology named SmartMast, with inbuilt sensors that detect and respond to adverse conditions, obstacles, potential impacts and irregular ground surfaces.
The patented system is designed for use on light towers with extending hydraulic masts, and is said by Atlas Copco not only to improve site safety but also to reduce operating costs by extending autonomy due to its dimming function.
The manufacturer's HiLight B5+ light tower is the first model that the new system can be used on, with plans to offer this on other HiLight models in due course.