Linden Comansa on multi million Euro build
By Laura Hatton17 November 2014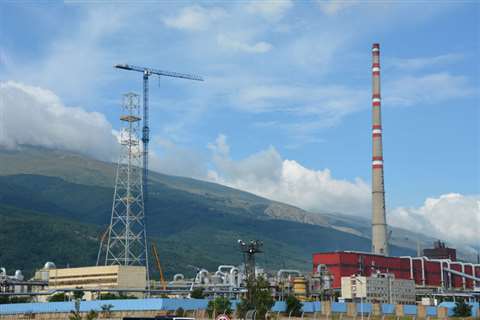 Copper producer Aurubis Group has put a Linden Comansa 21LC290 tower crane to work at a sulphuric acid plant near Pirdop in Bulgaria.
The 21LC290 was delivered and installed by Bulgarian dealer Bulgarcom. The facility is part of the Aurubis Group €44.2 million (US$ 55.1 million) Aurubis Bulgaria 2014 project, which aims to protect the environment and increase productivity, a spokesperson said.
The 18 tonne capacity 21LC290 will be used to build two chimneys. It has been configured with a freestanding height of 63.1 metres and 40 m jib.
The first chimney was 125 m tall. For the lift, the steel structure of the chimney was assembled on the ground into modules weighing 14 tonnes. The sections were then lifted into position.
As the job progressed, the tower crane was tied to the steel structure with a bracing at a height of 49 m, a spokesperson explained. A Linden Comansa J2-10 cage was used to climb the crane to a height of 101.6 m. At a later stage of the project, another tie-frame was added at the height of 88 m, bringing the crane's final height under hook to 134.6 m.
Due to the site's location next to the Balkan mountain, the team had to deal with changing weather conditions during the installation of the crane. Tenko Tenev, chief technician at main contractor Metalik, said, "We had many thunderstorms and the constant changes of the wind were a big challenge for all of us."
Nikolay Nikolov, Bulgarcom managing director, said, "The construction of the chimney was very fast, partly because of Linden Comansa's Effi-Plus system. The standard 50 kW hoist winch works at a high speed, up to 150 metres a minute, which allowed us to accomplish a very efficient job, especially during the hoist down procedures."
For the second stage of the project, the crane was disassembled and erected at another part of the plant to build the second chimney. To install the 120 m high chimney the crane has been configured with 40 m jib at a height of 101.6 m. Final height under hook will be 123.6 m.