Lined up for the future: Alain Faymonville

Alain Faymonville, CEO at trailer manufacturer Faymonville, talked to Alex Dahm about his company and the future.
Many capital equipment companies are assemblers rather than through the line, raw material in, finished product out, manufacturers. Depth of manufacture has reduced over time with a trend towards outsourcing parts, finished and tested components and sub-assemblies.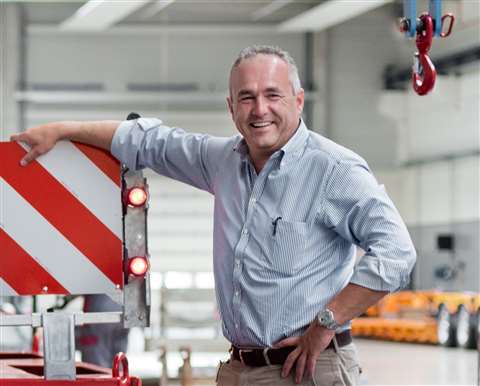 Bucking that trend is European trailer manufacturer Faymonville. Its roots are in the German-speaking region of Belgium where six generations ago in the 19th Century the family ran a blacksmith's shop. By the 1960s forestry trailers were an important part of the business. Now the company has bases in Luxembourg, Belgium, Poland, Italy and Russia.
Expansion in 2006 saw the addition of a Faymonville factory in Poland followed by a service centre and production facility set up in Russia in 2014. In 2017 Faymonville acquired Italian modular self propelled transport equipment manufacturer Cometto. The company now offers three lines to cover the load range from 15 to 15,000 tonnes or more.
Back in the days before just in time deliveries it was often more a case of needs must. An absence of a local supplier network for parts and components meant if you wanted something it might just be just as easy or better to make it yourself. A benefit is that you control everything about it to suit your needs exactly, from the design to the quality and the delivery.
Alain Faymonville has run the company with brother Yves since 1991. Faymonville still very much pursues the idea of making as much as possible in-house. Evidence of this was clear on a recent tour of the factories in Belgium and Luxembourg.
Faymonville began by explaining the company's position and product offer. "The most important thing we have first is the brand Faymonville where we cover the load capacity range from 15 to 500 tonnes. To one side of that we have the Max Trailer range and on the other side Cometto. This was a first step to say that we are a full-range supplier for payloads from 15 to 15,000 tonnes. We cover it using different philosophies, different products and different factories.
"We have always invested on green fields, growing organically. Cometto was an exception because we bought technology. We want to continue to grow and now we have a full line so we don't have to buy anything. Organic growth is our future. What is now important is to find synergies from the smallest to the biggest – purchasing, logistics, development, of parts, created service, spare parts, and so on across the three brands.
"The product ranges are similar, but each has its own philosophy. Max Trailer is a standardised product with fixed options. With Faymonville we standardise components but create a lot of different combinations. Then with the offroad side we have Cometto where, with the same technology, we are also developing vehicles for steelwork and shipyard applications."
Ready for growth
"We now have an infrastructure within which we can grow. It is a family company and we go step by step. We reinvest completely out of the cashflow and we don't have any bank debt. This is important.
"It's also very important to explain about Cometto where the focus is fewer bigger units for heavier lifting and transport. What we learned from building the higher-volume small trailers – about productivity, quality, service, surface treatment, and so on – is what we will bring, by the end of 2019, to Cometto production. The quality pressure on the small products is a lot higher. Where warranties and guarantees are concerned it pays us to have good productivity and high quality.
"Customers see what we do and how we do it - details of the manufacturing, details of the product's design - and they say they've never seen such investment in a trailer factory. You can see it in all our trailer factories. At our Polish factory we have a hundred metres of production robots. We have some really big machinery there.
"The next step is to bring all that to Cometto. Today it has a small market share but with our knowledge from the smaller trailer business we can grow quickly. We have a large Faymonville dealer network with a strong worldwide presence. We want to use that to develop Cometto. These are the synergies between the three brands: our sales strength is greater and we have a better network for service and for spare parts."
Commenting on markets where the company is strong and where it will focus its export efforts, Faymonville says, "The biggest part is Europe. We grow a lot in America and for this year we have a lot of new projects in Asia. In a lot of countries business has come back, where in oil and gas producing countries it was not easy. Mining in Australia has come back a little. There is a lot to do in Turkey but there is the political situation. Last year we could make a wonderful business in Iran but we are not taking a risk so we stopped."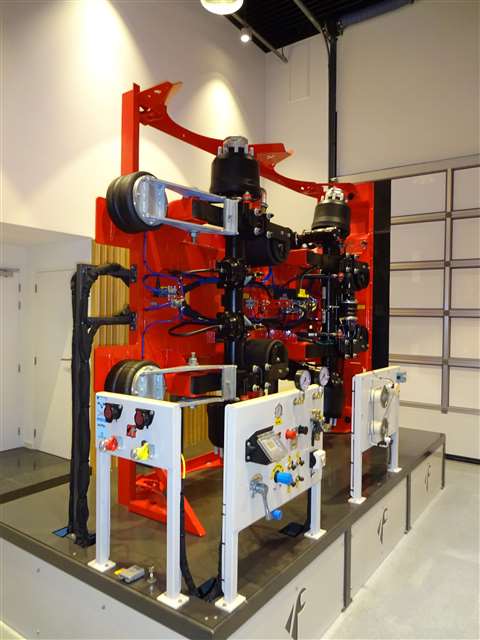 Distribution and after sales service are handled by 25 in-house direct sales people and then dealers with another 25 sales people around the world. For after sales support in the larger markets local people are trained at the company's training centre. "Service is very important and with our global network of partners we can help customers everywhere," Faymonville says.
Wind energy
Faymonville still sees a lot more potential in the wind turbine component transport market, "but, like a circus moving every two weeks to another city, so too is the windmill industry. This country one year and another the next. That's not stable. At the moment in one of the previously strongest windmill countries, Germany, nothing is happening.
"We are always following developments. Our industry is rarely well informed about the next turbine developments and the associated transport requirements. We might get six months' notice before a new even longer blade needs to be transported. If you want to transport the long blades we have the technology with our FlexMax self-steering trailer. We started out with this type of trailer, building them for timber transport so we know what it is."
There are also still opportunities in other sectors of the market, Faymonville says, even though the market has matured to the point where it's about refinement and small incremental improvements. "Everywhere a market exists we see opportunities. There is a lot to do. Hot water is already invented and the wheel also, so we work only on details. It's always the same. Everybody is looking for the red button, just push the button and the machine is working. It's not like that. We have thousands of little buttons and they have to be pressed every day to make the product better, to get us better productivity in the factory, to reduce engineering hours per order, to give a better result to the customer, to give a better service, 24 hour spare parts, and so on.
"What did we learn from Max Trailer? We have five axles and on every one we have the same bearings. We entered the SPMT world with the acquisition of Cometto and we wanted to reduce the number of suppliers, to bring that down. If you own a mixed fleet of Max Trailers and you have one electric pump in stock, you can repair every one of them."
Looking ahead
Changes look likely in the competitor landscape over the next two to five years. "We have a few global players. Then we have national players and regional players. The regional players will die or survive with very specific things. In our company, on the engineering side, it is too expensive. The national manufacturers – and there are a lot of them – occupy the most dangerous position. As the regional one you are small, you have ten workers, today you can work for a farmer and tomorrow for a transport company.
"The national player is really fixed on the market. He goes up with the market and he goes down with it. He can do the job of the small one but with higher fixed costs. There is no standardisation of components so there is a higher price level. The biggest market for special trailers is in Europe, not the United States and not Brazil. At Max Trailer we compete with a lot of manufacturers."
Faymonville has a configurator with which customers can build and specify their trailer. Instead of an infinite number of permutations for things like trailer headboards there is a series of 'standard options' for the customer to choose from. Managing details in this way improves manufacturing efficiency, reduces costs, simplifies spare parts supply and so on, while still allowing sufficient choice. Success of this is such that Faymonville says the company hasn't had to make a special headboard in the 18 months of using the configurator.
Mass customisation sounds like a contradiction in terms but a mix of top-to-bottom high-quality manufacturing and standardisation, while still allowing customers to choose what they want, may be a fitting description and recipe for long term success.