Link-Belt launches 348 Series 2 crawler
By Christian Shelton20 June 2018
US crane manufacturer Link-Belt Cranes is launching the 348 Series 2 lattice crawler. It lifts 300 tons (273 tonnes) and first shipments are scheduled to start in the fourth quarter of 2018, following final testing.
Maximum heavy duty boom length is 300 feet (91.4 m) and the longest heavy duty jib combination is 240 feet (73.1 m) plus 140 feet (42.7 m). The maximum long range boom length is 355 feet (108.2 m) and the maximum long range jib combination is 295 feet (89.9 m) plus 140 feet (42.7 m). A maximum combination of 180 feet (54.8 m) of luffing boom and 240 feet (73.1 m) of luffing jib provides 420 feet (128 m) of attachment and a tip height of 419 feet (127.7 m).
A new luffing jib transport package with lifting lugs is designed to simplify luffer assembly. The rear post scissors into place by means of alignment links, explained Link-Belt. The transport package also comes assembled with nylon rope reeving to assist with initial luffing jib wire rope hoist reeving. Once the rear post is in working position, all luffing jib pendant connections are made and the luffer is ready to be raised for work. All assembly is done from the ground with no work at height exposure, said the manufacturer.
The 348 Series 2 has a live mast cylinder for self-assembly and lattice extensions can be mixed and matched with the existing conventional boom on Link-Belt's 348 H5 models. This means heavy duty, transition, and long-range booms can be used on the 348 Series 2.
Engine-wise, Cummins QSL 9 350 hp Tier 4 Final and Tier III engines are available, while dual swing Kawasaki motors provide what Link-Belt described as "dynamic" operator control. Controls in the cab enable the operator to speed up or slow down the swing speed.
Matching hydraulically-driven main and auxiliary hoist drums use Link-Belt-designed gear drives for straight power-up/power-down auto brake mode. They can also incorporate an optional 'wet clutch' free fall feature, if required. Wide hoist drum laggings provide a standard 28 mm hoist rope with an extra-large circumference, said Link-Belt, extending rope life and offering a maximum line pull of 53,306 pounds (24,179 kg).
The crane uses a Series II ECO winch system which Link-Belt said provides greater fuel economy, reduced operating costs, lower engine speed under load, fewer emissions and plenty of line pull power. The ECO hoist can provide maximum line speed with lighter loads with the engine remaining under 1,000 min-¹, explained Link-Belt. The operator can also select an auto-engine shutdown function which automatically shuts the crane down after extended periods of inactivity, so long as critical operating criteria are met, Link-Belt stated. On-board high-resolution winch-view, rear-view, and non-cab side swing-view cameras are designed to enhance the operator's jobsite visibility. The control monitor is a full LED system and the crane controls are adjustable and mounted on the seat, which is also adjustable.
An audio-visual travel and swing alarm system is designed to alert crew members on the ground when the crane swings or travels. A rated capacity limiter monitoring system provides the operator with lift information and enables them to set swing and other control parameters. Virtual walls with audio and visual alarms and function kick out can be created, Link-Belt said. Telematics are also integrated into the system to provide forecast data for the crane's maintenance and service requirements.
A new attachment on the 348 Series 2 allows the boom top section to remain in place to transition from conventional mode to luffing configuration, eliminating the need to change out tops, Link-Belt said. Track gauge positions can be set at 6.71 or 5.84 m wide.
Front and rear lower counterweights have a 'hook and pin' style car body design and comprise two stacked weights at each end. The top counterweight slab weighs 17,000 pounds (7,711 kg) and the lower one weighs 20,000 pounds (9,340 kg). These fit between the side frames, even in the narrower track gauge. The upper superstructure and lower car body comprise the main transport load, and do not require undecking or an assist crane.
To accommodate varying transport regulations throughout North America, there are car body jacks and quick disconnects on lower hydraulics for quick installation and removal of side frames. Counterweight and lattice sections of the 348 Series 2 are also configured for minimal overflow loads. A new counterweight removal system can lift up to 227,000 pounds (102,965 kg) of upper counterweight.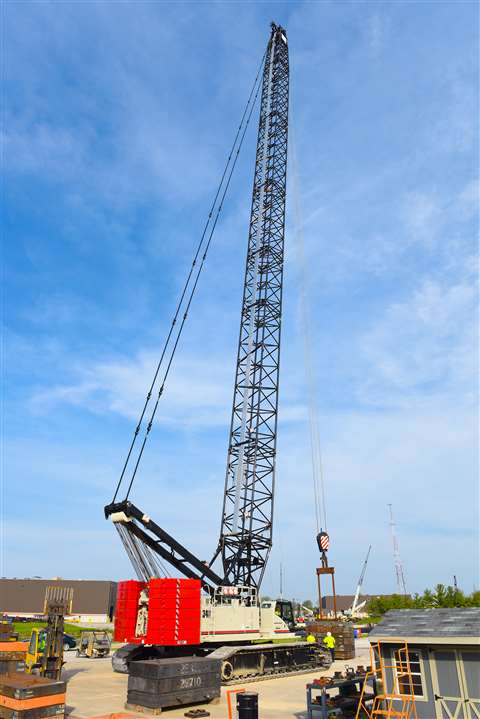 Link-Belt Cranes testing 220 feet of boom with the new 348 Series 2 lattice crawler