Linsinger launches MG11 milling train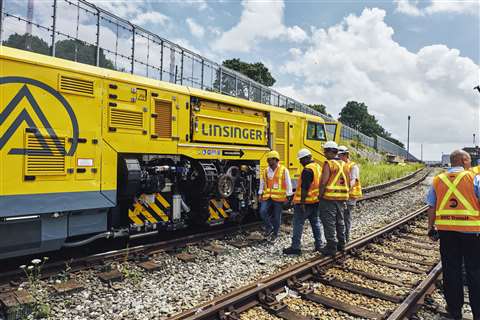 Austrian engineering company Linsinger has launched the MG11 milling and grinding train to accelerate the pace of underground rail maintenance.
According to Linsinger, the machine can potentially reprofile rail heads in a single pass, using a 59kg cutterhead which simultaneously scrapes and grinds the rail head, before a polishing wheel smooths the top surface. During the process, harmful particles are vacuumed into an integrated tank.
The train is powered by a John Deere Power Tech PSS 9-litre Tier 4/Stage V engine, supplied by Hamilton, John Deere's Swiss-based engine distributor, with noise reduction technology assisting operation in sensitive areas.
Linsinger says the machine's cutterhead can operate continuously for up to four hours, with the risk of damage to rails reduced by the low pressure of its dry processing system.
All drives on the MG11 – other than the hydraulics used for raising and lowering the cutter heads – are electric.
Designed for metro, light rail and tram networks, Linsinger says the MG11 can also be used for the reprofiling of railway switches and crossings.