Lintec asphalt mixing plant starts work on island projects in Micronesia
By Catrin Jones16 May 2023
Saipan-based GPPC Inc. acquired a Lintec CSD2500B containerised asphalt mixing plant and it has started work on the runway and taxiway rehabilitation project at Yap International Airport (YAP).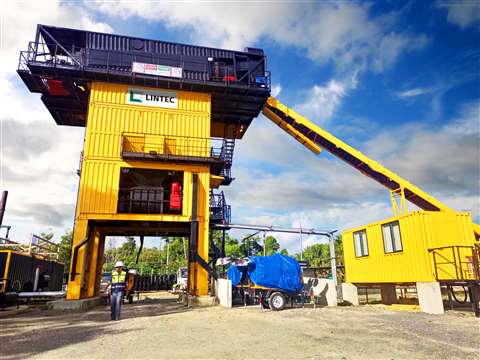 The airport is located in the Yap Islands, also known as Wa'ab, in the Federated States of Micronesia. Located in the western Pacific Ocean almost 900 miles due east of the Philippines, the airport runway was due for improvement to support international connections to Guam and Palau.
The containerised design of the Lintec CSD range of asphalt mixing plants is said to enable easy, economical transportation making it very practical for project works across the remote Pacific islands of Micronesia. 
The project started in April 2022 and the plant was installed in January 2023, ready to begin repaving the 6,400 ft-long, 200 ft-wide runway with approximately 26,000 tons of hot mix asphalt. 
"There are several unique, major challenges that are present when working on remote islands," said Jefferson Gayas, Project Manager at GPPC Inc.
"Getting hold of quality materials can be difficult, and equipment is often in short supply. It's also rare for projects or consecutive jobs to take place on the same island so the ease with which the CSD2500B can be relocated makes that task much less of a headache."
Island projects are typically smaller, which results in quicker completion schedules for companies like GPPC Inc. For them, the modular construction of the CSD asphalt mixing plant lends itself to quick and convenient dismantling and installation says Lintec.