Liugong launches Isoli joint venture lift
By Euan Youdale02 November 2017
Anhui Liugong Crane showed its first product from a joint venture with Italy-based Isoli at APEX Asia, along with its own record-breaking 19.8m working height truck mount.
The track mounted platform is the result of a research and design partnership between the two companies, with further models planned in the near future.
Powered by diesel and electric engine, the bi-energy, 30m working height PST300AS is designed to be lightweight and compact and has a 14.5m outreach. It is operated by remote control and equipped with automatic leveling.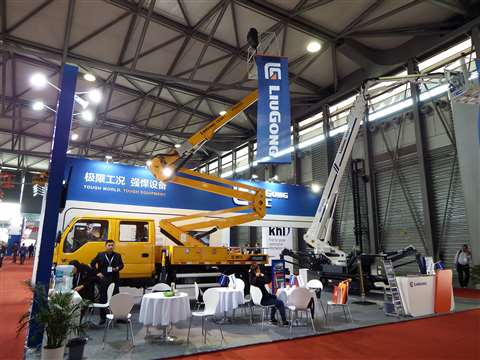 Liugong said the machine was built with the maximum safety requirements designed in. "It conquers rough terrain and is ideal choice for office buildings, commercial centres, as well as restaurants, stadiums, airports and train stations as its crawler track protects the road surface."
Another debut on the stand is Liugong's 19.8m working height PST3000AS articulated truck mount. Built with CE certification, the PTA200C has a 230kg capacity and is designed to be lightweight at 5.75 tonnes and have good gradeability and be environmentally friendly, with low maintenance.
The maximum capacity can be achieved throughout the machine's working envelope. In addition the platform is automatically restricted to its safe working area when one or more outriggers are off the ground. A range of other safety devices are also included, such as anti-collision device on the boom and inter-lock devices for the upper works and chassis.
The range of Liugong truck mounted and tracked aerial work platforms now includes models between 14m to 36m.