LiuGong plots path to the future
China-based equipment manufacturer LiuGong has its 2018 Global Dealer Conference with the theme of "Innovation and Transformation – The Road for the Future" as it explores a sustainable path to future development.
More than 700 people from over 70 countries attended, including government officials, industry associations, media representatives and employees and well as members of the LiuGong global dealer network.
The conference has been part of the calendar for the past 15 years and the 2018 event coincided with the company's 60th anniversary.
"Sixty years of passion, across changing markets and fierce competition," said Zeng Guang'an, chairman of LiuGong Group.
"The spirit and core values of LiuGong, along with the idea of constantly creating value for customers and making contributions to society have led LiuGong from a remote enterprise to an international one."
David Beatenbough, LiuGong vice president in charge of research and development (R&D), added: "LiuGong's development process not only ensures our products are exactly what markets need, it enables the accumulation of R&D outcomes and speeds up the transition into machine design and the upgrading of products."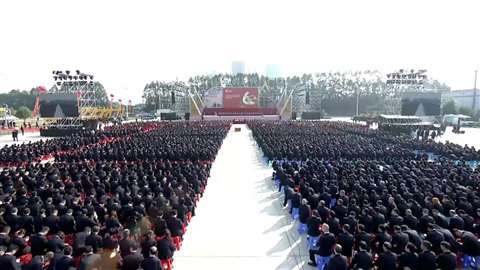 This was reflected in the launch of six new products at the conference. These included the 990F excavator with a rated engine power of 447 kW and a 5.6 cu m (198 cu ft) bucket and the 886H wheeled loader combining remote control and intelligent technology