Load Securement: Safe and Secure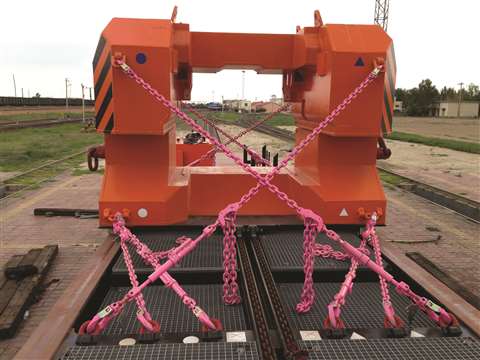 "The subject of load securing is becoming an increasingly critical issue for the heavy haul industry. In Europe, for example, compliance with safety standards is being monitored more strictly than ever before," states Thomas Dietz, service customer trainings, at German modular trailer and transporter manufacturer Golhofer. "It is reasonable to assume that, in the years to come, the same development will be observed on other continents."
In Australia there is an increasing need for awareness of safe load securement relating to the transportation of crane equipment, says the Crane Industry Council of Australia (CICA). According to CICA, due to the strict laws about axle loading and tread contact widths applied to Australia's crane fleets, it is seeing many crane operators carrying equipment to jobs on trailers rather than leaving it on the cranes. In some cases, CICA says, crane operators are floating entire cranes on trailers. Due to the obvious risk of damaging the equipment or plant and to the safety of the road going public, CICA advises crane operators to be extra cautious about how these items are restrained while in transit.
In an attempt to help increase awareness of safe load securement, in its recent Crane Safety Bulletin CICA advocated operators adopt a load restraint plan. This comprises: conducting a risk assessment of the load; checking the condition of the lashing equipment before use; ensuring the capacities of the lashings are correct; considering the effects of friction and the angles of use; using suitable friction mats where possible to increase friction; using the relevant standards for gear selection; checking restraint gear after use; and only using lashings with their capacity clearly labelled.
In the USA, industry body Specialized Carriers & Rigging Association (SC&RA) has released a video called Specialized Transportation Load Securement designed to raise awareness of correct load and cargo securement. It provide drivers with the most current DoT regulations, policies, and strategies for properly securing cargo during specialized hauling. The 19-minute video instructs drivers on the regulatory guidelines needed to ensure loads are secure and cargo is protected. Topics highlighted in the video include: explanations of FMCSA regulations and how they apply to specific loads; demonstrations of load-securement techniques for commodity-specific loads; information on tie-downs and calculations to determine the number of tie-downs needed; and animations for aggregate working load limits and performance criteria calculations. The video cost US$199 ($150 for SC&RA members) and can be ordered from the SC&RA website (www.scranet.org).
Training
Goldhofer is also helping to raise awareness of safety in load securement via its training programme. The company offers its customers' drivers and mechanics what it describes as "a full and varied employee training programme". In this way, Goldhofer says, they are completely familiarised with its products and their operation. "In the field of safety, our in-house training staff are supported by external road safety specialists, who offer especially intensive sessions on the subject of load securing with heavy cargos," Dietz explains. "At present we are also working on a new training programme for accident prevention because safety precautions are obviously of supreme importance for employees."
The outer frames of Goldhofer's trailers are fitted with stake pockets as a load securement aid
Regulations
Regulations are a key driver of safety standards and Goldhofer is keen to point out that, as a German company, its products comply with the VDI 2700ff Securing of loads on road vehicles directive. "This contains especially strict provisions far in excess of the specifications in most other national codes," Dietz asserts. "As a global vendor of heavy haul and oversized cargo transportation solutions, though, we naturally adapt our products to the requirements of regional markets in consultation with our customers."
Customer co-operation
Goldhofer says its service engineers co-operate with customers on a team basis worldwide and are always happy to provide support for all issues such as load distribution calculations, cargo securing systems, vehicle configuration, and accessories.
"All our transport solutions are engineered to the highest level of load safety," continues Dietz. "All standard configurations come with an adequate number of lashing points on the outer frame. Additional threaded anchor points are also provided ex-works where customers can fit further lashing rings as required. "Customer feedback based on practical experience shows that – depending on the type of cargo – too many permanent lashing rings can impede the loading and unloading process. The outer frames of the vehicles are also fitted with stake pockets as a further load securing aid. Additional stake pockets or stake pocket strips can be provided to customer specifications at a number of pre-defined positions on the cargo deck."
For heavy cargos, Goldhofer offers a range of extra-strong load-securing devices, which it says can be mounted onto the loading deck. They are normally placed on the front section of the cargo deck so as to absorb forces acting in the driving direction. This, Goldhofer says, is an economical solution for securing extremely heavy loads quickly and safely in accordance with the legal requirements.
Lashing chain solution
German chain systems specialist RUD Ketten (RUD) also works closely with its customers. For example, it helped railway crane manufacturer Kirow plan a difficult-to-secure heavy transport rail job in Mongolia by providing an innovative securement solution using its lashing chains.
RUD says its experience with lashing chains is extensive and, since 2007, it has been granted permission to use the highest quality D1 stamp for its high-tensile steel chains. The company says that the robust nature of lashing chains and the fact they can be easily adjusted, link by link, makes them particularly suitable for heavy load securement.
In this particular job, Kirow was tasked with transporting a transport trolley with a 60 tonne counter weight. The counter weight was standing on rolling bearings and was at risk of tipping over in the direction of travel. The transport trolley was firmly attached to the transport vehicle, but the counter weight had to be secured on the transport trolley. Due to the rolling bearings, a coefficient of friction of just µ = 0.05 had to be assumed, says RUD. This meant that the securing forces required were too high for conventional lashing equipment. In addition, there was the problem of static indeterminacy posed by the direct lashing of heavy loads. This means that even if more than two pieces of lashing equipment per direction are used to secure a load, just two of the pieces of lashing equipment used actually absorb either the entire force or the majority of the force, RUD explains. Theoretically, it says, more than two strands can bear the load if all of the strands have the same lengths, lashing angles and lashing equipment (strain); however, in the real world it is not feasible to secure a load in this way.
There is, however, a way around this problem, RUD says: the lashing chains can be looped around and therefore guided from the load to the vehicle carrying it in a double-strand. The result is four load-bearing strands in the one direction. However, an equilibrium of forces must be performed in the double-strands due to this loop-around, RUD says. The equilibrium of forces in this job was achieved using special RUD chains and guide rollers. Since this 'double lashing' technique needs additional angles and other constraints that are specific to the individual case to be taken into account, as well as the usual lashing angles α and β, this type of load securing system cannot simply be calculated in the conventional way, RUD says; it was specially designed for this transport process.
RUD believes the potential of the 'loop-around' principle is huge. For example, the company says that if this principle is implemented with its 16 mm ICE lashing chains (quality grade 12), users can reach new levels in heavy load securing systems. A lashing chain of 25,000 daN used in this way would enable the secure direct lashing of up to 594 tonnes (with µ = 0.6), it claims. This means that 56 % more load mass could be secured than with conventional quality grade 8 lashing chains, RUD asserts.
Using this method, protection from tipping and slipping have to be assessed separately, RUD adds. The guide roller chains secure the load from slipping, while the lashing chains attached in the upper loading area secure it from tipping.
RUD says the Mongolian transport process planning job was carried out in conjunction with Kirow and the ropemaker Voigt, and that everything complied with the German VDI 2700-13 regulations.
So, in line with Dietz's prediction that load securement will become an increasingly critical issue for the heavy haul industry, here we see clear examples from around the world of the increasing attention safe load securement is already receiving. And, if Dietz's forecast is correct, increasing enforcement and subsequent compliance with standards is no bad thing. Goldhofer, for example, sees it as an opportunity. "For Goldhofer this means that load securing will continue to play a strong role at the level of both product development and customer training so as to create optimum conditions for our customers to be successful on competitive markets," Dietz concludes.
With equipment manufacturers raising their game with regards to the products they make, and the way these products are used, combined with a growing awareness of the importance of safe load securement amongst end users, heavy haul across the world is becoming safer than ever before.