Loader crane update: Business is booming
By Christian Shelton18 November 2019
The articulating loader crane sector continues to be in good health. The versatility of this crane type, combined with the high levels of cost efficiency it can provide, means demand from end users remains high. And, as may be expected from such a vibrant sector, new products are continually coming onto the market.
Electrification is an area of focus for Bergheim, Austria-headquartered loader crane and access equipment manufacture Palfinger which has developed an electric loader crane concept vehicle. The concept is an electric version of Palfinger's 6,200 kg capacity PK 18502 SH. It can be operated with a plug-in electric drive as well as fully autonomously with a battery pack which, in turn, can be supplied either by the power grid or via a generator. If the generator charging option is used the battery can also be charged during travel or while the truck's engine is running. Palfinger says this guarantees all-day crane operation in any situation, as with its conventional crane setups.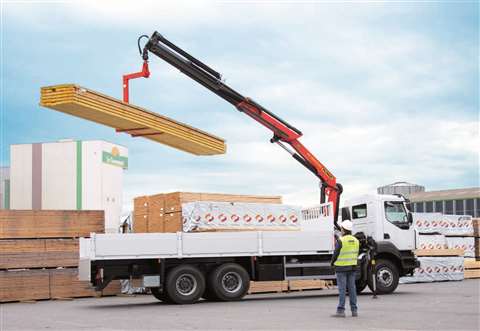 Niche applications
Focusing on niche loader crane applications, Swedish load handling equipment manufacturer Hiab has launched a specialised drywall crane, the Hiab K-505 HiPro, and a crane for the waste collection market, the Hiab S-HiPro 230W.
The Hiab K-505 HiPro drywall crane is for markets in the USA and Canada. Hiab says it is the longest and strongest drywall crane in its portfolio with a reach of nine floors and a lifting capacity of almost 300,000 foot-pound force. It is equipped with Hiab's HiPro remote control, which it says gives operators more flexibility in finding the best working space and field of vision. Additional functions include a load stability system for vertical movements, Variable Stability Logic Plus, and an automatic speed control – all designed to help improve operator safety and productivity.
"Hiab K-505 HiPro allows our customers to be more productive than ever as it can install drywalls rapidly in buildings up to nine stories high. The technological advanced features and remote control let even less experienced operators get a smooth and precise response from their cranes. As it's connected, fleet owners have the option of receiving performance data to optimise their vehicle fleet and service alerts based on actual usage," says Marcel Boxem, director heavy range, Hiab.
The company's S-HiPro 230W is intended for use with underground refuse containers. It has been designed to operate in busy urban areas and is equipped with Hiab's remote control system and Semi-Automatic Motion system. Hiab says this simplifies crane operation which, in turn, increases the level of safety the crane offers.
Line extension
Netherlands-headquartered hydraulic crane manufacturer Hyva has now launched the 11 tonne-metre and 19 to 21 tonne-metre class in its Edge Line of truck mounted cranes. Hyva first announced the Edge Line at the Bauma 2019 trade show in Germany and, once all released, it will comprise 40 models. There are 7 new models in the 11 tm category and 14 new models in the 19 to 21 tonne-metre class alone. In both classes the cranes have five different boom configurations (telescopic boom, basic articulated boom, double linkage articulated boom, double linkage short retractive secondary boom, and double linkage endless slewing boom models). Depending on the crane model, up to eight extensions are available and a choice of jibs and winches. Operator assistance aids include Hyva's Dynamic Load Diagram, which gives advance verification of a crane's lifting capacity based on the truck's stability, and the Magic Touch automatic crane folding and unfolding function.
Hyva's Edge Line is being produced at a new crane assembly line in Poviglio, Italy.
Company merger
In related news, Hyva Southern Africa has merged with Lift and Shift (South Africa). The new company will be known as Hyva Southern Africa and will offer tipping solutions, container handling, waste management and cranes in South Africa and other African countries south of the equator.
Commenting on the merger, Martin Kolkman, Hyva International and WE-MEA vice president, said, "In becoming a global company, much of Hyva's success has come from emerging markets. Southern Africa presents the opportunity to continue this successful growth and this is a demonstration of Hyva interest in investing in this important area. We will be working to increase the footprint of Hyva through new and existing sales and service dealerships which will have access to the full Hyva product portfolio."
Hyva, which celebrates its 40th anniversary in 2019, said the merger would help broaden its product offering in Africa. Products such as aerial platforms and side lifters for shipping containers, which are currently sold by Lift & Shift, will be added to its lines as a key part of catering to customer needs in Africa.
Located in Johannesburg, South Africa, Hyva Southern Africa will be headed up by former Lift & Shift managing director, John Henry Bowman.
Terna chooses Fassi triple-boom cranes
Italian transmission system operator Terna has bought 14 Iveco 4x4 trucks fitted with F32A.0.23 cranes from Italian manufacturer Fassi.
The Fassi F32A.0.23 triple-boom cranes are in the 2.75 tonne-metre / 27 kNm load capacity class and have a maximum hydraulic outreach of 6.9 metres. The cranes were supplied with remote controls and set-up to take the FAB 1S personnel basket. The Iveco vehicles were also each equipped with an Orsi/Assaloni PK2450 snowplough, a fixed truck bed, and an Orlandi A50-XS towing hook. They have a residual load capacity of 1,500 kg.
The fitting work was carried out by Italian company Briccolani which has been handling fitting operations on behalf of Fassi for more than 40 years.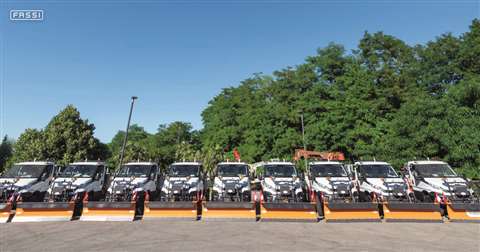 Loader crane used for fast delivery of pontoons
UK-based temporary access solutions provider TPA has bought its first Fuso Canter truck, a Daimler Group brand, fitted with a crane from Spanish manufacturer Cayvol. TPA is using the loader crane to deliver modular floating pontoons. Although the company runs a large fleet of specialised articulated trucks, until it bought the Fuso Canter it relied on rented vehicles or third-party providers to deliver the pontoons.
TPA says it was looking for a vehicle compact and manoeuvrable enough to get in and out of sites with restricted access. The company wanted it fitted with a crane to facilitate safe, speedy loading and unloading and a platform body capable of carrying as many pontoon modules as possible. The Canter was fitted by Alfreton, Derbyshire-based Plant Equipment with a 6.2 metre platform body and a Cayvol crane capable of lifting 380 kg at a distance of 9.8 m.
The vehicle has a payload of more than 2.5 tonnes and is capable of towing a further 3.5 t. It can carry up to 80 square metres of the pontoon product. TPA has also commissioned a trailer which can accommodate a further 64 square metres of pontoon.
The Canter 7C18 is powered by a 3.0-litre common-rail turbo diesel which offers 430 Nm of torque over a broad engine speed range. Its 129 kW (175 hp) output is transmitted to the road via a Duonic dual-clutch automated gearbox. An engine brake is included as standard.
"We were using 3.5 t van-based vehicles for smaller deliveries, or calling in subcontractors for anything larger," explained TPA operations manager Neil Crosby. "However, to cope with growing demand for our pontoon equipment, and to ensure that we have more control over our deliveries, we decided it was time to invest in our own equipment."