Loader cranes: keeping busy
By Alex Dahm24 August 2020
Hydraulic loader and articulating or knuckle boom cranes are versatile machines used in a wide range of applications. So widely that it is one of the crane types most likely to remain in widespread use even during the current global virus pandemic.
As work restarts on construction sites deliveries of materials need to start up again – a primary application for this type of crane. Deliveries of all manner of other goods by hydraulic loader crane are also continuing through the global crisis, which in turn is helping to keep a significant portion of the crane industry going.
Annual sales globally of this crane type are in the tens of thousands. Financially, the two largest manufacturers in the sector, Palfinger and Hiab (Cargotec) posted strong results for the full year 2019. Revenue at Palfinger Group was €1,753.8 million (US$ 1,893.5 million), up 8.6 per cent from the €1,615.6 million ($ 1,744.3 million) of 2018.
It was a new record high in several areas and the success was attributed to higher demand in Europe, North America, Russia and China.
At Cargotec, owner of Hiab and other crane and material handling equipment brands, sales were up 11 percent (more than €300,000/$330,000) in the full year 2019. The increase was from €3,304 million ($3,629 million) in 2018 to €3,683 million ($4,044 million) in 2019. Hiab increased its operating profit and the figure for orders received was also up. Hiab accounts for more than a third of the group total.
State of play
Having said the above, as this issue went to press, the two companies' first quarter 2020 results were just in and already negatively impacted by the coronavirus Covid-19. Small consolation for the industry as a whole but the crane type's ubiquity may make it less of a drop than that to be suffered by manufacturers of other types of crane.
Palfinger posted its first sales decline in many years. Revenue was down 10.8 % to €393.2 million ($432 million), from €440.9 million ($484.2 million) in the first quarter of 2019. EBITDA was €50.3 million ($55 million), down 17.9 % on the €61.2 million ($67.2 million) of Q1 2019. The EBIT margin went from 9.7 to 8 %.
The company's annual general meeting has been rescheduled for 5 August as a result of the impact of Covid-19. A lower dividend than previously proposed is anticipated. In outlook further declines are expected in demand and in production over the rest of 2020, the company said. On a positive note, Palfinger reported news of a pair of substantial crane orders worth €13 million in India and Thailand before the end of April.
As a result of the worldwide coronavirus Covid-19 outbreak, Hiab said operational capacity at some of its locations had been reduced. Production and service workshops remained open, some at reduced capacity, Hiab said.
Palfinger North America said it hoped to remain open for business during the coronavirus outbreak. "We are doing our best to monitor the latest local, national and international news about coronavirus (Covid-19). Like many of you, keeping our valued employees, suppliers, partners and customers sage and healthy is a top priority." While the company acknowledged that new equipment deliveries might be impacted due to the closing of borders and travel restrictions, it said it would strive to keep things on schedule.
New products
Palfinger has launched two new models in the 60 tonne-metre class. The PK 55.002 TEC 5 has a maximum load moment of 53.1 tonnemetres and the PK 58.002 TEC 7 is rated at 55.5 tonne-metres. Both have an outreach of 33.7 metres with a fly jib. Michael Völker, Palfinger head of product management for cranes, commented, "The PK 55.002 TEC 5 and PK 58.002 TEC 7 crane models represent a completely new design in the 55 to 60 meter-tonne segment. This goes for both the steel construction and the electronics."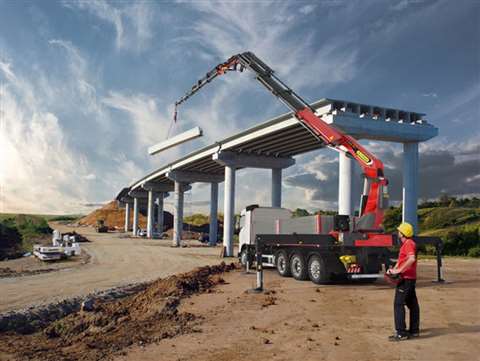 Features of the TEC series models include an internal guide for the hydraulic hoses up the inside of the crane column and the main boom to protect against damage and degradations from the elements. They also have the Dual Power System to give full power even with a fly jib.
Fly jib choices are the polygonal profile (P-profile) PJ150 and PJ090 on extensions E, F or G. A PJ150 E on the PK 58.002 TEC 7 F gives a capacity of more than a tonne to a height of just over 20 metres. Stability remains high despite the lightweight design, the manufacturer says.
On the hydraulics a return oil utilisation system uses a load holding valve to manually divert oil from the piston rod end to the pressure line instead of it going straight back to the tank. More oil flows so cylinder extension can be faster. Turning off the system will give the operator more power rather than increased speed.
Jib trend
These days the Italy-based manufacturer Effer is owned by Hiab. It still specialises in larger cranes and special application models, for example, to use in railway construction and maintenance.
Not a new crane or whole new series but Effer has added an optional second jib to its 100 tonne-metre class 1405 model series. It claims to be the only manufacturer to offer a second jib on a crane of this size. It allows work at a greater height – the knuckle point is shifted to 35 metres. Outreach is 5.3 metres more than a single jib model and it can be operated horizontally.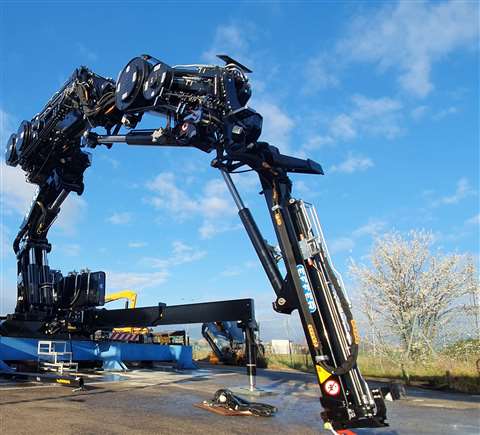 The first unit built was an 8S+JIB 6S + second jib 2S + one manual extension configuration. Control is fully integrated with the rest of the crane and all movements can be made simultaneously. It adds 300 kg to the overall weight. A second jib can also be specified on the 2655, 2255, 2055 and 1855 model series.
Also from Italy, Fassi is celebrating 55 years in business in 2020. Giovanni Fassi, Fassi Gru president, said, "When celebrating an anniversary, it is unavoidable to look back at the past but, also, to define future plans. The decade that is drawing to a close has been particularly intense.
"The 'Leader in Innovation' slogan has marked the direction we have followed in all our business decisions, from research into new systems to the development of electronics, to make working with our cranes safer and more efficient."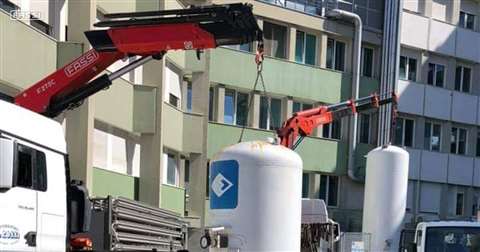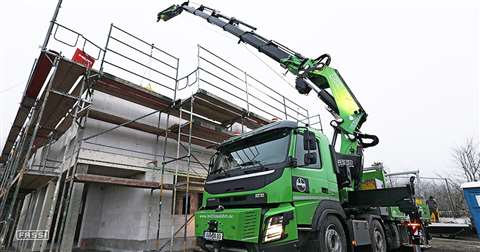 Turkey is a big market for articulating hydraulic cranes and has several indigenous manufacturers. Local Fassi distributor Rasim Makina Sanayi Ve Ticaret has delivered the first batch of cranes on trucks for the Turkish Standards Institution. The Fassi F335A.2.24 e-dynamic cranes are fitted on Mercedes Arocs 4142 8 x 4 WB trucks. The cranes have two manual extensions, radio control systems, the FSC-H stability system and supplementary outriggers.
Dutch speciality
In the Netherlands Dutch crane rental company Kuiphuis Kraanverhuur is building a new Mercedes Arocs 6x4x2 truck with a 21 tonne all-electric Palfinger PK78002-SH (HM+ 125E jib) crane on it. In addition to 64 Amp, fully mains- or generator-electric operation, the 78 tonne-metre crane has an Epsilon cab and is mounted on the truck at the far rear of the chassis.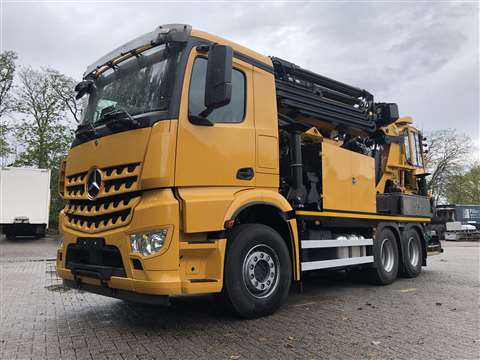 The three axle dedicated crane vehicle, designated AK78, is 8.4 metres long overall. It is road legal in Germany with axle loads of 9, 10, and 10 tonnes. In Holland it is road legal with axle loads of 9, 12 and 12 tonnes. Capacity with the eight-section boom fully extended horizontally to 18 metres is 3,250 kg. With a 12.7 metre jib in eight sections, the vertical reach is just over 35 metres.
Another interesting truck and crane combination from the Netherlands has them both operated remotely, together from one transmitter. To improve its operations temporary roadway company Roos Kunststof Rijplaten Rental specified the new Volvo truck with an Epsilon crane.
It is a Volvo FMX 460 8 x 2 tridem truck mounted with a 17 tonne-metre rated Palfinger Epsilon hydraulic loader crane. The vehicle is used for the installation and removal of large plastic temporary roadway sheets laid at events to protect the ground underneath. One remote control is used to operate both. It is the first Volvo truck in the Netherlands with this option, Volvo said. The customised solution was developed by the dealer, Volvo Group Truck Center, Palfinger and Drimote.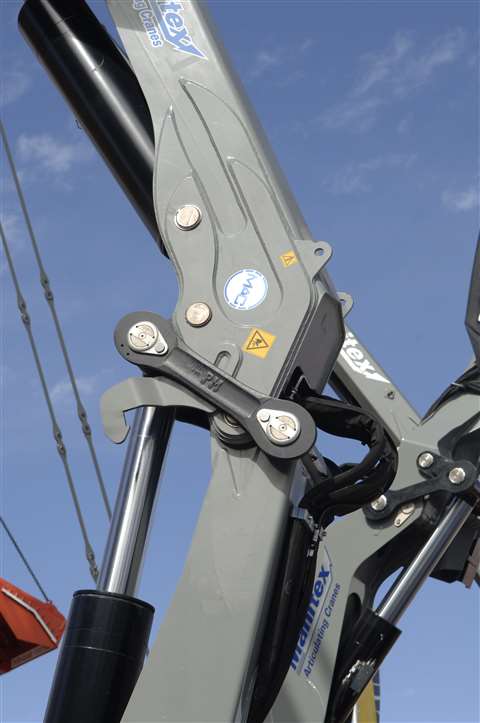 Manitex MAC articulating cranes from Autogru PM at the 2020 ConExpo show in Las Vegas included the MAC 38.5 and MAC 65, plus the MPL74 wallboard delivery system was also shown
TELECOM BOOM
An order for more than 800 lightweight knuckle joint cranes has been placed with UK crane manufacturer Penny Hydraulics.
A UK telecom company is boosting its new fleet of vehicles with the addition of the KJ150 SwingLift crane. Capacity is 150 kg at 1 metre radius. It is designed to occupy minimum space in the back of a van and the crane with its mounting pillar weigh 36 kg so it also has minimal impact on the available payload capacity.
Applications include moving generators out of vans for the work crew to carry out maintenance before lifting them back into the vehicle at the end of the job. Having the crane speeds up work and allows one person to do a job. It also improves safety and reduces the chance of personal injury caused by somebody incorrectly lifting heavy items.
A vehicle conversion specialist is fitting out the fleet with the cranes and other equipment, including specialist racking and other accessories.