Lokotrack model renewed
By Sandy Guthrie07 August 2018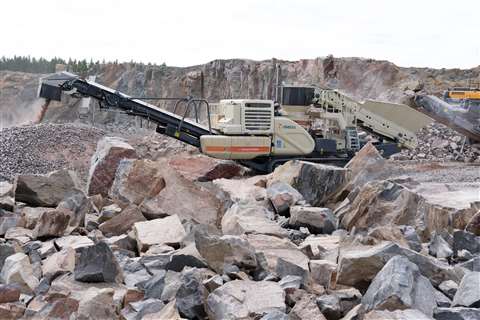 A Finnish crushing and earthmoving contractor is trying out Metso's renewed Lokotrack LT200HP at a quarry near Hyvinkää, a short drive from Helsinki.
Ventoniemen Sora, a 90-year-old company, is testing the LT200HP – the first such unit to be built by Metso – at its Ridasjärvi quarry.
The company has been operating at the quarry since the 1970s.
Managing director Timo Ventoniemi said, "Over the decades, we first used the layers of gravel from the esker at Ridasjärvi. After that, we started to dredge gravel from the groundwater.
"Now we are in the stage of quarrying and crushing bedrock at the edge of the same area."
Ventoniemen Sora said that reserves at Ridasjärvi would last for some 10 years. It crushes and screens around 200,000 tonnes of aggregates a year, and it said production and demand was growing. The end products are sold for road and construction purposes – but farmers also come to buy aggregates in small loads.
The Metso equipment that Ventoniemen Sora currently has is a Lokotrack LT106 jaw plant for primary crushing; a Lokotrack LT200HP cone plant for secondary crushing, which it has had since 2006, and has operated more than 10,000 hours; and for tertiary crushing, there is a Lokotrack LT200HPB cone plant with a screen that it bought second hand from France.
For the recent trial, a two-stage process with an LT106 jaw plant and a renewed LT200HP cone crusher was used. End products with this combination are 0 to 90 mm and 0 to 56 mm, capacity between 250 to 300 tonnes per hour using closed side setting of 38 to 40mm in the HP200 crusher.
Site manager Jani Snäll said, "We are targeting more capacity and end product quality in our quarry. The renewed LT200HP with direct crusher drive seems to be more powerful than the previous model, providing also a good product shape.
"With the new LT200HP as the secondary crusher, we could produce even more than the existing 250 to 300 tonnes per hour, but our present excavator is not able to feed the crushers fast enough."
Metso said that fuel savings of 15% were realistic with the new model.
R&D (research and development) is currently being increased at Metso, according to Markku Simula, president of the aggregates equipment business area.
"We are clearly ramping up R&D, and changing the customer process," he said, adding that the company was the global leader in aggregates crushing and screening. "Also, we seem to be growing faster than the competition."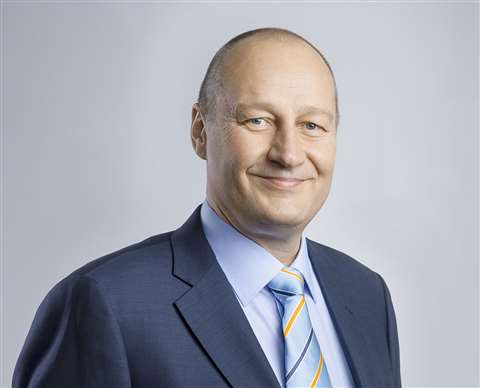 He continued, "In Finland, most aggregates are made at the site, therefore there is good demand for mobile equipment. In Finland, this is expected to increase."
Simula said that the annual use of aggregates products in Finland was around 100 million tonnes, which he said equated to a truckload per inhabitant.
"In Europe, most places are positive. The view for the coming year is positive, but nobody knows. In 2016/17, our orders for aggregates crushers and screens grew by about 15%. We expect the market activity to stay strong."
The issues facing the industry are familiar. He included energy efficiency, raw materials efficiency and cost efficiency.
"We like to produce solutions that are easier to buy, easier to own. Improve productivity, and improve business," he said.
Innovations
Kimmo Vesamäki, vice president for aggregate equipment, technology, highlighted some of the most recent innovations from the company.
When it comes to sustainability, he pointed to the LT106 Urban, which claims advanced dust and noise protection. He mentioned disruptive crushing technologies, including the Metso MX, a multi action cone crusher which combines two technologies with piston and rotating bowl in a single crusher.
"Wear parts have an extended life of up to 70%," said Vesamäki, "and operating costs can be 10% less, and uptime 10% more."
And then there is the use of the internet, using Metso Metrics, and remote monitoring using the cloud.
E-commerce is another area. Pre-owned machines are on Metso website.
Simula said, "We don't benefit from this platform, but the machines keep their value very well."
Yet another new concept involves the NW rapid concept, which is now available with the MX. Aiming at the portability aspect, the idea has been to improve set up time and ease of installation, making it easy to relocate. The entire plant can be shipped in containers, and there is said to be no need for concrete foundations or heavy cranes.
Vesamäki said, "It goes in four standard sea containers so it can go everywhere in the world, then is erected again.
"It is one day to dismantle, one day to transport and one day to install."
A video of the LT200HP on test in the Ridasjärvi quarry can be viewed by clicking here.