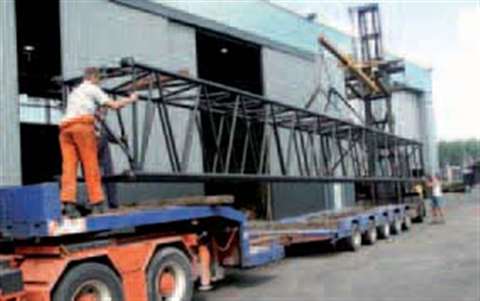 The first question crane owners will ask is whether repair and refurbishment is a viable option. When assessing its viability against buying new the two primary considerations are price and time, says Ruud Schreijer at Rusch Kraantechniek in the Netherlands. "Repair is often cheaper but certainly not always. If the required equipment is in stock you could decide to pay more for instant availability. If the machine or component is not in stock a repair or refurbishment is often faster but may be more expensive. It depends what is important for the customer at that moment – time, money or both."
"A good refurbishment, also known as a Service Life Extension Project (SLEP), can extend the crane life by 15 to 20 years", says Wolfgang Pfister, head of marketing at Liebherr-Werk Nenzing in Austria. He continues, "A complete refurbishment of a crane may also be needed due to changes in requirements, and it is not always possible to install a new crane."
When a crane is damaged it is important for repairs to be carried out as soon as possible. Jay Shiffler, VP and director of business development at Wheco Corporation in Texas, US, points out, "Crane owners are eager to make time and cost-effective repairs on structurally damaged equipment which will put it back into revenue-generating service as soon as possible. Our repair proposals can be as much as 40% more cost effective and 50% more expeditious."
A key factor in the attractiveness of the refurbishment option is the short delivery time compared with some new equipment. Good refurbishment specialists have good access to original spare parts, likely from their own stores, and they maintain skilled teams, which can turn round the machine in record time. Delivery times for new cranes are often now up to two years; says Ruud Schreijer, "If a repair is done in the proper way there are no safety implications. A good repair is as strong as the original.
"Safety should be the primary consideration. Refurbished equipment from reputable companies now comes with the same certification as a new model in the same range. According to Avezaat Cranes in the Netherlands, "Well-repaired mobile cranes and parts are in no way inferior to new. This also applies to safety, where a full guarantee is given, with certificates endorsed by such international testing bodies as Lloyd's of London, Keboma in the Netherlands, DNV in Norway and SGS in Switzerland.
"The expression, Caveat Emptor, or Buyer Beware was never truer than when buying a used crane; by using a recognised refurbishment service, the new owners protect themselves against hidden defects.
Marcel Riemslag at Hovago Cranes in the Netherlands, explains, "With modern cranes, we are dealing with very complicated designs, in which state of the art mechanical and automotive engineering is combined with, and driven by, state of the art computers and electronic control equipment. Assume, for example, that a rental crane operates for some 1,200 to 1,500 hours, and 10,000 to 15,000 km per annum, a manufacturer is expected to have a certain quality assurance procedure to protect the reputation of the brand and to avoid any liability problems. We try to maintain a similar quality assurance procedure with our refurbished cranes."
How it works
The first step in the repair and refurbishment process is usually a detailed inspection by the refurbishment company's engineer. Hovago uses a 20 page inspection form, preferably completed for a machine that has not been steam cleaned as cleaning can remove traces of possible leaks. All attachments, including jibs, hook blocks and spare wheels, are also checked to ensure they come with the crane and to identify their condition.
The work is then carried out using one of several procedures. Wheco offers a complete turnkey system, including engineered structural repairs, fabrication, mechanical, hydraulic and electrical & electronic services. The company also has the capability of reverse engineering and producing obsolete and long lead time components.
It used to be that conventional lattice boom cranes were the best candidates for refurbishment but Wheco has recently carried out SLEP work on rough terrain, hydraulic truck and all terrain models.
Liebherr-Werk Ehingen in Germany offers three categories of refurbishment. &Actual condition' means the equipment is purchased and delivered to the customer with a report but no work has been done. &Partially overhauled' means the crane is operational, ready for work and tested to the carrier and superstructure standards of the country to which it has been sold. &Overhauled at the factory' involves complete overhaul and/or replacement with new or rebuilt parts, testing to new crane standards and painting, where required. Wolfgang Beringer, head of sales promotion at Liebherr in Ehingen, notes, "We perform the work according to our customers' requirements, with small cranes proving very popular, along with older cranes. We have recently completed a new facility at Ehingen, in Germany, in addition to those in the UK, France, Texas, and Italy.
"Liebherr-Werk Nenzing recently completed a project refurbishing three 1983 Liebherr BOS rope luffing offshore cranes in Istanbul, which had not been used or maintained for two years. The work included installing a new SPS card rack, a distribution gearbox and pumps, an LHM cab, and new control stands. The majority of the work was carried out on site, apart from a winch, which was found to be badly damaged and was flown to Germany for overhaul, and the cab mounting platform, which was pre-assembled at the factory.
Avezaat carries out full overhauls of mobile cranes, including those damaged by fire or excessive loads, together with repairs to telescopic and lattice booms. The work varies from replacement of lacings to a full rebuild. The company says that its large stock of replacement parts allows it to work on a wide range of makes and models and turn the project round in minimum time.
Liebherr-Werk Biberach purchases tower cranes from its own dealer network and inspects them erected with the potential customer. Any agreed work is then carried out either by the Liebherr service team or by the customer, using original Liebherr parts. The company also offers an installation and erection service at the customer's premises and provides full documentation for the used equipment.
In part
Rather than a complete rebuild of the whole crane, it might just be some parts or components that require attention. Crane booms and high tensile strength steel structures up to 1,100 N/mm can be repaired by Rusch Kraantechniek without alteration to the original crane, to reduce the chances of the original certification being withdrawn. All repairs come with a 12 month warranty.
Repair and refurbishment is an increasingly popular option, especially among buyers in South America, the Middle East and Eastern Europe. Irrespective of the crane's location the work must be done by a competent specialist.
Marcel Riemslag at Hovago summarises, "In the process of operating an existing crane, or buying a used crane, there are always certain risks which will not surface during any technical inspection." A good repair and refurbishment company can identify those risks and provide skilled and efficient solutions will extend the life of the crane, while ensuring the owner continues to make the profits needed to operate in the cut and thrust of today's international crane market.