Low emission launches
By Neill Barston10 March 2015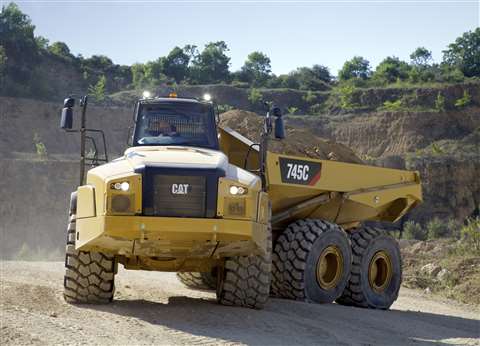 Caterpillar has launched a broad range of Tier 4/Stage IV-compliant construction machines including new articulated dump trucks (ADTs), loaders excavators and dozers.
Additions at the lighter end of the range include compact excavators, compact wheeled loaders and backhoe loaders.
Paolo Fellin, Caterpillar's vice president for global sales and marketing, said its latest machines had been developed in response to a requirement to improve productivity and fuel efficiency.
He said, "I think the whole product line will have a major impact on how we are working with our customers and dealerships. For a third year in a row we have made major inroads in terms of our market leadership worldwide, including being number one for excavators in China.
Fellin added, "In my 30 years with the company I have never seen such a confluence of products coming together at the same time. With Tier 4, they all have major changes. These are the best products we have ever had in terms of their productivity."
He said the a key part of improving performance and efficiency was the Cat Connect system, which provides fleet owners with a range of information – from location, machine health, fuel consumption and usage levels, to productivity, cycle & payload information and other job parameters. This is delivered over the Internet using Cat's VisionLink web interface.
ADT series
Caterpillar's ADT series, which includes the Cat 735, 740C EJ, and 745C articulated trucks, has a wealth of updated features as well as new Tier 4 Final/Stage IV engines. They have new transmissions with expanded electronic control, automatic traction control, automatic retarder control, hill assist and waiting brake systems.
Among other features is an optional payload weighing system. Along with other upgrades, this is designed to deliver lower operating cost through reduced cycle times, fuel savings and easing operator's workloads.
The ranges includes the 36 ton capacity (32.7 tonne) 735C, 42 ton (38 tonne) 740C EJ ejector model, and 45.2 ton (41 tonne) 745C. The 745C's 1.7-ton (1.5 tonne) capacity increase over its predecessor is said to enable production gains.
Julien Balardelle, Caterpillar product specialist, said, "Our new 745C is going to be a game-changer within the 40 ton articulate truck class. It is not just a replacement for our successful 740B series, it is a completely new machine.
"Some of its top features include a new ACERT C18 engine and a brand new transmission. There is also a new set of drive shafts and braking systems which enhance productivity and fuel efficiency."
The 735C's Cat C15 ACERT engine is rated at 337 kW, while the C18 ACERT engine used in the 740C EJ and 745C has a higher output, rated at 381 kW.
The 740C EJ ejector model, which has combines the 745C's tractor with a horizontal discharge body, provides added versatility in having the ability to unload material to uniform depths while travelling at speed. This potentially reduces the need for on-site spreading equipment.
Another advantage is the ability to discharge loads with in soft underfoot conditions, on slopes and also where there are overhead obstructions.
Among the company's new excavators is the 336F XE hybrid. This is an update of the 336E hybrid, with a 235 kW Tier 4/Stage IV engine. The machine is capable of fuel savings of up to 20% over standard models.
It is available in L and LN undercarriage configurations, and includes a factory-installed payload management system, which Caterpillar said was unique within the excavator segment.
Fuel savings are achieved through a variety of means. First, the engine output is matched to the loads on the machine, complemented by an intelligent hydraulic valve which delivers oil flow as it is required. In addition, waste energy from the braking of swing movements is captured by hydraulic accumulators, and re-used in other hydraulic functions.
Another new model in the range is the 313F L GC excavator. Its 52 kW engine achieves EU Stage IIIB emissions standards, rather than Stage IV regulations which only apply to 56 kW engines and above.
With an operating weight of 14.7 tons (13.3 tonnes), it has high-power and economy operating modes. Its Cat Connect technologies, which are integrated into the machine's monitoring system, are intended to help users improve overall fleet management.
It features a one-pump hydraulic system that is said to offer operating flexibility for a range of construction tasks.
Dozer
Caterpillar's latest dozer, the D6N, is said to deliver up to 15% savings in fuel over previous models. The 18.5 ton (16.8 tonne) machine's fuel-efficiency gains result from its new direct-drive transmission.
There is a lock-up clutch that allows the D6N to carry loads in direct drive for optimum fuel efficiency, while the auto shift system allows operators to select the optimum ground speed for the load being moved.
Productivity gains in typical applications are estimated at up to 10%, compared with the previous model.
The dozer is equipped with Cat Connect to help manage construction tasks. Its grade systems use digital design data, in-cab guidance, and automatic blade control, which help achieve greater accuracy for operators.
It is powered by a 124 kW Cat C7.1 ACERT engine which meets Tier 4/Stage IV emission standards.
There are several options available, including Cat Slope Indicate, which displays machine cross-slope and main-fall on the primary monitor, helping operators work more confidently on slopes. This is linked to a stable blade option that compliments an operator's blade-control for achieving finished grades with less effort.
Wheeled Loaders
New wheeled loaders include the Cat 950M and 962M, which are fitted with Stage IV Cat C7.1 ACERT engines. They are said to be 10% more powerful than previous models, as well as being up to 10% more fuel-efficient. This has been achieved through a redesigned hydraulic system and the new engine.
Rated at 171 kW, the new 950M's engine produces 9% more power than its K-Series counterpart, and the 962M's engine, rated at 186 kW, has 13% more power than the model it replaces.
Peak torque is up an average 18% for the new loaders. They also have an economy mode, which automatically senses powertrain load and adjusts engine speed and torque for optimum performance.
The machines' operator environments have been improved with a new electro-hydraulic joystick steering system. This has speed sensing force feedback that the company said offered greater comfort and control.
There is also a new multi-colour touch-screen display that simplifies the operation of key controls, a rear view camera and an integrated production measurement system. Operators are now able to view payload information on-screen in the cab, making it easier to monitor productivity levels.
The latest models also offer drive-train refinement over previous models, as well as new cab amenities, optimised z-bar linkage (combining enhanced bucket performance with parallel lift), and performance buckets and work tools.
Other new models in what Caterpillar terms the 'small' wheeled loader segment, include the 926M, 930M and 938M. These machines have been developed with a system boosting power for improved road speed.
The series is powered by a Cat C7.1 ACERT engine and range in weight from 14.8 tons (13.4 tonnes) to 18 tons (16.3 tonnes). The four-range electronically controlled hydrostatic drive now includes operator-selected power-train modes including a refined torque converter mode that allows the machine to free wheel down hills and around grades.
There is also an ice mode to improve control in slippery conditions. Caterpillar added that tests showed the torque converter mode resulted in up to 5% fuel saving over previous models.
Building on Caterpillar's previous tracked loader models, the new 963K offer up to a 30% gain in fuel efficiency.
It also has an updated cab and new safety features for the comfort and convenience of the operator, and is powered by a Tier 4 Final/Stage IV engine.
With an operating weight of 22.9 tons (20.8 tonnes), the 963K is powered by a twin turbo 144 kW Cat C7.1 ACERT engine. Its eco mode automatically reduces engine speed, while maintaining selected ground speed when the machine is under light load.
According to the company, fuel savings of between 10% and 30% are possible compared with the previous model. It is said to offer further productivity with an optional high retention bucket that moves 5% more material per hour. For added versatility, it can be ordered with an optional fusion quick coupler to allow quick changes of forks and buckets.
Compact machines
Three compact radius Cat E2 series mini hydraulic excavators have also been unveiled.
The 305E2, 305.5E2 and 308E2 cover the 5.5 tonne to 8.5 tonnes weight ranges, and will be produced at Caterpillar's new 78,968 m2 facility in Athens, Georgia, US.
Among the series' main upgrades is a High Definition Hydraulic System which provides load sensing and flow sharing capabilities, improving precision and controllability.
Standard features include automatic twin-speed pilot controls, which allow operators greater flexibility and control. The design of its bucket allows for 200° of bucket rotation, which is said to increase material handling capacity.
The 305E2 includes a redesigned operator station and have a digital control panel that offers improved control over its hydraulic systems.
The company has also released its new M series of compact wheeled loaders, including the 906M, 907M and 908M, which feature optimised z-bar loader linkage, which offer aggressive digging power with parallel lift.
They are powered by an EU Stage IIIB 55 kW engine and have been designed with high-flow hydraulics for a broad range of construction applications.
The series, which ranges in weight from between 6.2 tons (5.6 tonnes) and 6.5 tons (7.2 tonnes), is available with a range of work tools and couplers, that the company said ensured its versatility and productivity. There are a number of options including a high-speed configuration, ride control system and high-flow hydraulics.
Several backhoe loaders have also been released. The F2 series comprises the 427F2, 428F2, 432F2 and 434F2, which feature a new operator environment as well as new engines.
Cabs have been restyled with better visibility to the loader attachment when at full height. In addition the range has blue-tooth connectivity, allowing site data to be exchanged efficiently. There is also an in-cab telematics system in order to track machine movement and provide operating statistics.
The 427F2 features a Cat 3.4B 55 kW engine with a diesel particulate filter that complies with Stage IIIB emissions regulations, which is said to be 10% more fuel-efficient than its predecessor model.
Its other new models in the series - the 428F2, 432F2, 434F2, and 444F2, are equipped with the Cat C4.4 ACERT engine. These range in power from 70 kW through to 74 kW and have a selective catalytic reduction (SCR) exhaust aftertreatment system.
Emissions focus
Caterpillar's Tier 4 dealer readiness manager Mary Roethler explained the company had started an awareness programme among dealers on emissions legislation. She said the company has focused on how equipment with Tier 4/Stage IV engines can be operated in less regulated markets through 'de-tiering'.
Last autumn the company announced its first de-tiering kits for its engines, which allow used machines from Europe, Japan or the US to be sold and operated in parts of the world where regulations are not as strict and fuel quality may not be as high.
She said, "Emissions regulation is a big issue for the industry, especially in terms of used equipment sales.
"Our 320 excavator is one of the first machines that have gone out to less regulated markets. We have taken a phased approach about how to handle this issue and we have now issued a number of de-tiering kits. It is something we are doing with even more of our products.
"It will affect products like wheeled loaders that have had aftertreatment systems for Stage IV emissions that may not be required for use in another country.
"This means that there may be an option to remove such systems or maintain them to keep the certified status of the machine."
On the issue of proposed Stage V emissions regulations, which are expected in 2019, she added that discussions had yet to take place on deciding precise emissions criteria.