Low level access
By Euan Youdale14 April 2020
The low level access sector is certainly becoming more diverse, even if there is still a long way to go before it becomes truly globally recognised and adopted.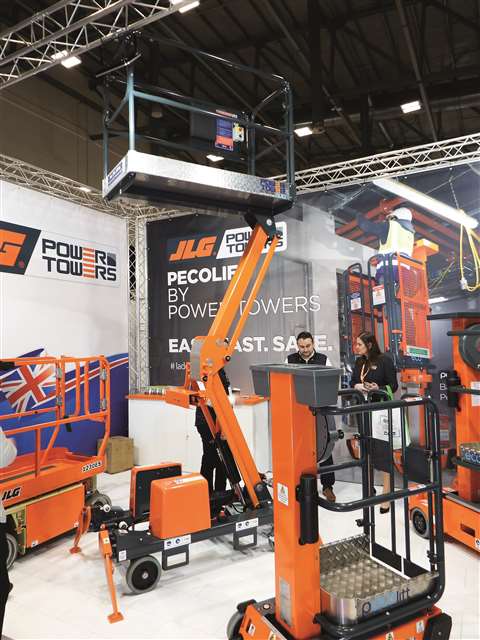 Nevertheless, manufacturers of general access equipment are seeing the potential at the low working end and are expanding their ranges. One example of this is JLG's acquisition of UK-based Power Towers in 2015.
Power Towers has been instrumental in pioneering products in this area. And the company is taking another major turn following the news at the end of last year that Brian King, the company's founder, has announced he will retire. He will have a consultancy role until September this year when he will leave the company for good.
Jonathan Dawson, who has been with JLG for 12 years in a number of roles, has taken over the reins of the company as its managing director. He will be joined by another longstanding employee of JLG Richard Puglia, who will take on sales and marketing for EMEA.
Merging Power Towers with JLG will be the focus in the immediate future. In line with that, Power Towers' equipment now has another colour scheme, orange and grey, which is closely aligned to JLG's general livery. Although the traditional Power Towers blue is available on request.
New era
JLG's pre-existing low level access offering, the Liftpod, is very much a North American product and is not certified to EN280 standards. Its applications are also relatively limited to do-it-yourself type jobs, so the plan is to use Power Towers' knowhow and JLG's comprehensive sales network to push the concept of low level access globally.
The company had a new product at the Executive Hire Show, which took place in the UK during February. The Power Towers Duo is aimed at sign fitting and dry lining work and is therefore suited to indoor and outdoor work, and is wind rated. The 5.1m working height lift has outriggers, which automatically retract when it is lowered. Duo is a pusharound but the platform is raised using electric power, while it is lowered using gravity. The machine is also hailed as the first low level access device to take two people in the basket, plus tools. The whole unit weights 425kg and is designed to go through standard doors with its 780mm width.
This, along with the other products will be produced in a new 180,000 square foot facility in Power Tower's UK hometown of Leicester City. The plan is to ultimately match the level of interest in low level access in North America as is found in Europe and particularly in the UK. There is some way to go, as the US is still in catch up mode when it comes to this type of health and safety in the workplace.
One of the ways this market is developing in North America is through more flexible products that cover a range of working height options. The latest and largest scissor from Hy-Brid Lifts is the 19ft working height PS-1930. It follows on from the low level access products in its range from 10ft and 14ft. "While many projects can be accomplished with these lower lifts, the benefits of a 19ft lift are undeniable."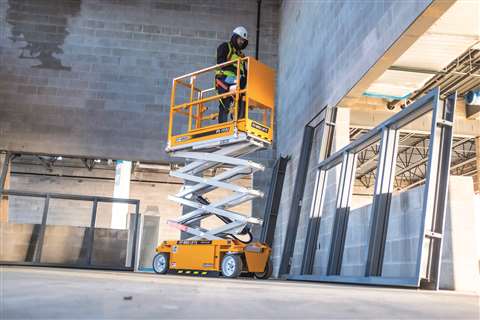 And, as Justin Kissinger, vice president of marketing at Hy-Brid Lifts, adds, "In fact, years of studies have shown that 85% of access work can be accomplished with a shorter lift, yet the 19ft market remains the most popular product segment. Customers were asking for a taller lift, so we delivered."
The PS-1930 also meets the new ANSI A92.20 standards, which requires an increased rail height and resulted in some manufacturers putting folding rails on their machines. "We were able to maintain non-folding rails on the PS-1930, which saves the operator time of having to get out and fold down the rails before going through standard doors."
Ultimately, having one machine that can accomplish a number of applications was a goal of the PS-1930, in that it could be used for low level access as well as a standard 19ft lift and the first Hy-Brid Lifts product to be certified for outdoor use. The outdoor use function button limits the height of the platform to 10ft to allow for 28mph wind speed.
The PS-1930 is an extremely lightweight machine. It weighs only 2,000 pounds. This allows contractors to comply with trailer restrictions, as well as restrictions on delicate flooring and surfaces.
Compact trend
Another recent product in the Hy-Brid line is the ZT-1630. It was officially launched last October as part of the Zero-Turn Series and is what the company describes as a safer alternative to vertical mast lifts. The 16ft platform height model offers easy manoeuvrability and is ideal for contractors working on projects like electrical, plumbing, drywall and sprinkler systems.
Genie agrees with this principle. Its 5.9m working height GS-1330m, launched in early 2019, is a low level scissor lift that offers the footprint and weight of a vertical mast, combined with the workspace, capacity and occupancy expected of a slab scissor.
The electric drive provides efficient and emission-free operation and an extended runtime. The total weight of the machine is under 2,000 pounds, allowing for access in elevators and other weight-restricted areas. Servicing was also a key consideration in the design of the product. Swing open access trays provide easy access and a diamond plated platform surface gives a long-life gripping surface without the need to replace grip tape.
Molly Frank, Genie product manager, Terex AWP, says, "Whether it is a data warehouse full of sensitive servers, or a grocery store with full shelves, compact machines are being favoured and driving adjustments to rental fleet mix. The trend towards safety and low level access is something that we see on a global scale. Many European nations were early adopters with a focus towards safety in an architectural landscape that requires compact, lightweight equipment."
At the larger end of the low level access family, Snorkel also recently expanded its electric drive telescopic mast lifts, with the introduction of the TM16E, offering a working height of 6.87m and a lift capacity of 227kg. Rated for indoor use, the TM16E weighs 1,105kg and has a zero inside turning radius making it ideal for warehouse applications in aisles, especially when fitted with the optional order picker tray. Introduced in 2010, Snorkel also offers a range of three push-around mini scissor lifts, known as the S3006P, with a working height of 4m, the 4.5m working height S3008P and the 5m S3010P. All three lifts have a platform capacity of 240kg, and weigh 310kg, 350kg and 370kg, respectively.
Versatile lifts
Turkey-based ELS Lift has extended its range of low level access scissor lifts with the Junior 4.5. The 4.5m working height new model adds to the existing 5.5m working height Junior 5.5, with both offering 240kg basket capacity. The compact models are designed to provide provides easy access through standard doors and to elevators. The Junior 4.5 has a platform length of 1.07m and width 0.59m. Both models' high capacity batteries, provide long working times, while fast assembly and disassembly makes transportation of the machines easier, in addition to saving time.
The company addeed that a third, alternative model in the range, the Junior 5.5 SP, is the lightest machine in its class, weighing 660kg. It offers a proportional joystick, automatic saloon doors and removable guardrails for space-saving during transport. A diagnostic display shows error codes, charge percentage, working hours, with fast solutions provided. With the unit's smart charger, charging cycles are recorded, and its full electric battery system equals a zero emission product. Thanks to the tool tray, there is no need to move the platform while working.
Büşra Örs, communications specialist at ELS, explained the increase in more compact, enclosed work areas and sensitive ground conditions had increased the trend towards low level access equipment. "With this new trend, light personnel lifting platforms have become more and more popular in the aerial work platform sector. Compared to other machines in this category, and unlike some bigger machines, these Light machines can work in narrow spaces and they can be transported easily, therefore, they are preferred in a lot of sectors."
Some of those sectors include general construction and contracting, storage facilities, logistics and shopping centres, civic centres, hospitals, and business environments.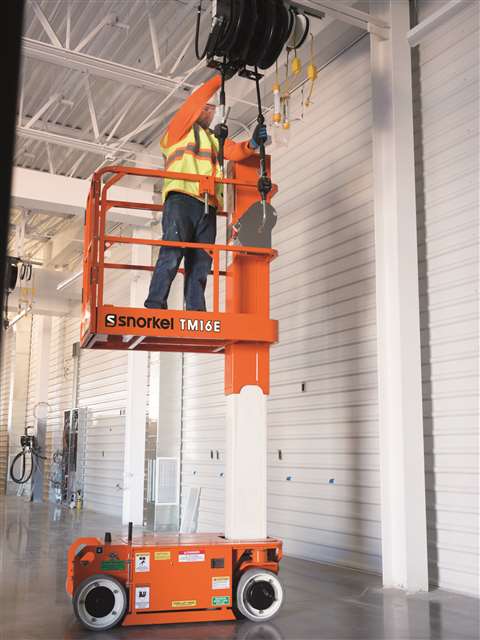 Snorkel also offers a self-propelled mini scissor lift, the S3010E. This compact lift has a maximum working height of 5m, has a platform capacity of 227kg, and weighs 495kg.
The company is also developing an outdoor-rated version of the Snorkel S3010P pusharound mini scissor lift. It will be able to be used in indoor areas with a wind flow, such as where there are open doors and windows, as well as in outdoor slab applications. It will officially launch mid-2020.
Mathew Elvin, Snorkel CEO, says, "The UK remains one of the strongest markets for low level access, however we are seeing an uptick in demand across Europe, most specifically in France. Adoption of low level access products in the US continues to increase at a moderate rate, particularly focused in high density urban areas, such as the major cities of New York, San Francisco, etc. During the rebuild in Christchurch following the 2011 earthquake, we saw a significant increase in demand for low level access in New Zealand."
On the subject of the UK, Instant Upright has relaunched its low level access offering in recent months. The initial range of electric models consists of the 6.4m MX1430, 7.8m MX1930 and the 10m working height MX 2632 electric scissor lifts, and two pusharound models, the 6m MX1330 working height scissor and 12m ML3330 mast lift.
The company says the MX1430, MX1930 and MX2632 all feature direct electric drive motors and components with good commonality for easy parts ordering. All the products in the new range carry a two-year year warranty as standard.
Refreshed lines
Joe Oxley, Instant UpRight group managing director, said at the time of the launch, "The company is no stranger to the AWP market and there is still a strong brand awareness present - the return of Instant UpRight blue machines presents us with an exciting challenge which is welcomed by the whole team."
Produced in conjunction with a Chinese manufacturing partner, Instant UpRight said it would evaluate and redesign the models as required to suit market demand, adding its own mark to a brand name that is still held dear by many in the industry.
The company has a distribution centre in the Netherlands, which will allow it to grow these products across Europe. This adds to the company's manufacturing facilities in Dublin, and complements its two manufacturing partners in China, which produce the new range, along with another in Finland, which manufactures the pusharound model. Instant Upright told AI that it was looking for other global manufacturing partners but that all items were produced to their high level of quality.
The soft launch of the scissor line took place last October and is now starting to see orders. "The idea is to bring these low level access products to complement its scaffolding products which is our core market."
Nevertheless, the company is looking to expand its range with a 10ft self propelled mast lift, offering a 500kg capacity, as well as well as a boom lift, that should complete the range. The new Pro 10 from UK-based Pop Up Products, is manufactured in the US by Custom Equipment, the aforementioned producer of the Hy-Brid Lift series. The 5m working height Pro 10 scissor, part of the company's IQ Lift range is an incarnation of the first Pop Up 7, which originated in 2005 and previous to the Pop Up 10 was produced by Snorkel.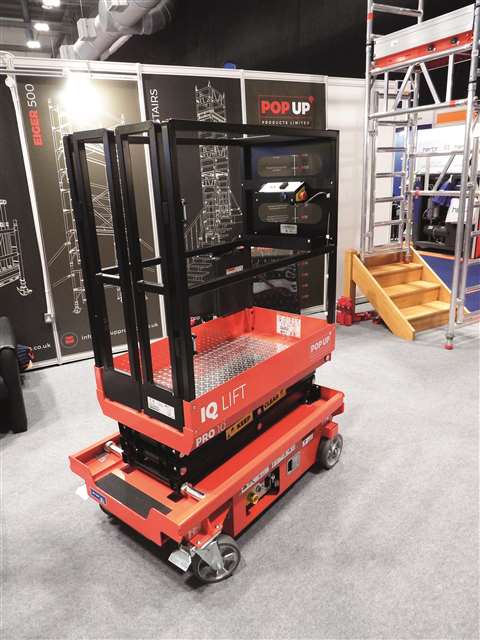 The 120x70cm, 240kg capacity model includes a range of new or updated features, including flush chassis design with non-protruding, narrow spaced forklift pockets for smaller forklifts, as well as non-swivel brake pedals and easy-roll non marking tyre, there is an easy clean chassis tray, with 60mm ground clearance for easy loading. The stiff scissor pack design uses oversize pins, alloy non-slip platform deck flooring, built in toolholder and oddments bin, among other benefits. There is also a USB port on platform controls.
Increasing value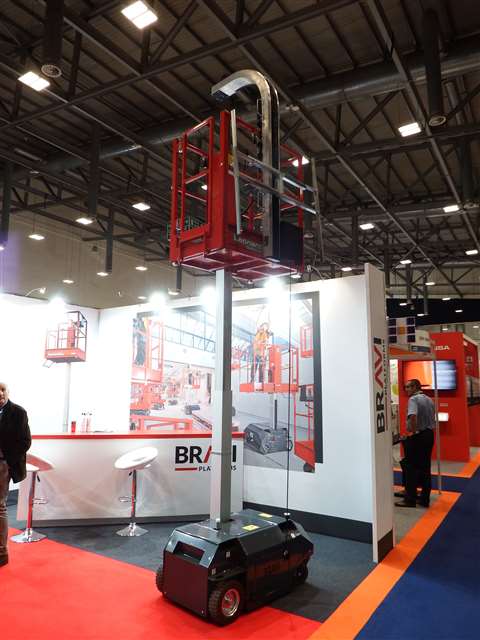 Bravi has been updating its key Leonardo HD mast lift range with the view to increasing its residual value. One of the changes includes a new AGM battery and anti-rust wheels, plus a new approach to painting the basket, which now has an undercoat, making it simple for owners of the equipment to repaint it themselves as required, which adds another easy way to maintain the residual value. The company will also add load sensing onto its Leonardos in the next six months, which will add a safety benefit and provide crucial data concerning instances of overloading. This will also of course meet the new US ANSI requirements, along with other relevant updates to make it a fully compliant machine.
The company was at the UK's Executive Hire Show, in February, with the newly-updated machine hoping to re-establish itself in the market. Bravi told AI that the UK market had fallen away more than a decade ago due but the machine had been completely reworked in the years following that. Indeed, the company has longstanding contracts with major European rental companies like Cramo and Ramirent and is now looking to echo that in the UK with majors there like Nationwide Platforms and HSS.
Podium plans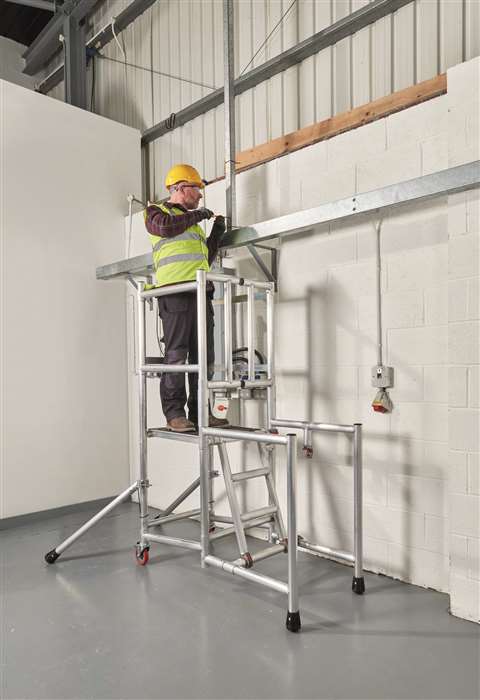 Very much a UK product, Podiums endeavour to meet the UK's BS8620:2016 safety standard, which has been in place around a year and replaced and updated the PAS 250 safety guidance. It included a dimensional change to side protection and requirements for two tests. The stability element of the standard requires stabilisers to be used with all podiums.
The latest addition to Werner's Boss range is the Pod 1000, which will be widely available from March. The Boss Pod is designed as a compact, single folding unit, making it easy to store and transport. One of the main features is its all in one design with no removable parts, helping to save time when transporting the unit by keeping all elements together in one place. It includes pivoting stabilisers that allows the user to work in any position and an integrated ladder. The guard rail and safety gate provides 360º protection for users and the auto-close mechanism allows hands free use of the gate. The company will launch the larger Pod 1200 and 1500 later this year.
Euro Towers has also been concentrating on ease of use in its latest launch, the Euro Deck. It is designed as a unique unit that sits between a podium and scaffolding tower and can be managed by one person in operation, transport and assembly. The deck has a 150kg safe working load and is aluminium.
Easy access
We can see how the influence of low level access and compact equipment is adapting into new areas. One example is the Easy 720 and Easy Gemini 720 from Italy-based Big Astor, which adds to their ultralight Genius People Lift series of low level, foldable aluminium push around scissors. "Customers seem to be looking for more and more light machines, that are easy to use and to transport and are compact," the company said.
As well as compact dimensions, customers are also demanding lower costs. "Producers are always searching for more cost-effective solutions and all competitors have to adjust. This is challenging especially when thinking about the economic and safety aspects."
Launched at Bauma last year, the single Easy 720 scissor and Easy Gemini 720 double scissor are mounted on very light trucks. The 720 has two independent scissor structures that can work simultaneously at different heights and can move forwards and backwards on specially designed tracks. The model has been developed to be used inside tunnels and work simultaneously and independently at different tunnel heights.
The single scissor structure of the Easy 720 is designed for any relevant worksites, particularly space restricted areas, including in city centres for streetlights. The working height of both models is 7.2m with a 130kg load capacity.