Low vibration attachments key to city centre project
A German contractor is undertaking a low noise, low vibration demolition project in with the help of Kemroc drum cutter and cutter wheel attachments.
CK Abbruch und Erdbau has been removing the foundations of a former industrial complex in Weingarten in the south of the country, by mounting the drum cutter and cutter wheel attachments on hydraulic excavators.
Kemroc said this is both an economic and environmentally friendly way of demolishing the heavy concrete segments.
The demolition has come about because a new city quarter called Martinshöfe is being built in the centre of Weingarten on a 4 ha (9.9 acre) site.
In the project, CK Abbruch und Erdbau – as well as removing around 40,000 cubic metres (1.4 million cu ft) of concrete and reinforced concrete – is excavating the foundations for future housing and offices, another 120,000 cubic metres (4.2 million cu ft) of earth.
After the above-ground buildings were demolished last year, attention turned to the underground foundations, some of which are 1,500 cubic metres (53,000 cu ft) in size.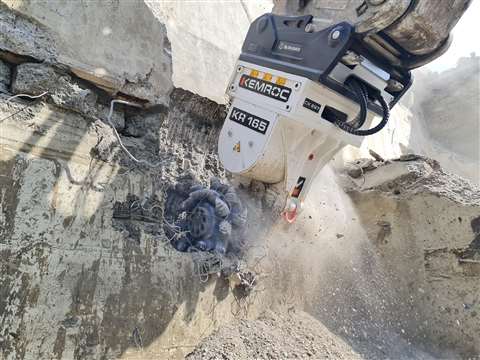 In view of this challenge, and the noise and vibration requirements at the inner-city site, the demolition contractor decided to use a combined demolition and dismantling process.
The machinery at Weingarten consisted of two hydraulic excavators equipped with Kemroc attachments, a 45 t machine with a DMW 220 cutter wheel and a KR 150 drum cutter, and a 60 t machine with a DMW 220 HD cutter wheel and a KR 165 drum cutter.
"At peak times, we have five excavators with operating weights of up to 80 t operating on this construction site, as well as a mobile crushing plant and a mobile screen for high-quality processing of the resulting concrete residue," said Markus Christadler, managing director at CK Abbruch und Erdbau.