Lowest Cost of Ownership Award for Doosan
By Steve Ducker06 April 2018
Doosan's 30 t DX300LC-5 crawler excavator has won the Lowest Cost of Ownership Award for the Excavators Crawler Medium category in a new annual series of awards organised by EquipmentWatch, a leader in data, software and insights for the heavy equipment industry.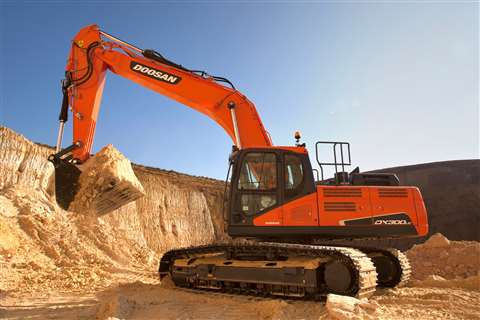 The awards are based on empirical data regarding the long-term cost of heavy and compact equipment. Nominees were recognised in 15 categories of machine that exhibit the lowest cost of ownership over a five-year span.
The DX300LC-5 is powered by the Doosan DL08 6-cylinder diesel engine, with an output of 202 kW of power at 1,800 rpm, providing a 27% increase in engine power and a massive 30% boost in torque over the LC-3 model. The engine meets Stage IV emission regulations without the need of a diesel particulate filter by using cooled exhaust gas recirculation and selective catalyst reduction after-treatment technologies.
As well as the Doosan engine, new innovative and exclusive features have been introduced in the DX300LC-5, leading to reductions in fuel consumption amounting to an average of 10% compared to the Stage IIIB machine.