Machine learning - it's all about the data
By Andy Brown26 November 2020
When it comes to the construction industry machine learning means many things. However, at its core, it all comes back to one thing: data.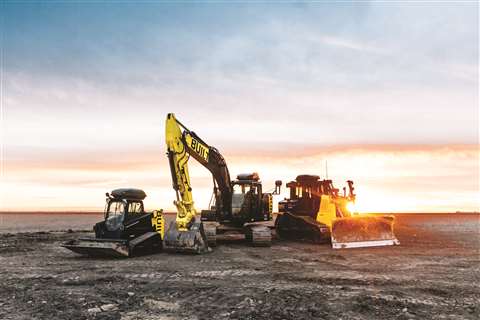 The more data that is produced through telematics, the more advanced artificial intelligence (AI) becomes, due to it having more data to learn from. The more complex the data the better for AI, and as AI becomes more advanced its decision-making improves. This means that construction is becoming more efficient thanks to a loop where data and AI are feeding into each other.
Machine learning is an application of AI that provides systems the ability to automatically learn and improve from experience without being explicitly programmed. As Jim Coleman, director of global IP at Trimble says succinctly, "Data is the fuel for AI."
Artificial intelligence
Coleman expands on that statement and the notion that AI and data are in a loop, helping each other to develop.
"The more data we can get, the more problems we can solve and the more processing we can throw on top of that, the broader set of problems we'll be able to solve," he comments.
"There's a lot of work out there to be done at AI and it all centres around this notion of collecting data, organising the data and then mining and evaluating that data."
Karthik Venkatasubramanian, vice president of data and analytics at Oracle Construction and Engineering agrees that data is key, saying: "Data is the lifeblood for any AI and machine learning strategy to work. Many construction businesses already have data available to them without realising it.
"This data, arising from previous projects and activities, and collected over a number of years, can become the source of data that machine learning models require for training. Models can use this existing data repository to train on and then compare against a validation test before it is used for real world prediction scenarios."
There are countless examples of machine learning at work in construction with a large number of OEMs having their own programmes in place, not to mention what's being worked on by specialist technology companies.
One of these OEMs is USA-based John Deere. Andrew Kahler, a product marketing manager for the company says that machine learning has expanded rapidly over the past few years and has multiple applications.
"Machine learning will allow key decision makers within the construction industry to manage all aspects of their jobs more easily, whether in a quarry, on a site development job, building a road, or in an underground application. Bigger picture, it will allow construction companies to function more efficiently and optimise resources," says Kahler.
He also makes the point that a key step in this process is the ability for smart construction machines to connect to a centralised, cloud-based system – John Deere has its JDLink Dashboard, and most of the major OEMs have their own equivalent system.
"The potential for machine learning to unlock new levels of intelligence and automation in the construction industry is somewhat limitless. However, it all depends on the quality and quantity of data we're able to capture, and how well we're able to put it to use though smart machines."
USA-based Built Robotics was founded in 2016 to address what they saw as gap in the market – the lack of technology being used across construction sites, especially compared to other industries. The company upgrade construction equipment with AI guidance systems, enabling them to operate fully autonomously.
The company typically works with equipment comprising excavators, bulldozers, and skid steer loaders. The equipment can only work autonomously on certain repetitive tasks; for more complex tasks an operator is required.
Erol Ahmed, director of communications at Built Robotics says that founder and CEO Noah Ready-Campbell wanted to apply robotics to where it would be really helpful and have a lot of change and impact, and thus settled on the construction industry.
Ahmed says that the company are the "only commercial autonomous heavy equipment and construction company available." He adds that the business – which operates in the US and has recently launched operations in Australia – is focused on automating specific workflows.
"We want to automate specific tasks on the job site, get them working really well. It's not about developing some sort of all-encompassing robot that thinks and acts like a human and can do anything you tell it to. It is focusing on specific things, doing them well, helping them work in existing workflows. Construction sites are very complicated, so just automating one piece is very helpful and provides a lot of productivity savings."
Hydraulic system
Ahmed confirms that as long as the equipment has an electronically controlled hydraulic system converting a, for example, Caterpillar, Komatsu or a Volvo excavator isn't too different. There is obviously interest in the company as in September 2019 the company announced it had received US$33 million in investment, bringing its total funding up to US$48 million.
Of course, a large excavator or a mining truck at work without an operator is always going to catch the eye, and our attention and imagination. They are perhaps the most visual aspect of machine learning on a construction site, but there are a host of other examples that are working away in the background.
As Trimble's Coleman notes, "I think one of the interesting things about good AI is you might not know what's even there, right? You just appreciate the fact that, all of a sudden, there's an increase in productivity."
AI is used in construction for specific tasks, such as informing an operator when a machine might fail or isn't being used productively to a broader and more macro sense. For instance, for contractors planning on how best to construct a project there is software with AI that can map out the most efficient processes.
The AI can make predictions about schedule delays and cost overruns. As there is often existing data on schedule and budget performance this can used to make predictions – and these predictions will get better over time. As we said before; the more data that AI has, the smarter it becomes.
Venkatasubramanian from Oracle adds that 'smartification' is happening in construction, saying that: "Schedules and budgets are becoming smart by incorporating machine learning-driven recommendations.
"Supply chain selection is becoming smart by using data across disparate systems and comparing performance. Risk planning is also getting smart by using machine learning to identify and quantify risks from the past that might have a bearing on the present."
There is no doubt that construction has been slower than other industries to adopt new technology, but this isn't just because of some deep-seated reluctance to new ideas.
For example, agriculture has a greater application of machine learning but it is easier for that sector to implement it – every year the task for getting in the crops on a farm will be broadly similar.
New challenges
As John Downey, director of sales EMEA, Topcon Positioning Group, explains: "With construction there's a slower adoption process because no two projects or indeed construction sites are the same, so the technology is always confronted with new challenges."
Downey adds that as machine learning develops it will work best with repetitive tasks like excavation, paving or milling but thinks that the potential goes beyond this.
"As we move forward and AI continues to advance, we'll begin to apply it across all aspects of construction projects.
"The potential applications are countless, and the enhanced efficiency, improved workflows and accelerated rate of industry it will bring are all within reach."
Automated construction equipment needs operators to oversee them – as this sector develops it could be one person for every three or five machines, or more, it is currently unclear. With construction facing a skills shortage this is an exciting avenue. There is also AI which helps contractors to better plan, execute and monitor projects – you don't need to have machine learning type intelligence to see the potential transformational benefits of this when multi-billion dollar projects are being planned and implemented
Article reprinted from October 2020 issue of Demolition & Recycling International. First published in D&Ri's KHL group sister title International Construction