Major anniversary for Sennebogen
Sennebogen is celebrating 65 years in business this year with expanded premises and a new product range including a 33 m (108 ft) demolition material handler.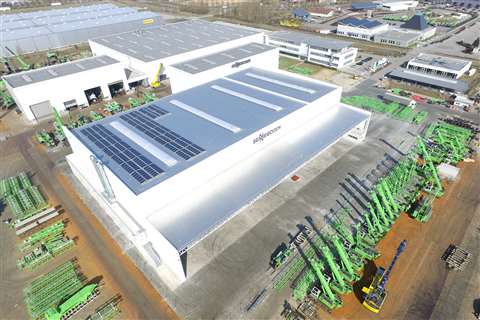 The company, founded by Erich Sennebogen Sr in 1952, is increasing its plant at the port of Straubing, Germany, by 35,000 sq m (376,000 s q ft).
While the newly developed 870 demolition material handler has numerous additional product features which make it suitable for demanding demolition applications.
The machine itself is based on the basic machine of the Sennebogen 870 E with a powerful 261 kW diesel engine. The equipment comprises an 18 m (59 ft) basic boom with a quick-change mechanism and a 2.5 m (8 ft) intermediate boom, as well as the 11.5 m stick (37 ft) with reversing mechanism. With the equipment, the machine has a reach height of 33 m and a reach width of up to 20 m (65 ft).
The demolition material handler offers load capacities of up to 4 t across the entire working range.
"A lot has changed in the past 65 years," said managing director Erich Sennebogen.
"It is not just the machines that have kept getting bigger. Our portfolio is constantly growing and we always need to be thinking about future developments. At the same time, economic conditions are changing.
"Our markets in the material handling and crane sectors have evolved. The business areas have become more diverse and the requirements our customers have with regard to quality products are constantly increasing."
Today Sennebogen has more than 1,400 employees at production sites in Germany and Hungary as well as branches in Singapore and the USA and a 150-strong dealer network.