Major international transports for Lift and Shift
By Ian Vallely23 January 2017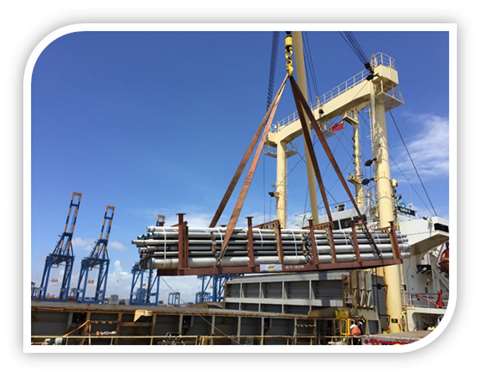 Lift and Shift has finished its contract for door-to-door transport of spools and containers for the FDH joint-venture between Fluor, Daewoo E&C & Hyundai Heavy Industries. They were moved from from Hazira in southwestern India to the KNPC CFP MAB 2 project site in Kuwait.
A total of 21,321 tonnes, consisting of 2,150 pieces, 1,299 trips of break bulk cargo and 700 containers, were shipped in 18 sea voyages and 50 container shipments.
Lift and Shift, with its partner in Kuwait, Al Rasheed, were awarded the contract in October 2015. The scope of work included engineering of the spools ready for transport; transport of the spools in frames, as break bulk and in containers to Adani port Hazira; export customs clearance of the cargo; collecting the cargo in the port; delivering the cargo under hook at Hazira port; arranging charter ships for sea freight of the cargo; receiving the cargo under hook in Kuwait port; performing custom clearance of the cargo in Kuwait and, finally, delivering the cargo to the KNPC CFP MAB2 project site.
From the date of readiness to the delivery of cargo to site, the transit time was a total of 30 days. A team of 25 people worked on the project between India and Kuwait.
For the sea freight, Lift and Shift chartered ships from various operators to deliver the goods – a total of 18 shipments – as per schedule dates.