Making a market
By Euan Youdale28 July 2015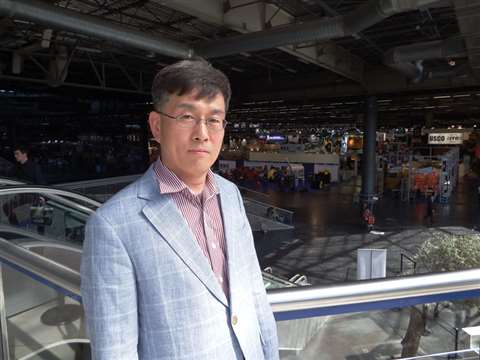 Euan Youdale received an insight into the AWP market in South Korea and neighbouring countries when he spoke to the executive director of the country's biggest rental company Sam-Dal Son.
South Korea has a strong market for AWPs and is a beacon for growth in the region; its neighbouring countries are also making moves in the right direction. Nevertheless, there are the usual challenges to overcome before any access equipment market can call itself established.
Based in Seoul, South Korea, AJ Networks is working to overcome those challenges. It has about 4000 aerial work platforms in its fleet, about 90% of which are scissor lifts, with 3% being articulating booms and the remaining 7% made up of telescope booms. That amounts to 3800 scissors, 80 articulated and 120 telescopic booms.
1960 AJU Industry (Building Materials) was established, with a rental division being set up in 2000 under the name of AJU Rental. In 2007 AJ Affiliated became a separate entity, and AJ Networks was founded. It has become the biggest rental company in South Korea with 10000 machines in its fleet and around two million plastic pallets.
Sam-Dal Son, the company's head of rental and executive director, explains, "We are trying to find new rental items for the business to expand its interests," explains Mr Son, "When we invested in AWPs we looked at many new items. It was 2005 the company decided that AWPs would become a popular product type in the future and decides to invest, even though the market was relatively small at the time."
The rise of access platforms in South Korea is not just down to an increasing recognition of safety and the expected rise in the cost of labour, there is also the key issue of age - there are not enough young people to carry out the traditional physical labour. "Our society is aging, so the labour power is growing old, therefore AWPs will be used more and more."
"Secondly, however, our government is thinking about safety and the regulations will become more strict. I am not sure by how much compared to USA and Europe but safety will improve and so it is natural that the AWP business will grow up alongside this view."
Korean companies want to use AWPs for safety and speed," adds Mr Son. "In the future construction companies will have strict standards for their sites, but right now there are not any.
He estimates there are around 35000 aerial work platforms in South Korea; in Vietnam that drops to about 3000, although the market in the latter is set to grow quickly. The company is also looking to invest in South East Asia, although it has no physical interests yet, "But we would like to expand in that area."
Asked how the adoption of AWPs in South Korea has been changing over the last five years and is likely to change, Mr Son explains, "Five years ago the total fleet in the country was about 16000 or 17000 units. In five years the market size will double from where it is now."
Its neighbour is set to grow even faster, however. "Vietnam's market size will expand faster than in South Korea. Its industry will expand faster than ours and we will invest there."
There are more than 300 rental companies with AWPs in South Korea but most of them are small. Between five and seven companies have more than 500 AWPs in their fleet. The second biggest having around 2700 units in its fleet, says Mr Son, while the third has some 1100. The vast majority of companies have around 40 or 50 machines operating in their local areas. AJ Networks, meanwhile, covers the whole of South Korea, with five depots and six warehouses.
In Vietnam, there are four or five major rental companies base in the country, explains Mr Son, each owning a few hundred AWPs.
Of all the machines in South Korea more than 90% are owned by rental companies, says Mr Son. "Those are scissor types, but end users own about 30% of the self propelled booms in South Korea."
"The reason behind this high percentage is that it is the rental industry that is creating the market, it is the rental companies that introduced the AWPs into the market.
Mr Son adds, "The scissors are used for maintenance, and for a very short period, so they are not efficient to be owned by end users."
One might suppose it has been a struggle to convince the South Korean and Vietnamese markets to take on aerial work platforms. "Customers were not familiar with this equipment, but after using it they understood the speed and so the market expanded. It was not difficult to persuade them."
Of the platforms residing in South Korea, about 80% of them were bought in as used equipment, although AJ Networks says 40% its fleet was bought new. "Mainly they come from the USA, with Skyjack, JLG and Genie all common in the country." But Mr Son says there are not many Chinese machines in the country.
Perhaps unsurprisingly, there are very few truck mounts in the country. "Rental companies do not have any truck mounts. There are a small quantity in Korea but in the near future rental companies may adopt these machines, along with telehandlers," Mr Son adds.
In fact the telehandler are set to make its first foray into South Korea soon, thanks to AJ Networks. "We are trying to get some information about telehandlers and then launch them in the South Korea market, although we do not have any there now. We want to know more about them from the manufacturers and rental companies that use them in the other countries. We are testing the ground."
Mr Son says AJ Networks is likely to buy used and new telehandlers to begin with. "But we really need to understand the market for telehandlers and soon we will make decision about whether to invest."
Turning to the thorny issue of rental rates in South Korea and Vietnam, there is an interesting difference between the two countries. In South Korea scissors of 19ft expect a rate of about $300 – 400 dollars a month in South Korea, but in Vietnam the rate is about 20% higher. Although Mr Son adds, "The rental fee might go down as demand goes up there.
"In South Korea the rate is down because we have keen competition in the market. The rate is not very good and I hope the speed it will go done is slow, but it will go down.
Capital expenditure will be on the rise at the company. "We are expecting to spend more in the future, going up by about 10%."
Investment in the overall AWP market in South Korea will expand by more than 10% in the next five years, Mr Son hopes, probably around 15%. And in its neighbouring market, "We have a branch in Hanoi in Vietnam and we got want to expand to Ho Chi Minh City in Southern Vietnam. About 15% of our business is in Vietnam but we are expanding our fleet there. And in two or three years we want to establish a branch in South East Asia Saudi Arabia."
The interview with Mr Son took place during the Intermat exhibition. Concerning his company's reasons for visiting the show, Mr Son explained, "We are looking for new types of machines and want to know the trends of the AWP market, also we want to find out if there are other items to add to our rental business in South Korea."