Telematics has long been regarded as being the basis for tracking the location of vehicles and mobile equipment on job sites. In construction and demolition, equipment rental companies provide a valuable service to contractors for meeting the short term and variable equipment demands of any project, allowing companies to better manage their capital investments in heavy equipment.
However, when rental equipment or vehicles are deployed on site, monitoring them through telematics for location, utilisation, and maintenance typically remains the responsibility of the rental company and not the contractor.
Most equipment rental companies, and equipment dealers with rental operations, have a broad mix of equipment and vehicle types and brands in their fleet, which increases the complexity and challenge of leveraging telematics across their operations.
Fleets and drivers
Rental companies typically own and manage heavy duty vehicle fleets to run their rental operations. Their vehicles and drivers are constantly on the move to deliver and pick up rental equipment, or to provide on-site maintenance and repair services. Every deployment must be scheduled and dispatched, including route planning and optimisation to minimise extra travel time and fuel consumption. Knowing the locations for equipment delivery and pickup is essential for effective scheduling.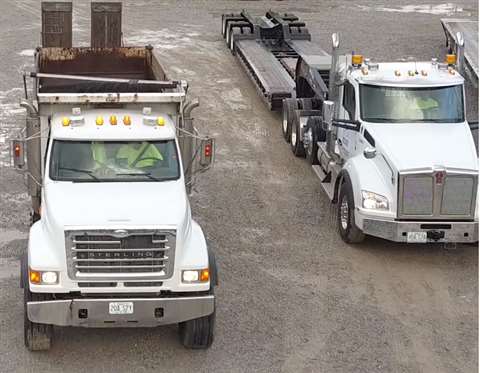 Furthermore, the behaviour of these drivers on the road directly impacts the organisation's reputation and bottom line. Not only is it important to effectively plan their routes between destinations, but by monitoring how they operate the vehicles organisations can realise significant savings in fuel costs and avoid unnecessary vehicle wear and tear. Telematics hardware and software enables a better understanding of driver behaviour and can help organisations to provide additional education and safety training to their drivers. Reporting allows dispatchers to monitor actions such as a driver deviating from their route, or excessive acceleration and harsh braking incidents.
Vehicles also require maintenance to remain in optimal operating condition.
By using telematics solutions to monitor vehicle mileage, engine hours, location, and faults, vehicle fleet managers are better able to predict and plan for vehicle maintenance and downtime.
In a business that depends on reliable hauling and service vehicles, proactive vehicle maintenance helps ensure fleet availability, extends vehicle lifespan and helps fleet managers ensure adequate fleet capacity.
Rental equipment
A rental company's goal is to maximise utilisation of its rental fleet, which is impacted by equipment availability. This in turn is impacted by the constant scheduling and movement of equipment between customers and job sites, which makes it difficult to manage and maintain assets and understand their usage. With rental periods lasting weeks or months, equipment must often be maintained while out on rental. In addition, rental customers demand immediate response if an asset breaks down or requires attention.
A problem rental companies face is locating the equipment, as customers often move assets around and away from the site of delivery. Service technicians can then spend too much time trying to locate the equipment, to perform maintenance repairs. Customer response times suffer as a result and the productivity of the service technicians is affected, resulting in them not being able to perform as many jobs in a day.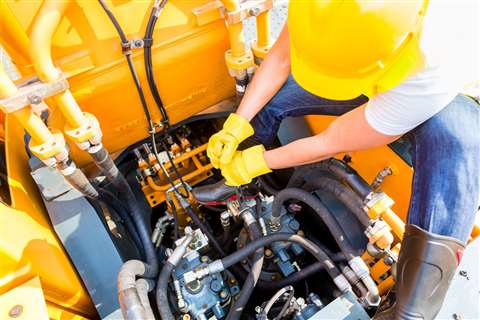 When a contract comes to an end and the rental company needs to pick up an asset, not knowing where that piece of equipment is can waste valuable time for the delivery driver, excess fuel for the vehicle and may even impact on the next job that it is due to be delivered to, affecting customer response times.
Telematics technology provides a solution to these challenges in that rental companies can track their assets and identify the location of them at any time. In addition, tracking service vehicles alongside on the same map makes identifying the nearest service technician to a broken-down asset a simple task, improving response time considerably.
Rental organisations provide value to their customers by supplying equipment that operates optimally and without interruption during rental contracts. To ensure the rental fleet is in top operating shape, companies must proactively plan, schedule, and complete preventive maintenance on their equipment. In many situations, the downtime of a piece of rental equipment poses a considerable cost to a business.
The ability of the rental company to perform maintenance at more opportune times, for example when the equipment is not needed operationally, can have dramatic results. Where jobs run on tight margins and have a lot of cross-dependencies between tasks, a piece of equipment that is down can bring the entire project to a halt, impacting much more than the task it was designed to perform.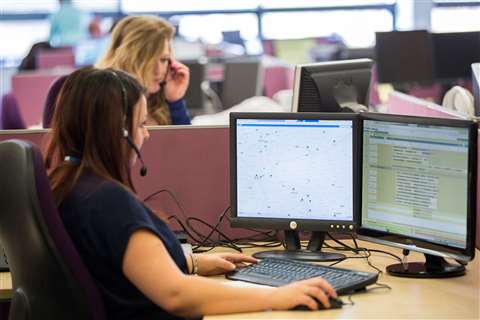 Having visibility to equipment location, utilisation, and health information, including faults and diagnostic codes, through a telematics data feed dramatically improves a rental company's ability to deliver timely maintenance and service which minimises equipment downtime and maximises the life of the equipment. When a rental organisation can predict at what stage its fleet requires maintenance, and proactively plan the service intervention with their customers, it ensures that its customers remain productive and become the customer's partner, rather than just an equipment provider.
Automating operations
Telematics deployments are becoming much more cost-effective, enabling the entire rental operation to become increasingly connected and automated. Telematics today can share real-time information and connect mobile workers in the field with the back office, customers and equipment, allowing the entire service workflow to be more connected.
When a piece of rental equipment is dropped off or picked up from a customer site, communication between the delivery drivers and the back office is often done manually and on pieces of paper.
In addition, the scheduling and routes that these drivers or service technicians take may also be planned manually, which can be prone to all sorts of errors and inefficiencies.
Rental companies can look to address these issues and improve operational efficiency, by leveraging telematics integration with scheduling solutions to automating pickup and delivery schedules. Intelligent scheduling software enables rental businesses to optimise routes and schedules for the day and gain insight into what is happening in the field in real-time to efficiently manage processes including; tracking arrival times, distances travelled, stops made.
They are also able to manage in-day complications, such as re-routing for emergency trips while the drivers are out in the field, and route overruns, thus improving customer service.
The future
Rental companies that invest in telematics-driven connected workflows will see many benefits.
These workflows require a tight connection from the asset and vehicle to the scheduling system, and telematics is integral to providing this connection. Having the visibility to monitor the location and utilisation of vehicle rental fleets with telematics technology can help rental businesses to manage customer demand, boost efficiencies and maintain a healthy return on investment.
Paul Miles is a segment manager with Trimble Field Service Management division. This article first appeared in the September-October 2018 issue of Demolition & Recycling International. To register to receive the magazine on a regular basis, please visit www.khl.com/subscriptions