Making The Move
By Lindsay Gale20 March 2008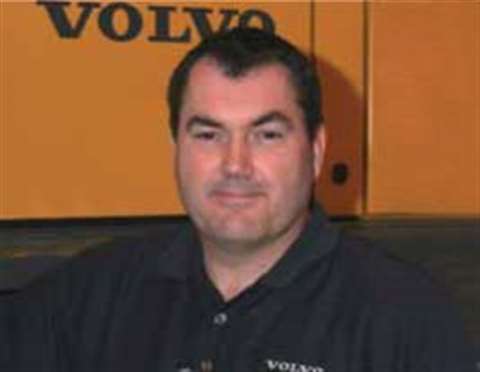 Volo is the latest full line manufacturer to enter the high reach excacator sector with the launch of its 32 m (105ft) EC700BHR first seen at Bauma. This move is a logical one for the comapany, believes Eddy Powell, director of global demolition solutions, who has been given the responsibility for Volvo's demolition activities.
"The demolition market is not a high voline one. However Volvo's growth as an excavator company over that last five years has been massive. We at volvo recongnised that so continue that growth in the industry we needed to enter the niche markets that exist for excavator prodlucts such as demaliting for estrv material."
"As a result, over three years ago we establisted what we called the Customer Solution Group, of which I am one of the directors looking after the demolition side of the business. The Group's mandate is to fully understand the business so for the last three and half years we have traveled extensively around the world, talked to contractors - who were not necessarlity existing Volvo customers - and looking at their current and future needs. Basically, we wanted to identify what they want and where they get if from."
This extensive information gathering exercise included a considerable number of job site visits where contrors as well as machine operators too were canvassed for their input says Mr powell.
The net result of this effort was that Volvo decided that it should enter the sector. Volvo took the stance that it should offer high reach and, more importantly, with a standard configuration offering, which is the volume for us, he goes on.
"We have been in high reach through collaboration with Kocurek since 2001, with around 50 machines operating in Europe through this arrangement, which ended at the end of 2006. Producing our own in–house machine is a natural progression for us, since we see demolition as a rapidly growing and an increasingly professional business. The data available concerning the industry shows growth year on year, and this tells us that we are right to enter this market."
According to Mr Powell, Volvo is now using a segment approach when looking at the global market, as opposed to a product approach.
"We've been three and a half years dissecting the available information and identifying what products we need. Another factor that we have recognised is that some of our dealers/sales personnel are not comfortable with the demolition sector because you need to have considerable competency to tell a demolition contractor that you have the product he needs". In order to be able to offer contractors producte they want, we have listened to what they need as a standard and introduced this into today's Volvo products, he says.
It is Volvo's belief that its standard demolition excavators - six models from the EC210 through to the EC700 - with their heavy duty specification meet the needs of at least 75% of demolition contractors. "We're almost there with our very heavy duty off-the-shelf specification for these machines," says Mr Powell. "We are one of only a few OEMs that offer a frame mounted FOG (falling object guard). A lot of others have gone for a cab mounted solution for cost reasons. In the real world, when you talk to contractors, they prefer the frame mounted solution. And our FOGs are certified."
The highlight of Volvo's demolition display at Bauma was of course the debut of the first of the company's high reach machines, the EC700BHR. Mr Powell told D&Ri that this is the first of four high reach models to be launched over the course of the next 12 months. Capable of carrying a 2.5 tonne attachment to 32 m (105 ft), the machine features a four section boom, extending undercarriage, tilting cab and full demolition specification, and tops the scales at just over 90 tonnes. This is more than 20 tonnes heavier than the base EC700B. Five tonnes of additional counterweighting has been added, with two hydraulic cylinders lowering this additional weight to the ground for removal when the machine is being used with a standard boom for digging applications
Setting the standard
"The only element on the machine that will be an optional extra will be the variable undercarriage, everything else will be fitted as standard. Having said this, we are toying with the idea of making it standard, as Volvo is very safety conscious," says Mr Powell. "Contractors will be able to work in a full 360 degree radius. We have spent a lot of time making sure that our machine will achieve this and this will be ideal for contractors who have a requirement for pick and place during dismantling work"
Volvo believes its variable width undercarriage is unique to the industry, featuring as it does cylindrical as opposed to box shaped members. According to Mr Powell, "our design is a very heavy steel tube, nickelmium cadmium coated to protect it from damage from demolition debris, with the hydraulic cylinder contained inside. This configuration allows us to fit a full dust seal, so that when the undercarriage is retracted, nothing can get inside the tube. This is something hard to do when a square profile is concerned"
The boom is currently being produced by a specialist third party supplier, built to Volvo's specifications and using Volvo components throughout. The main boom features a removable 3 m (10 ft) section to effectively provide two working heights, 32 m and 29 m (95 ft). At the latter height, the boom can carry a 3.5 tonne attachment. Key to the design is Volvo's unique two pin quick connect system. And of course the machine can carry a standard digging boom for earthmoving work.
The EC700BHR will be followed by an EC290C with a 17 m (56 ft) reach, an EC360C with a 21 m (69 ft) reach and a EC460C with a 27 m (88.5 ft) reach, "These are all C series machines launched this year, The EC700 has been launched as a B series machine because the C series version, as a base machine, will not be available until 2008."
He continues: "We are very happy with what we have done with the EC700BHR. We have more in the pipeline and high on our priority list is the introduction of elevating cabs. We are introcucing a premium product that will demand a premium price, so we don't say we want to be number one, but we do want to be the number one preference. We are also working with our dealer networks to ensure that they will be able to provide the highest level of support for our demolition products. In this industry, support is everything."
The main target for Volvo's high reach activities is currently Europe but North America has not been ignored. Volvo is currently investigating production options for the booms in that region, and expects that high reach machines should be available in this region by the second quarter of 2008.