Making way for the future in Stuttgart - regenerating the city's health infrastructure
By Lindsay Gale06 October 2010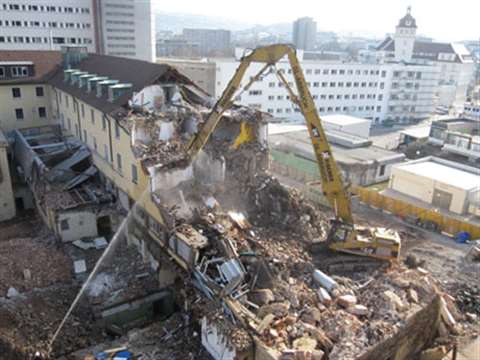 The Germany city of Stuttgart is currently in the process of redeveloping its hospital facilities - the resulting Euro 800 million (US$1,016 million) Klinikum Stuttgart is said to be the largest hospital construction project in the country. The project will see two new facilities constructed to replace four hospitals at separate locations, requiring the demolition of six buildings featuring heavy reinforcement.
The city centre location of these buildings created major challenges for the contractor involved in the project - FWA Fischer Weilheim Abbruch. The confined nature of the site created major logistical challenges for the transportation of materials as well as carrying out the actual demolition.
The second demolition stage of the project calls for the demolition of 50,000 cubic metres (1,780,000 cubic feet) above and below ground, from soft strip and asbestos remediation through to the demolition of a boiler house and supply facilities. Asbestos removal proved a major challenge, since Fischer discovered that there were large areas of poorly installed material that had to be dealt with. All affected areas were cleared under strict health and safety requirements and officially documented before final approval was given for demolition. Workers, in appropriate protective clothing, removed the asbestos working in pressurised, sealed enclosures. A tight deadline also means that a high daily output is required on the job.
One challenge involved the demolition of a 54 m (177 ft) high chimney, which was accomplished by a Cat 365B high reach excavator fitted with a crusher. Care was required to ensure that there was no uncontrolled collapse - the task was further complicated by a very tight working area, while ambulances still had to enter the hospital complex despite the site being fenced off. According to Joachim Schmid, Fischer's technical manager: "In Germany, there are only a handful of companies that can handle such specialist demolition work and have the right equipment and necessary experience in demolition."
Cat machines make up a large percentage of the machines working on site. In addition to the high reach, Fischer is also operating a Cat 345C, 330B, two 330Cs, a 325B and a M318D.
Further complications arose because of the hospital remaining active throughout the demolition, requiring Fischer to minimise noise and dust emissions. To restrict dust, the company equipped all its active machines on site with water-based dust suppression systems. Joachim said: "We had to agree to use new construction equipment and keep the sites well watered, which is why we regularly spray the area with hoses and use specially developed jet systems on the Cat 365, 345 and 330 excavators to deal with the dust on site. Overall, we have taken far more precautions to protect patients than we were actually required to."
In addition to the demolition work, scheduled for completion in September 2010, Phase II of the project also calls for substantial earthmoving. Phase I saw 100,000 cubic metres (3,560,000 cubic feet) of earth and rubble removed from the site during 2007 and 2008. Phase II could only start once the power relays for the Katharinenhospital were completed - now that this has been done, Fischer will now have to remove a further 70,000 cubic metres (2,492,000 cubic feet) of material from the site, requiring careful logistical planning given the city centre location of the site. On average, between 1,200 to 1,500 cubic metres (42,000 to 54,000 cubic feet) needs to moved off site very day